You Probably Didn't Recognize Kiefer Sutherland In These Commercials Because He Wasn't Yelling At You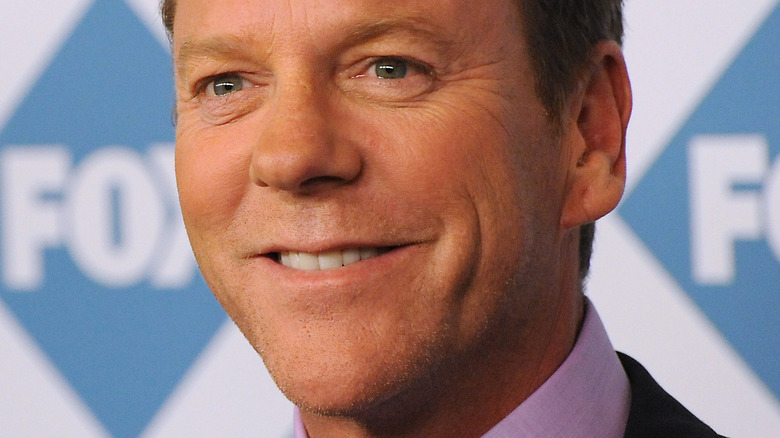 Featureflash Photo Agency/Shutterstock
Kiefer Sutherland got his start as an actor in the 1980s, appearing in films like "Stand By Me," "The Lost Boys," and "Promised Land." He's since become a prolific and entertaining film presence, whether in legal dramas like "A Few Good Men" or in quietly devastating films like "Melancholia." Sutherland, however, is most closely associated with his role as Jack Bauer on "24," a performance that garnered him an Emmy, a Golden Globe, and two Screen Actors Guild awards (via IMDb).
Over the course of the series' nine-season run, as well as the 2014 rival, Sutherland's Jack Bauer was intense and fearless, even if it meant alienating his peers. He was also, as longtime "24" fans will recall, fond of loudly firing off TV-friendly expletives as he fended off terrorist threats. "You can't swear, but kill as many people as you want," Sutherland even joked in an appearance on "The Tonight Show Starring Jimmy Fallon."
Of course, Sutherland isn't always screaming and firing off rounds. For those wondering what Sutherland is doing after "24," he's been in a few commercials, which he did prior to the series ending as well. 
Sutherland has lent his voice to Bank of America and MCI
With a voice that can register as gruff, soothing, or some combination of the two, Kiefer Sutherland is a chameleon in the field of voice work. In fact, it's easy to watch a Sutherland-narrated commercial, like this MCI spot, and miss the actor completely. The same could be said of his Bank of America ads, to which Sutherland lends a warm, everyman quality.
Of course, Sutherland has lent his visage to a number of commercials as well, sometimes in the form of thinly-veiled "24" spoofs. He played a cantankerous spy in a Japanese ad for Calorie Mate, replete with the "24" countdown clock noises, and in 2012 the actor starred in a high-octane advertisement for Acer in which he tirelessly pursues the perfect cupcake. He also appeared in ads for Jose Cuervo and Axe. Sutherland is a coveted actor in the world of advertising thanks to his dependable persona and voice acting. Recently in 2022, he became the face of Plus500's new ad campaign. 
"We were looking for a globally recognized brand ambassador who is known for playing characters who exude confidence, trust and experience," Plus500 CEO David Zruia said in a statement (via The Fintech Times). "Kiefer was a natural fit."