David Crosby Once Presented Homer With A Grammy Award On The Simpsons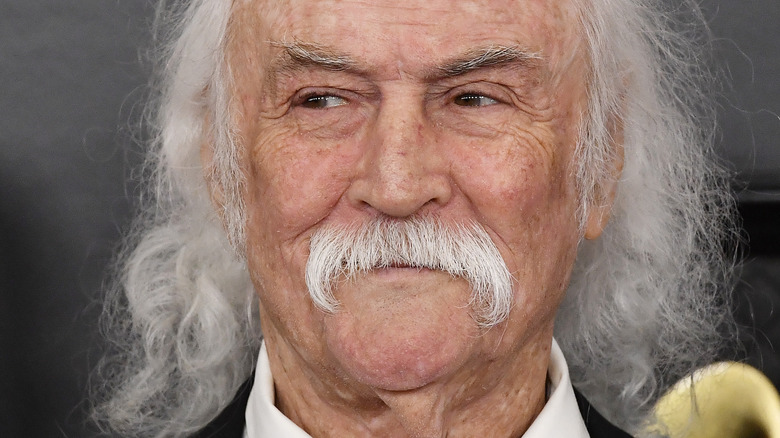 Frazer Harrison/Getty Images
Homer Simpson has had numerous jobs over the course of "The Simpsons." Most people may know him as a nuclear safety inspector, but he's also been an astronaut, bartender, garbage commissioner, ice cream truck driver, and Krusty the Clown impersonator, to name a few. Honestly, after over 30 years, it would make a shorter list to compile all of the jobs Homer hasn't done. 
However, one of Homer's most memorable detours was as a music sensation as a member of The Be Sharps. In Season 5's "Homer's Barbershop Quartet," Homer, along with some pals, puts together a music group and takes the country by storm. From the golden age of "The Simpsons," the episode is definitely a highlight of the series, filled with plenty of great gags and homages to The Beatles. It also features some great voiceover talent. Speaking of The Beatles, George Harrison meets Homer and directs him to where he can get some brownies. But the episode also contained an appearance from David Crosby, who presented The Be Sharps with a Grammy award. 
David Crosby appeared on The Simpsons twice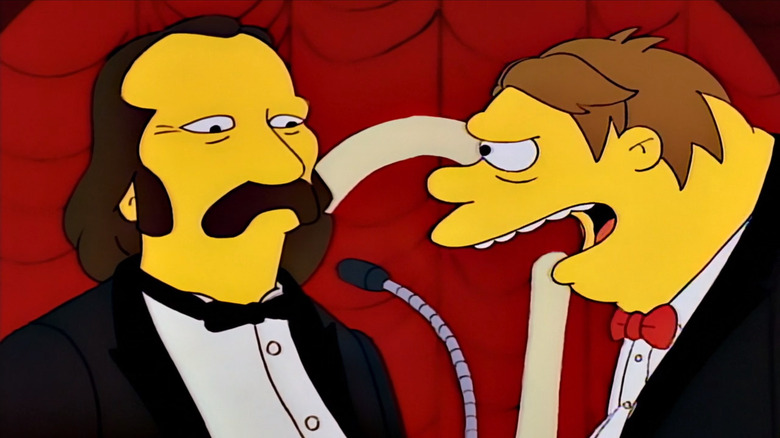 Fox
David Crosby is the one presenting a Grammy for the best soul, spoken word, or barbershop quartet at the Grammys, and naturally, The Be Sharps take home the prize. Barney then tells Crosby that he's his hero but not for his music. It's a small but funny moment, but some fans may remember that it wasn't his first time on "The Simpsons."
Crosby also appeared on Season 4's "Marge in Chains." While Marge is on trial for accidentally shoplifting, her lawyer Lionel Hutz feels compelled to take a swig of alcohol. He excuses himself from the courtroom to call his sponsor — David Crosby. While looking at a record for Crosby, Stills & Nash, he gives the following advice to Hutz, "Just take it one day at a time, and know that I love you." Later in the episode, Crosby can actually be seen in the courtroom, but he doesn't have any lines. 
It puts him in a select group of celebrities who have at least two "Simpsons" appearances to their name, which also includes Leonard Nimoy, Danny DeVito, and Adam West. Crosby didn't do much acting, but it's good he was able to show off his sense of humor.