Steven Yeun Thought His Career Was Over Until Landing His Role On The Walking Dead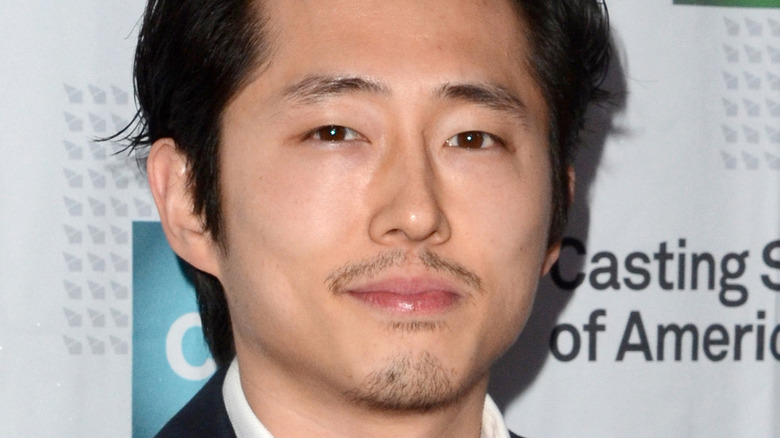 Kathy Hutchins/Shutterstock
Steven Yeun has become a major performer over the past few years, with roles in films such as "Okja," "Burning," "Sorry To Bother You," and "Space Jam: A New Legacy" and in recent television shows like "Invincible." His work in the 2020 film "Minari" netted the performer his first Oscar nomination, for Best Actor (via IMDb), and his latest role had him working with filmmaker Jordan Peele in the latter's well-regarded third feature, "Nope."
Yeun's breakout role, however, came in the AMC post-apocalyptic drama "The Walking Dead." Yeun joined the show in its first season, playing Glenn Rhee. Yeun stayed on the show until the Season 7 premiere when Glenn was killed by Negan (Jeffrey Dean Morgan) to the horror of his wife, Maggie (Lauren Cohan), whom he had met in Season 2.
In a recent interview, Yeun spoke about his career, and revealed that he thought his career as an actor was over after a particular incident that occurred ahead of being cast on "The Walking Dead." Here's what he had to say.
Yeun had come very close to another role whose loss hit him hard
On the podcast "Conan O'Brien Needs A Friend," Steven Yeun spoke about a disappointment early in his career. He noted that he was close to getting a role on an unnamed network pilot show, and was even one of two finalists. He ended up missing out on the role, though, and the experience left him despondent; he shared that he went to IHOP on his own to distract himself.
Host Conan O'Brien interjected at this point, noting that eating alone in an IHOP was a sure sign of depression, just like drinking alone, an assertion that Yeun agreed with. He said that in that moment, he thought his career was over.
However, Yeun shared that the call from "The Walking Dead" came just two months later for the role of Glenn Rhee. This ultimately made the loss of the role in the network pilot a good thing, because if Yeun was committed to that role, he wouldn't have been able to book "The Walking Dead," and his career would've looked very different.