Law & Order's Sam Waterson Experienced Some Serious Deja Vu When He Returned To The Show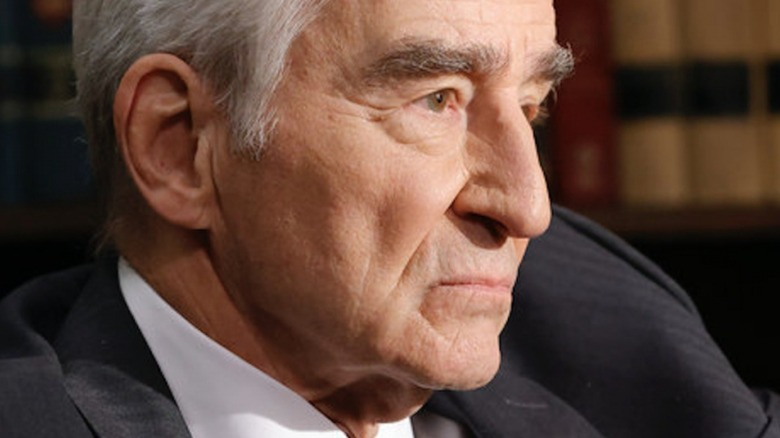 Will Hart/NBC
"Law & Order" was not the start of the crime procedural, but there is certainly no doubt about its impact on popular culture. Dick Wolf's massive empire in the genre started in 1990 with the introduction of the show's simple structure (via IMDb). The show's first half starts with law enforcement solving cases, while the last half tackles prosecution in court. While the series has caught major political heat, many aspects of the series remain iconic.
From the audio cue that signals a new location to the earnest proclamations of lawyers defending the innocent, "Law & Order" has certainly created a brand. And front and center of this brand is none other than celebrated actor Sam Waterston. The actor played the role of prosecutor Jack McCoy for over 300 episodes since its inception. It is almost unthinkable to learn that we might not have had him when the series returned for Season 21. Luckily for viewers, Waterston's return to the series was a happy one.
It was like no time had passed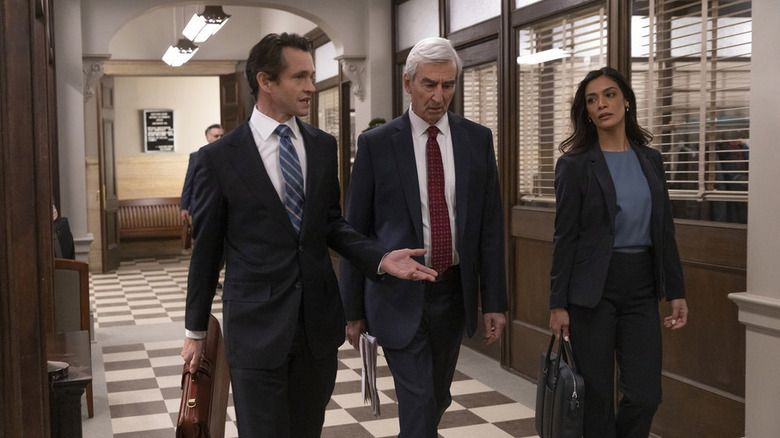 Eric Liebowitz/NBC
When doing his first tenure in "Law & Order," Sam Waterston's involvement was pragmatic. In the beginning, the procedural was one of the only New York-based shows and allowed him to do theater. It also happened to send his children to college. In a conversation with NPR, Waterston considered how returning to the series was ultimately the correct decision. After returning to "Law & Order" after a decade, he marveled at how nothing had changed.
"It looked exactly like the same old sets, the same furniture, the same books, the same linoleum on the floor," Waterston recalled. "I [had] wondered whether to do it or not do it ... but the minute I was back there, I thought, 'What a fool I would have been to have missed this.' It's been fabulous." Not in a position where Waterston has been lacking roles, the working actor has had many noteworthy parts in recent years. His most recent claim to fame is in the acclaimed series "The Dropout." Featuring Amanda Seyfried as notorious scammer Elizabeth Holmes, the series explores the fallout of her fraud and Waterston as one of her tragic investors, George Shulz.
"Let's take George Shultz as a cautionary tale ... about how one should think of oneself. Because, 'what fools we mortals be' applies to each and every one of us, and we're really in terrible danger when we forget it," Waterson explained wisely.
Sam Waterston is in the best acting years of his life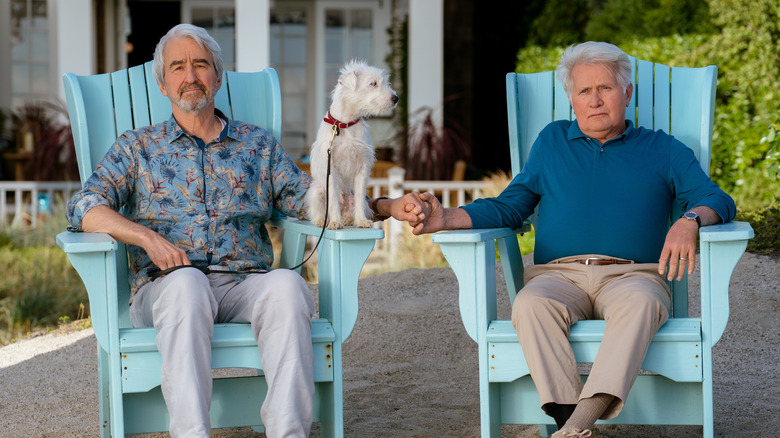 Ali Goldstein/ Netflix
In the years since Sam Waterston said goodbye to "Law & Order," he has not lost any steam. Jumping to different high-profile projects after his most famous role, he lent his comedic and drama talents to Aaron Sorkin's HBO series "The Newsroom." For three seasons, he starred opposite Jeff Daniel's tenacious Will McAvoy in a chaotic look at a fictionalized news network. His tenure on Netflix's "Grace and Frankie" was more long-lasting and perhaps more beloved. Though the titular characters of the series should probably be in jail, the seven seasons of the series have inspired laughs and heartwarming moments from its core characters. However, if anyone thought that Waterston's recent successes would stop him from returning to a beloved franchise, they would be wrong.
"I can't tell you how lucky I feel, how grateful I am, and thankful I am to the audience. The 'Law & Order' experience is a perfect example," Waterston told Parade exclusively. "We stopped making those shows 12 years ago. The audience watched them until somebody finally said, 'Okay, let's give them some new ones.' The audience is everything; nothing happens without them." Waterson continues to be a generous actor and will be appreciated for years to come.