Does Young Sheldon's Montana Jordan Watch The Big Bang Theory?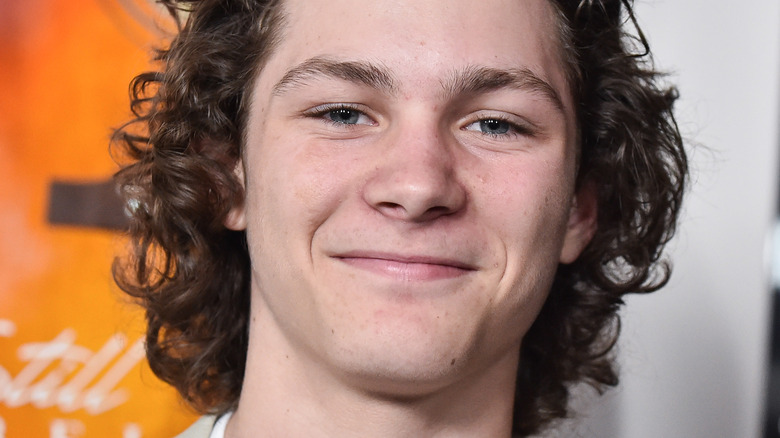 DFree/Shutterstock
Audiences were first introduced to quirky physicist Dr. Sheldon Cooper (Jim Parsons) upon the premiere of CBS sitcom "The Big Bang Theory." His character then proved popular enough to warrant his own spinoff series, "Young Sheldon," a prequel that provides fans with a better understanding of the dynamic between Sheldon and his less academically-inclined siblings, Missy Cooper (Raegan Revord) and George "Georgie" Cooper Jr. (Montana Jordan).
Throughout the show's six seasons released thus far, Montana Jordan has convincingly played a Texan teenager who oftentimes makes questionable decisions. In a joint 2022 WUSA9 interview with his on-screen father, Lance Barber, Jordan noted that he does not have many acting credits to his name. He then mentioned that his career began after he was chosen to play Jaden Ferguson in the 2018 movie "The Legacy of a Whitetail Deer Hunter" following an open-call audition. Soon after that, he became a "Young Sheldon" cast member. "The open call was for the movie I did before the show, and then it just kind of kicked off from there," explained the Texas native. 
Given his newfound importance to the franchise, some viewers may well be wondering the extent to which Jordan is a fan of his show's predecessor in "The Big Bang Theory."
Montana Jordan has never watched The Big Bang Theory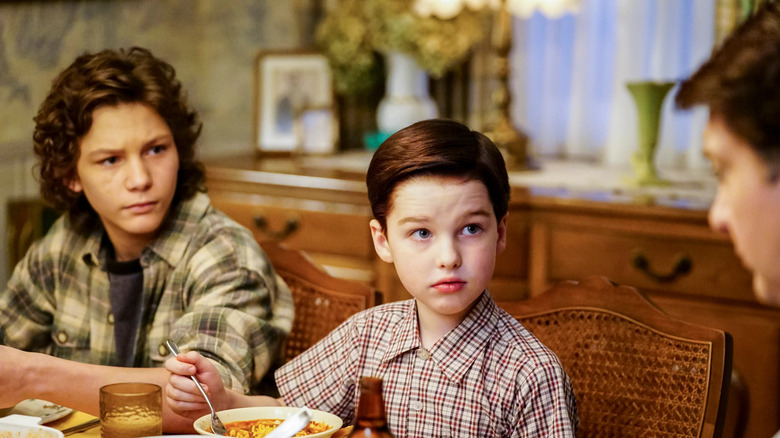 CBS
While speaking to Glitter Magazine in August of 2021, Jordan shared he has never tuned in to "The Big Bang Theory" himself, despite his role in its prequel. That said, he clarified that he does not have an issue with the sitcom, but simply doesn't enjoy watching television. "As crazy as it sounds now that I'm on TV, I've never been a kid to sit down and watch TV ... believe it or not, I still don't. So, I haven't watched 'The Big Bang Theory,' but I've heard about how great the show was," said Jordan. 
He also explained that it remains unnecessary for him to be familiar with the original series, as Georgie made his first appearance on "Young Sheldon." According to IMDb, Jerry O'Connell began starring as adult Georgie on "The Big Bang Theory" in 2018, after the "Young Sheldon" premiere. "Well, for my character, he wasn't in 'The Big Bang Theory' until 'Young Sheldon' had already started, so I have a feeling they built the character around me in real life," said Jordan.
Furthermore, Jordan disclosed in this same interview that he shares quite a few similarities with Georgie, including their home state, love of football, and issues with disorganization. He also suggested he would be friends with Georgie if he were to interact with him. "Georgie and I would be tearing up the town together in real life," stated the actor.
Montana Jordan and Lance Barber are united by their disinterest in TV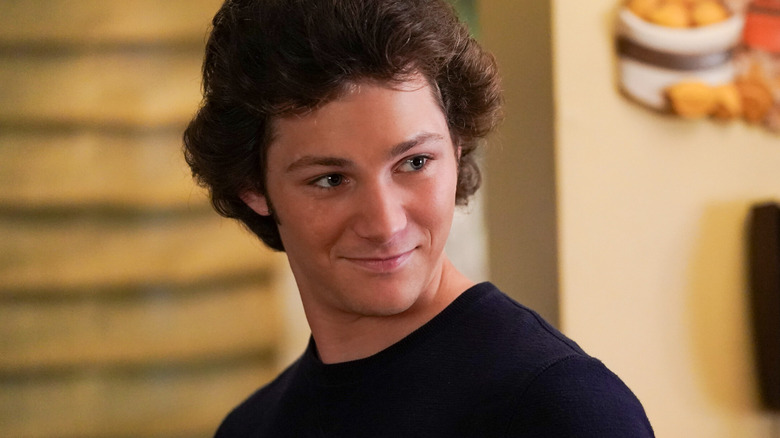 Sonja Flemming/CBS
As it turns out, Montana Jordan's disinterest in TV as a medium isn't a recent development but seemingly a position he's held throughout his "Young Sheldon" tenure. Jordan likewise cited the fact that he outright doesn't watch TV in an English-language interview that German YouTube channel Serienjunkies published in 2018. Nearing the end of their discussion, the channel asked both Jordan and his interview partner Lance Barber to share their favorite series. Jordan immediately deferred to Barber, bringing up the fact that he doesn't personally watch TV.
Barber likewise replied that, while his own interest in TV dates back to a young age — hence his pursuit of a television acting career — he too is no longer an active TV watcher. Of course, the fact that Jordan isn't interested in watching either "The Big Bang Theory" or any other show has no bearing on his success as a TV actor, as he continues to prove season after season.