How Jennifer Coolidge Behaved On Set Of Shotgun Wedding, According To Jennifer Lopez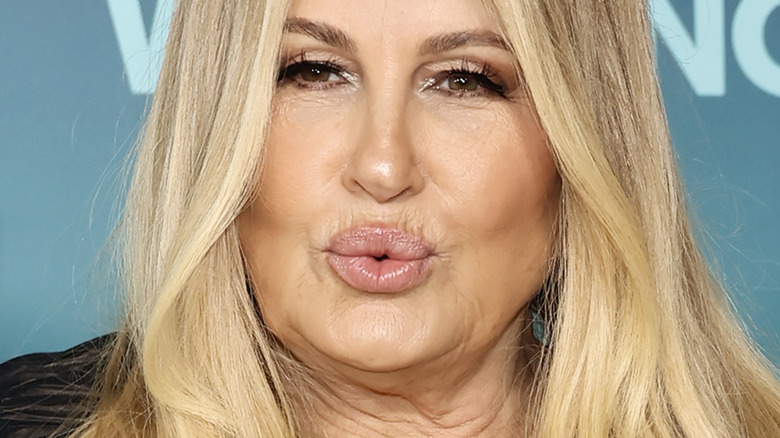 Emma Mcintyre/Getty Images
For those thinking that movies don't have any original ideas anymore, look no further than "Shotgun Wedding," the Amazon Prime original movie that asks the question, "What would happen if we combined a romantic comedy film with a tense action movie where the entire wedding party is taken hostage?"
With all trailers and promotional material pointing to the answer being "insanity," talk show host Jimmy Kimmel sat down with Jennifer Lopez, who plays the bride, Darcy, to discuss the film. They also talked about her actual recent wedding with Ben Affleck, which they decided to have spontaneously before having another more traditional wedding with the family.
One of the most interesting parts of the interview, however, was when the topic changed to Lopez's co-stars, particularly the comedic legend and Emmy Award-winning actress, Jennifer Coolidge. Here's what one Jennifer said about the other when asked about how she acted on the set of "Shotgun Wedding."
Jennifer Lopez didn't know whether or not to laugh at Jennifer Coolidge's on-set antics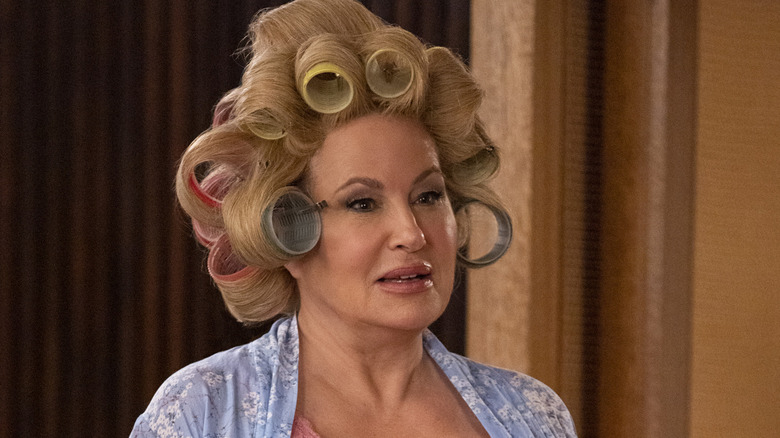 Ana Carballosa/Amazon Studios
In the interview with Kimmel, Lopez said that she didn't know if Coolidge was intentionally being funny or not on set.
"You expect because she's so hilarious and everything, [you think] she's gonna come over and she's just gonna be funny right away," Lopez said. "But it's kinda like how her characters are, where she's like there and you're like, 'is she trying to be funny or is she not being funny?' and you don't know if to laugh or not to laugh, and then when you see it later, it's hilarious."
Lopez went on to talk about how Coolidge's style of comedy reminds her of Andy Kaufman, saying that she doesn't know where it begins and where it ends, but that it's all brilliant. She then goes on to say that "Shotgun Wedding" is the kind of movie you want to see with an audience, which might be difficult for most since it's going straight to streaming on Prime Video, but not for the audience in attendance at Jimmy Kimmel's show. That's because co-star Lenny Kravitz dropped by in style to invite the audience to the premiere of the film. For the rest of us, "Shotgun Wedding" comes to Prime Video on January 27.
Josh Duhamel shares Jennifer Lopez's sentiments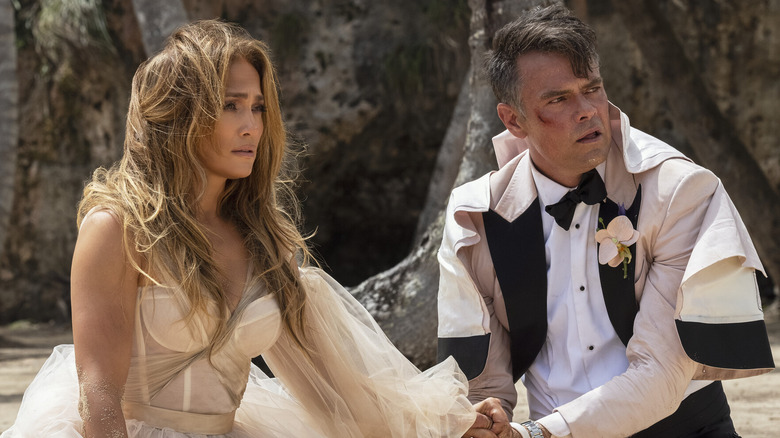 Ana Carballosa/Lionsgate
J'Lo isn't the only "Shotgun Wedding" star who wondered if Jennifer Coolidge was being serious or joking around during the filming of the movie. In an interview with Parade, Josh Duhamel commented on "The White Lotus" star's on-set antics, and he was full of praise for his on-screen mom (who is actually only 11 years older than him in real life).
"She's just so good. And she's so weirdly, beautifully awkward, you know, and I love that she does that even on set you're like, "Did she mean to do that?" Could never tell if it was like planned or [if] she just sort of like lets it fly and whatever comes out comes out, but it always seems to work." Duhamel went on to say that Coolidge's style of comedy is unique and it's enjoyable to watch. He then reiterated that the actress is just as fun to be around when they aren't working as well, adding to the widespread sentiment that Coolidge is the absolute best.
Of course, Coolidge doesn't always turn up the volume, contrary to what the characters she plays might have you believe. During the aforementioned interview, Duhamel recalled his co-star being reserved in between her moments of hilarity. "You know, she kind of sits back and listens and observes and reacts to whatever, but yeah, she didn't do a lot of crazy stuff on set that I can remember," he added.