RJ Mitte Felt Breaking Bad Was A 'Double-Edged Sword' For His Career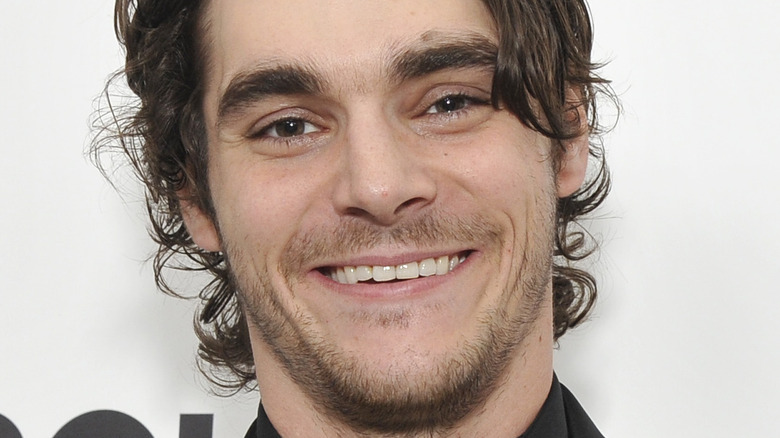 John Sciulli/Getty Images
"Breaking Bad" — the AMC drama created by Vince Gilligan that ran from 2008 to 2013 — follows the rise and fall of Walter White (Bryan Cranston), a chemistry teacher with a recent cancer diagnosis who turns to cook crystal meth in order to provide for his family after he's gone. The family that Walt wants to provide for includes his wife, Skyler (Anna Gunn), their newborn baby Holly, and their teenage son, Walter Jr., who is played by RJ Mitte. Walt Jr., who has cerebral palsy, goes through various stages of reacting to his parent's separation, at one point siding with Walt over Skyler. However, by the end of the series, Walter Jr. completely turns against his father after discovering the truth of Walt's actions.
Walter Jr. is certainly the kind of character that gives an actor plenty of layers to dig into, something that Mitte must have found rewarding. However, playing the son of one of the most iconic television characters of all time is not without its cons. Here's why Mitte thought playing Walter Jr. was a double-edged sword.
Mitte said it was hard to be seen as something other than his Breaking Bad character
During an interview with Courageous Nerd in May of 2021, RJ Mitte opened up about his career — including starting it off with a show as majorly popular and critically acclaimed as "Breaking Bad." When interviewer Conor O'Brien asked if the success of "Breaking Bad" hindered his career in any way, Mitte admitted that he had faced problems landing roles because of the success of "Breaking Bad."
Mitte said, "It really kind of messed me up when I would I go out for other roles because people couldn't see any other character than Walt Jr. A lot of people that work in the industry build up a lot of work in a lot of different things. Then they have the hit, right? I kind of did the opposite; I got the hit and now I'm trying to build the portfolio where it's not just like 'known for one character', you know?"
The actor also noted that he is grateful for landing "Breaking Bad," despite the challenges it has led to. Mitte continued, "It's a good thing, it's a double-edged sword. I wouldn't be able to do what I do today if it wasn't for 'Breaking Bad.' The reach that gave me, the skills and the knowledge that I was able to utilize. It was a once-in-a-lifetime thing. I'm very lucky for it."
Mitte learned a lot from his co-stars on Breaking Bad
In the same interview with Courageous Nerd, Mitte discussed what he learned about the industry from his co-stars on "Breaking Bad," which, of course, included Hollywood veterans such as Bryan Cranston, Anna Gunn, Giancarlo Esposito, Dean Norris, Bob Odenkirk, and Jonathan Banks. Mitte explained that, even though no one explicitly gave him advice, he learned a lot just by watching his co-stars.
Mitte said, "If you're willing to be patient, look, observe what's happening around you when it comes to a show like 'Breaking Bad,' you learn automatically. No one really has to go like, 'These are the ABCs.' You're in it, you're past the alphabet or the learning curve, you're there. Play your part, do your thing and step up."
All in all, the actor thinks that "Breaking Bad" had the perfect cast — something he isn't sure he'll get to experience again. Mitte said, "Bryan [Cranston], Anna [Gunn], Betsy [Brandt], all of them were like my mom, dad, aunt and uncle. On TV and in real life. It was a special group and I don't think when it comes to cinema or television that we'll really have that again. We'll get close, but that was a perfect storm, man."