Kate Hudson Auditioned Kathryn Hahn Years Ago, And How It Went Sounds Pretty Spot On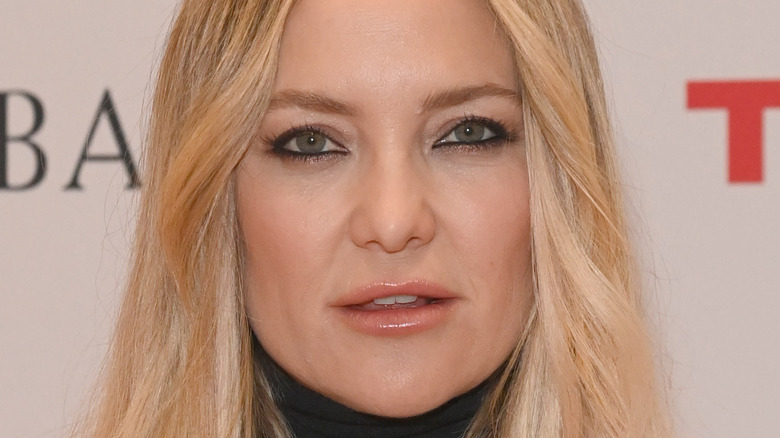 David M. Benett/Getty Images
Kate Hudson and Kathryn Hahn have come together for Rian Johnson's "Glass Onion: A Knives Out Mystery," the standalone sequel to the 2019 whodunnit "Knives Out." Much like its predecessor, "Glass Onion" features an ensemble cast, all of whom play characters who get tangled up in a murder case, with Daniel Craig reprising his role as master detective Benoit Blanc. In the film, billionaire Miles Bron (Edward Norton) invites his group of friends to his private Greek island for a murder mystery party — where, ironically, an actual murder ends up taking place.
Hudson and Hahn play two of Miles' friends, Birdie Jay and Claire Debella, respectively, both of whom are reliant on Miles' exorbitant wealth. Birdie, a politically incorrect and oblivious woman, is a former model who now owns a luxury sweatpants company. Claire is a Connecticut governor who is running for the Senate.
But long before Hudson and Hahn played mutual friends of Miles Bron, the two also played friends in another film: the 2003 romantic comedy "How to Lose a Guy in 10 Days." In the film, Hudson plays Andie Anderson, a journalist writing an article about mistakes women make while dating. Hahn plays one of Andie's friends, Michelle, who has made some dating mistakes herself.
In a recent interview, Hudson opened up about her experience working with Hahn all those years ago — including how she auditioned Hahn.
Hudson auditioned Hahn for How to Lose a Guy in 10 Days — and instantly loved her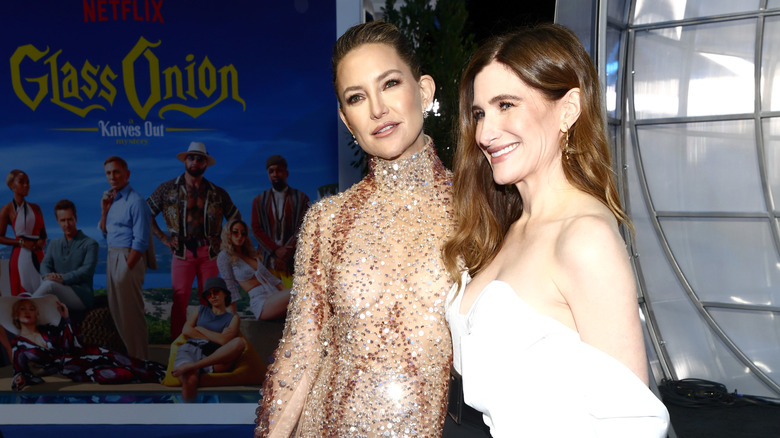 Emma Mcintyre/Getty Images
During an interview on the "Skip Intro" podcast for Still Watching Netflix, Kate Hudson discussed what it was like reuniting with Kathryn Hahn for "Glass Onion" after working together nearly two decades ago on "How to Lose a Guy in 10 Days." Firstly, Hudson had nothing but praise for her co-star, stating, "She's so great. She's the best. That was really special for me because Kathryn and I were really close on 'How to Lose a Guy' and we fell in love with each other then. We're still in love with each other."
The actress then revealed that their experience on "How to Lose a Guy in 10 Days" went beyond just acting alongside one another — Hudson actually auditioned Hahn. Hudson explained, "I auditioned Kathryn [for 'How to Lose A Guy'] it was her first movie. And I remember she came in and we were doing auditions for my girlfriends. And Kathryn came and sat down, started her audition, and her phone rang in her purse. And she was like, 'Oh my God!'" Hudson went on to say that Hahn then took the call, which Hudson thought was a great move.
Hudson concluded, "I remember Lynda Obst, the producer on it, was like 'Done!' Yes. She doesn't even need to finish the audition. She was just so, her energy was so great."
If you'd like to watch Hudson and Hahn reunite on screen, "Glass Onion: A Knives Out Mystery" is streaming on Netflix.