Italian Screen Icon Gina Lollobrigida Dead At 95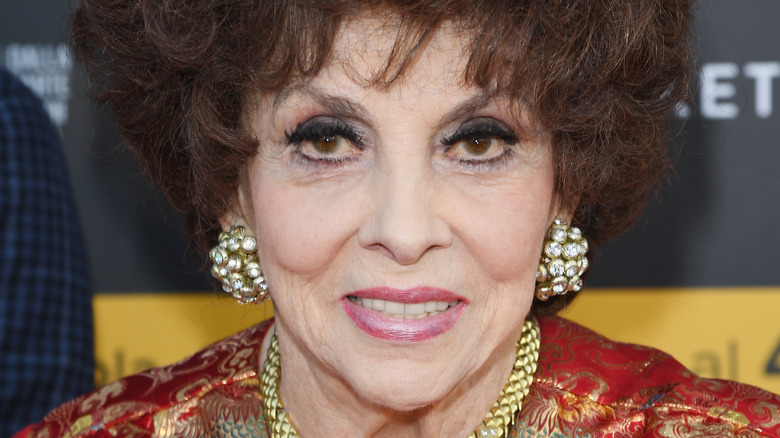 Daniele Venturelli/Getty Images
Legendary actress Gina Lollobrigida has passed away at the age of 95. While at press time her cause of death remains undetermined, Reuters reports she died in a Roman clinic, citing her former lawyer Giulia Citani. Lollobrigida's grandnephew, Italian Minister of Agriculture Francesco Lollobrigida, tweeted to confirm her death. He did not give further details about her passing, but paid tribute to her legacy. Lollobrigida called his great aunt "one of the brightest stars of Italian cinematography and culture," per CNN.
Gina Lollobrigida was already popular in her native Italy and had some international acting credits under her belt by the time she joined fellow Italians Sophia Loren and Anna Magnani in a three-pronged storm of Hollywood in the 1950s and 1960s. Loren and Magnani would go on to win Oscars and great acclaim as actresses in America, but Lollobrigida was no slouch in the popularity and accolades departments. In addition, she definitely experienced all of the wildness that classic Hollywood had to offer. Come join us as we pay tribute to her unique charms and the highs and lows of her multi-decade career.
Gina Lollobrigida worked with Humphrey Bogart and other screen legends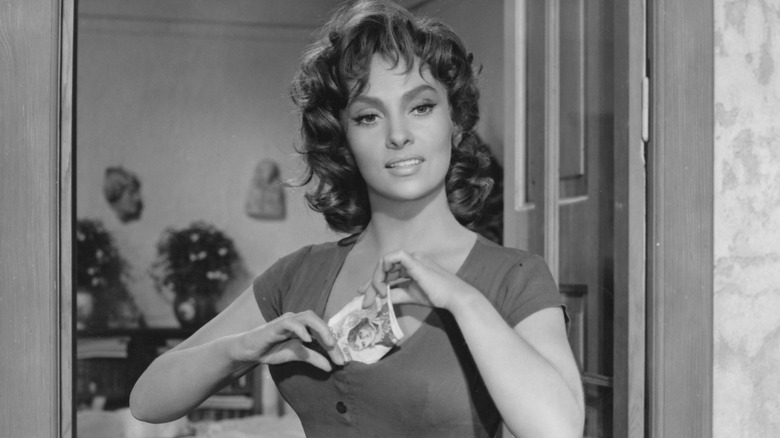 Keystone Features/Getty Images
Gina Lollobrigida was born Luigia Lollobrigida on July 4, 1927. The Hollywood Reporter explains that young Lollobrigida– having experienced the horrors of World War II firsthand — found herself working as a film extra to help fatten the family's coffers while attending the Accademia di Belle Arti. While Lollobrigida would be a sculptress all her life, acting proved to be a lucrative profession, even though she never wished to make it her central livelihood. A small role in 1946's "Return of the Black Eagle" brought her to the attention of producers. She tried to call their bluff by demanding a million lire for her first starring role and was shocked when they acquiesced to her demands. She was soon the toast of Italy and, thanks to a role in the film "Miss Italia," became the latest apple of billionaire aviator Howard Hughes' eye.
Hughes signed her to an eight-year contract and imported her to America. However, Lollobrigida and Hughes got on like oil and water. Hughes did not make secret his desire to add Lollobrigida to his long list of romantic conquests, and Lollobrigida — a married woman — was appalled (via Variety). She returned to Italy and began an international career that put her in the driver's seat.
After her Hollywood return, she memorably appeared opposite Humphrey Bogart in "Beat the Devil," the 1956 circus drama "Trapeze," "The Hunchback of Notre Dame," "Come September," "Solomon and Sheba," "Never So Few," "The Private Navy of Sgt. O'Farrell," and "Buona Sera, Mrs. Campbell."
Later in life Lollobrigida became a photographer, philanthropist, and politician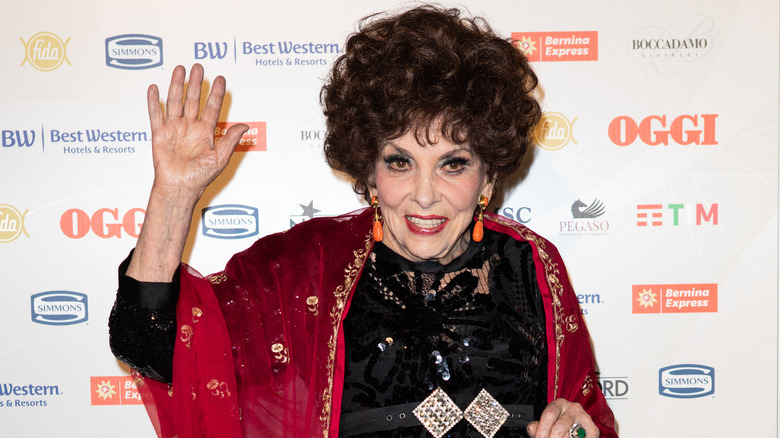 Rosdiana Ciaravolo/Getty Images
1968's "Buona Sera, Mrs. Campbell" proved to be one of Gina Lollobrigida's biggest career highlights; she was nominated for a Golden Globe for her work in the film. The film also proved to be something of a capstone for her work. Though her acting career would not officially conclude until 1997, she began a whole new venture outside of Hollywood soon after the '60s.
In the 1970s, Lollobrigida began a well-received second career as a photojournalist. She returned to American screens in 1984, taking on the role of Francesca Gioberti in CBS' soap opera "Falcon Crest," and had multiple guest appearances on dramas, such as "The Love Boat." Lollobrigida was even the subject of an Orson Welles television pilot, known as "Portrait of Gina." The pilot was infamously lost until it resurfaced in the lost and found department of The Ritz in Paris in the 1980s.
Lollobrigida continued to be active well into the 2010s and even unsuccessfully sought political office in 1999 and 2022 (via CNN). She was also a philanthropist, auctioning off her jewelry collection to benefit stem cell research in 2013. In the end, she'd beaten back the multiple naysayers and critics who insisted she couldn't make it on the big screen. "I had success despite everybody," she remarked in 2016 (via The Hollywood Reporter).
She was awarded a star on the Hollywood Walk of Fame in 2018, and a Legion of Honor from France. She is survived by her son, Andrea Milko.