Pontypool: Cult Zombie Film Creators Team Up For Spinoff, Promise Sequel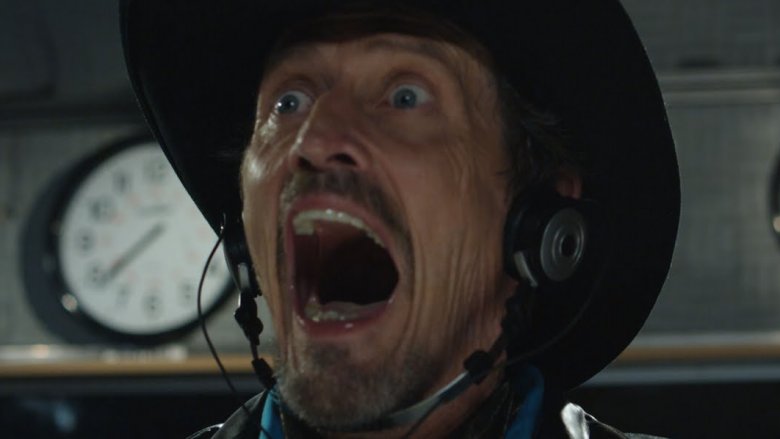 Maple Pictures
Canadian cult zombie movie Pontypool is getting an unexpected spinoff — and maybe more.
Bloody Disgusting reports that the principal creative team behind Pontypool has banded back together to produce a surprise spinoff called Dreamland, reviving hopes for a proper sequel to the movie to follow.
The low-budget horror movie, released in 2008, centered on an isolated radio station in Pontypool, Ontario during an emerging zombie outbreak, following a skeleton crew of broadcasters reckoning with the supernatural phenomenon as it unfolds and spreads around them.
The Dreamland spinoff, according to director Bruce McDonald, will follow up not on the main events of Pontypool, but rather on the surreal, black and white coda to the movie that saw its stars reimagined in an inexplicable, stylized world right out of film noir.
"Well, it's a strange thing," wrote Tony Burgess, the writer of the original movie as well as the book it's based on, in a response to a question about Dreamland's relationship to Pontypool. "[Dreamland is] a sequel to the post-credit non-sequitur scene, with McHattie and [Lisa] Houle and Juliette Lewis and Henry Rollins. It's in post now."
Dreamland features returning lead Stephen McHattie as well as Juliette Lewis, Tómas Lemarquis, and Henry Rollins. According to the movie's description, it is a "darkly comedic tale about a reluctant hitman who chases his jazz legend doppelganger through a city populated by street urchins, a vampire, and a crime kingpin." So — pretty different from Pontypool, yeah?
Lest fans of the original movie's tone and setting worry they've been abandoned, Burgess related his belief that the long-rumored direct sequel will go into production later on in 2018.
"The same producers [as Dreamland] are on the Pontypool sequel and have some confidence we will go in production this year," Burgess said.
Since the release of the original Pontypool, rumors of a sequel from the same creative team have swirled, with the follow-up expected to be titled Pontypool Changes after the name of the book that inspired it. A poster for the film was released in 2012, but until now, nothing else had come of the project.
No release date has yet been announced for Dreamland, which is reportedly in post-production.