Paget Brewster's Expertise Was More Than The Criminal Minds Casting Team Bargained For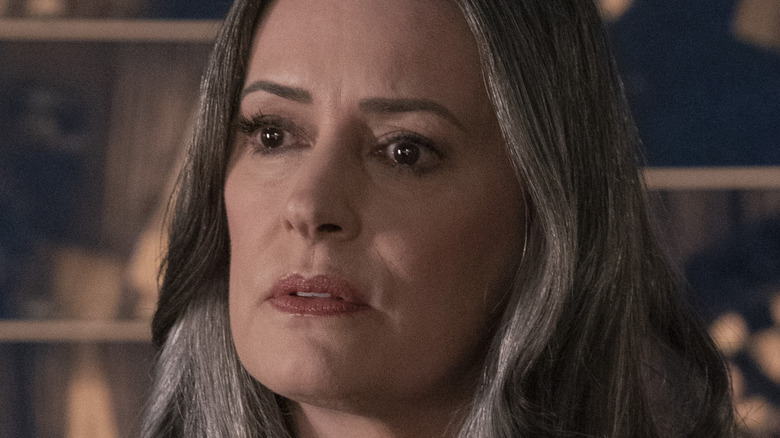 Michael Yarish/Paramount+
There is a lot to choose from in the expansive world of primetime procedural dramas. The formulaic structure of these shows makes for an easy viewing experience all across the board. Dick Wolf has implemented a grand empire of Chicago and New York-based police dramas, while CBS has made a killing on naval-specific crimes. However, there is one procedural that uses a tactic that sets it apart from cops on the crime beat.
"Criminal Minds" aired in 2005, taking a more personal look at who criminals were and why they did what they did. Using the FBI's psychological profiling program, the Behavioral Analysis Unit gets closer to psychopaths than is perhaps comfortable. First starring Mandy Patinkin as the leader of the BAU, the acclaimed actor would retire from the role after Season 2. The series had an initial 15 seasons, making character change-ups necessary. Paget Brewster was a later addition to the cast, appearing in Season 2 as the now-beloved Emily Prentiss (via IMDb). But even though the creatives behind the series had a vision for the character, Brewster had something else up her sleeve after her arrival.
Brewster knew the terrifying real life serial killer behind Frank Breitkopf
Ripping stories from the headlines is a common practice in crime procedurals. "Law & Order: SVU" has made a habit of this, taking the most grisly cases, such as the Casey Anthony trial, and condensing them to a 40-minute episode (via Entertainment Weekly). "Criminal Minds" was no different, but took on one of the most sadistic real-life serial killers to task with the most twisted "Criminal Minds" character, Frank Breitkopf (Keith Carradine). During her audition process, Paget Brewster identified Frank's inspiration quickly because she was fascinated with true crime.
"I was one of those people who had every serial killer book, I knew everything, I watched everything ... If there was a book about it, I owned it and had read it," Brewster told A.V. Club in 2015. "So they said, 'Come in and meet with [executive producers] Ed Bernero and Mark Gordon and Simon Mirren.'" The "Friends" actor went on to describe an upcoming villain that they were working on at the time. Brewster recalled that the producers explained: "'[R]ight now we're working on a script about a guy who's got a trailer and it's outfitted with torture devices, and he's in the desert, and his girlfriend..." And I said, 'Oh, you're talking about the Toybox Killer.'" The producers were shocked. Brewster had identified one of the most notorious serial killers, David Parker Ray, as the inspiration for Frank right off the bat.
Emily Prentiss is one of the most popular characters in "Criminal Minds," with countless fans consistently taking to social media to praise the character. The positive reception toward Prentiss can no doubt be due to Brewster's talent as an actor but also due to her immense knowledge of true crime.