If Spirited's Good Afternoon Gets An Oscar Nomination, Ryan Reynolds Has A Bold Promise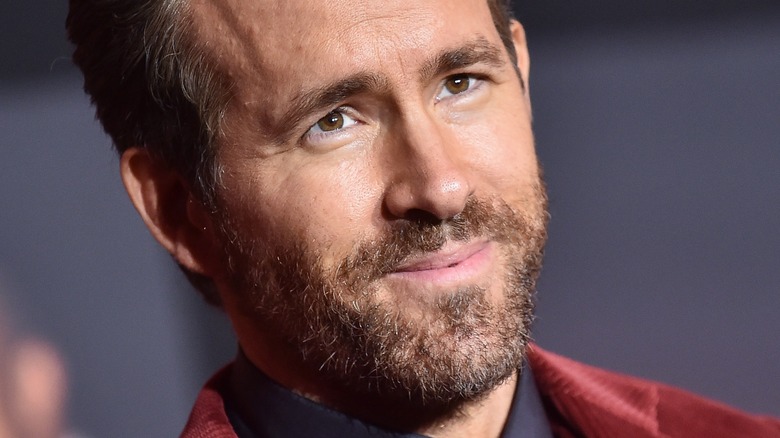 DFree/Shutterstock
The Apple TV+ holiday film "Spirited," starring Will Ferrell and Ryan Reynolds, is packed to the brim with some truly side-splitting moments, and along the way, there's some pretty catchy music that can be heard, especially the track "Good Afternoon." And the fun doesn't stop there when it comes to the infamous tune because now it seems if that particular song earns a nomination from the Oscars, Reynolds is up for making the occasion a humiliatingly memorable affair.
Sean Anders' intriguing modern take on the Charles Dickens-penned source material, "Spirited," still stands out among "Christmas Carol" adaptations, with stellar scores on Rotten Tomatoes. One of the highlights is the film's music, with the song "Good Afternoon," performed by Reynolds, Ferrell, and an ensemble of talented individuals has received significant acclaim. Digital Spy revered the tune as "joyful," and Becky Lima-Mathews from Live For Film said, "there are a few decent earworms courtesy of 'La La Land' and 'The Greatest Showman' songsmiths Benj Pasek and Justin Paul, particularly the Victorian romp 'Good Afternoon' which ties 'Spirited' to Dickens with a wry smile and a rousing chorus."
The exemplary efforts of everyone involved have resulted in a well-crafted melody that has resonated well with fans and critics, even making the shortlist for the Academy Awards' prestigious honor of Best Original Song. If it makes the cut, Reynolds plans to commemorate the occasion in the best way possible.
Ryan Reynolds will go to embarrassing lengths if Good Afternoon gets a chance at Oscar Gold
There are many impressive candidates that the "Spirited" track must overcome to make the final list of contenders for the Academy Awards Best Song accolade, including as music from Rihanna and Taylor Swift. So if "Good Afternoon" can prevail in its Oscar ambitions, Ryan Reynolds has confirmed that he will be in attendance and playing his part in the live broadcast. Reynolds told Variety, "Look, if this song is nominated for an Academy Award, I would say that the least I can do is show up on that stage and embarrass myself." The news that the popular actor is ready to give fans a memorable performance should it get the nomination is probably exciting for some, but not everyone is thrilled about the situation.
While he did like the film and the track, Hugh Jackman made his opinion known about how he feels about Reynolds receiving recognition from the Oscars. "Ryan Reynolds getting a nomination in the best song category would make the next year of my life insufferable. I have to spend a year with him shooting 'Wolverine' and 'Deadpool,'" Jackman jokingly said in a video on Twitter. "Trust me, it would be impossible. It would be a problem." He pleaded with everyone, saying, "But please, from the bottom of my heart, do not validate Ryan Reynolds [with an Oscar nomination]."
Reynolds has been in flops, blockbusters, and underrated favorites throughout his career. Despite Jackman's objections, it will be interesting to witness which category his "Good Afternoon" Oscar performance lands in, should it occur.