Black Panther Will Be The First Film Shown In Saudi Arabia In 35 Years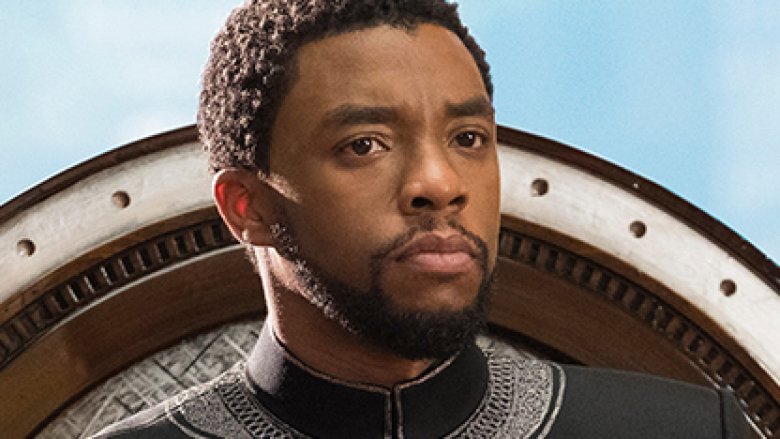 Marvel Studios/Walt Disney Studios Motion Pictures
Black Panther is about to make history yet again. And we're not just talking breaking box office records, besting fellow superhero movies in advance ticket sales, or inspiring a sun-shower of critical praise. No, this is something even bigger. 
The Hollywood Reporter confirms that Black Panther will be the first movie to screen to the public in a movie theater in Saudi Arabia in 35 years. 
Starring Chadwick Boseman in the titular role, the Marvel movie is set to herald the country's long-awaited return to the world of film. Saudi Arabia outlawed public movie theaters in 1983, only reversing the decision and lifting the cinema ban in December of 2017. The ban's removal is part of Crown Prince Mohammed bin Salman's efforts to reform Saudi society. 
While Sony Pictures Animation and Columbia Pictures technically broke the ban with The Emoji Movie in early 2018, the animated film wasn't shown in a real cinema. Instead, it was played through a projector in a makeshift theater. Thus, Disney and its Middle East distribution partner, Italia Film, will be the first companies to officially release a movie in Saudi Arabia in three and a half decades with Black Panther. 
According to THR, Black Panther will have a gala premiere on April 18 in Riyadh, the capital and most populous city of Saudi Arabia, at the country's first AMC-branded cinema, which seats 620 viewers. The theater, a converted symphony hall in Saudi Arabia's King Abdullah Financial District, is scheduled to open less than four months after the country officially revoked the theater ban. It will be the first of "hundreds of cinemas" expected to open over the next ten years. 
Black Panther will screen for five days before being replaced by another Marvel superhero movie: Avengers: Infinity War. The Joe and Anthony Russo-directed pic will launch in a day-and-date release in Saudi Arabia on April 26.