John Williams's 50-Year Collaboration With Steven Spielberg Stems From Spielberg's Love Of Hollywood's Past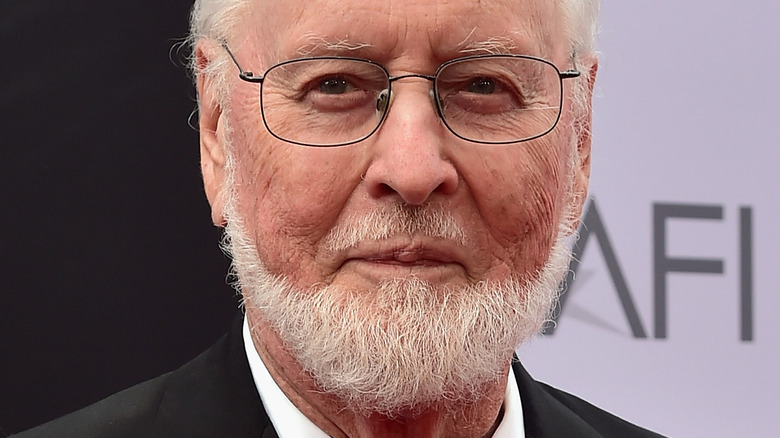 Alberto E. Rodriguez/Getty Images
With 70 years in the film industry, over 150 film credits, and more than 200 awards to his name (via IMDb), John Williams is easily one of the most celebrated film composers in movie history. He's even been named as one of the greatest modern classical music composers, comparable to the likes of Beethoven and Strauss (via Playbill). From the "Harry Potter" franchise's magical "Hedwig's Theme" to the ominous "Imperial March" from "Star Wars," Williams is one of the most prolific composers in cinema, having scored some of the most famous film franchises of the last seven decades. You'd be hard-pressed to find a single movie fan on the planet who can't at least hum one tune from his illustrious career. 
Within his long, storied career is a celebrated partnership between Williams and filmmaker Steven Spielberg. Their long-running collaboration spans 50 years and 29 films, the latest of which was 2022's "The Fabelmans." The duo has worked together to birth some of the most iconic film scores in history, including the music from "Jaws," "Close Encounters of the Third Kind," and "Schindler's List." While their close professional relationship has blossomed into an equally close friendship over the years, Williams cites another reason why he continues to work with Spielberg time and time again. 
John Williams admires Steven Spielberg's love of old Hollywood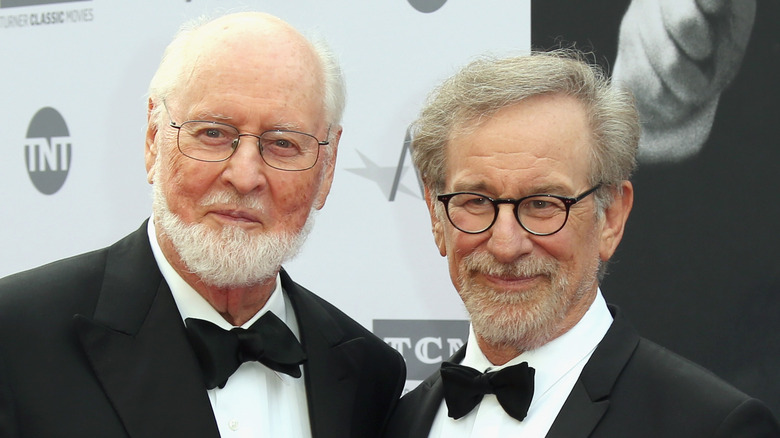 Frederick M. Brown/Getty Images
In June 2022, John Williams hinted at potentially retiring from film composition following 2023's "Indiana Jones and the Dial of Destiny" (via Associated Press). However, it seems Williams recently changed his mind. To celebrate 50 years of collaborating with Steven Spielberg, a special event was held recently where the two men appeared on stage, showing clips of their projects over the years and gushing about one another to film aficionados. There, Williams announced that he won't be retiring after all and plans to continue collaborating with Spielberg (via IndieWire). 
The pair also discussed their approach to music and movies, providing insight into their working relationship and, even more so, their friendship. Williams elaborated on how they've managed to continue working with each other for half a century, citing Spielberg's admiration for film history and love of the most influential film composers. 
"Steven grew up loving the great past of the film industry," Williams explained. "And he had the kind of psychology to ask 'can we be as good as the people who came before us?' He loves the old composers, he loves [Erich Wolfgang] Korngold and [Max] Steiner... And one of the things I wanted to do with music was write as well as Korngold. In a way, I wasn't looking ahead to what's next. I was looking in the same direction Steven was."
It's easy to see that this legendary duo is perfectly in sync with their methods and goals, so it's a good thing for film and music lovers everywhere that they plan to work together indefinitely.