Alice In Borderland's Original Anime Adaptation Was Only 3 Episodes Long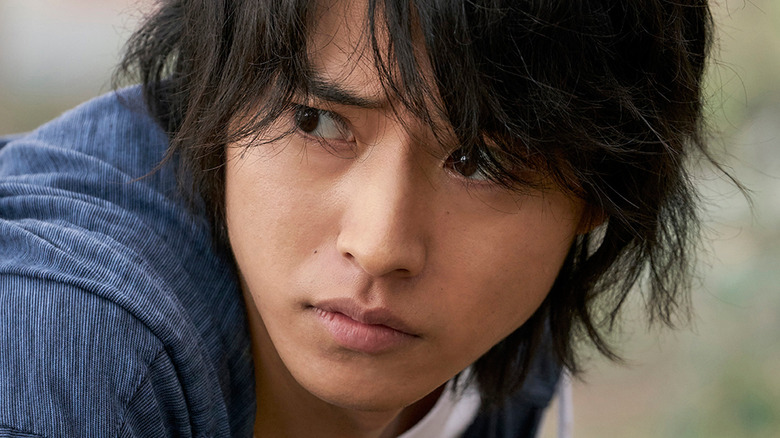 Netflix/Haro Aso,Shogakukan/ROBOT
Season 2 of the Netflix drama "Alice in Borderland," based on the comic book series by author Haro Aso, premiered in its entirety on the streaming service on December 22, 2022. Netflix subscribers binged "Alice in Borderland" en masse upon the release of its first season two years prior, to the extent that its renewal was announced just weeks after Season 1 first hit Netflix.
"Alice in Borderland" takes place in a fantastical version of modern-day Tokyo. In Episode 1, the initial trio of protagonists winds up in what appears to be the streets of downtown Tokyo sans any other people, which they soon find out is due to their conscription into a deadly, real-life game. From then on, the show's principal characters must win at various challenges or die trying.
Of its cast, Shuntaro Chishiya actor Nijiro Murakami, who some viewers might not know is a nepo baby, gives what could be considered a breakout performance. Meanwhile, the subsequent release of "Squid Game," which resembles "Alice in Borderland" in more ways than one, drummed up renewed interest in the series. With these and other factors keeping the show afloat, Netflix's project is effectively the definitive "Alice in Borderland" adaptation. 
That said, this is not the first "Alice in Borderland" TV series, as there was an anime from a few years prior that totals just three episodes in length.
The Alice in Borderland anime premiered years before the live action series
According to credits for the project on Anime News Network, the "Alice in Borderland" anime is a three-episode OVA, which is a term short for Original Video Animation, referring to short projects that aren't quite films or full TV series. Its three episodes premiered months apart from one another through the end of 2014 and into the start of 2015 on discs bundled with volumes of the "Alice in Borderland" manga released at that time.
The animation studio CONNECT, which is a division of SILVER LINK, produced "Alice in Borderland" relatively early on in its existence. Since then, CONNECT has produced "Death March to the Parallel World Rhapsody" and "Senryu Girl" among other series. SILVER LINK, meanwhile, is responsible for shows like "Non Non Biyori" and "Chaos;Child."
Of course, an anime comprised of three roughly twenty-minute episodes is considerably smaller in scale than the Netflix show in its current incarnation, which consists of 16 episodes that typically total at least 45 minutes. For those interested in viewing this original, much briefer TV series adaptation of the "Alice in Borderland" manga, the OVA is available to stream in its entirety for HIDIVE subscribers.