What Is The Song At The End Of The Last Of Us Episode 4?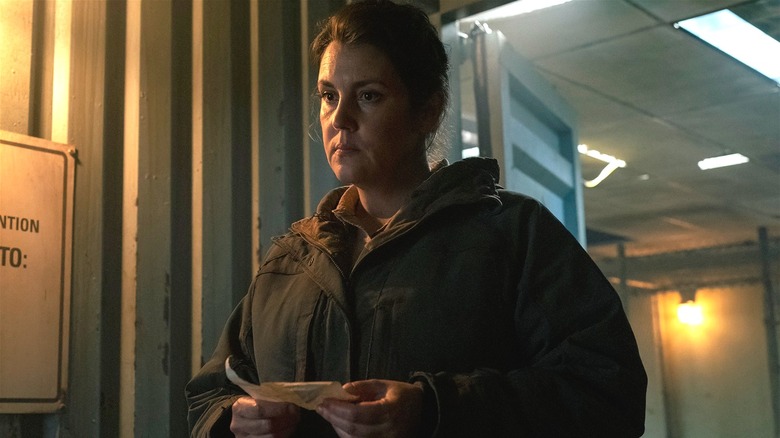 Liane Hentscher/HBO
Contains spoilers for "The Last of Us" Season 1, Episode 4 – "Please Hold My Hand"
After the romantic compound detour of Episode 3, this episode of HBO's "The Last of Us" brings the show closer to its game roots. Instead of being begrudgingly stuck with each other, and regardless of how much Joel (Pedro Pascal) insists that he sees Ellie (Bella Ramsey) as little more than cargo, the pair have now more or less officially teamed up for a mission to find Tommy (Gabriel Luna) and deliver Ellie to the Fireflies. This means a road trip, and even more importantly for fans of the games, a whole bunch of that patented banter between the two.
However, life in the Cordyceps-infested post-apocalypse is never easy for long. Though Ellie provides plenty of much-needed levity with her book of awful dad jokes, and Joel begins to warm up to his young ward, much of the episode is a life-or-death struggle. When members of Kathleen's (Melanie Lynskey) hostile survivor group ambush them in Kansas City, the main characters have to fight for their lives. Even the end of the episode offers no respite, as Henry (Lamar Johnson) and Sam (Keivonn Woodard) catch Joel and Ellie unawares when they try to get a moment of rest.
The episode is a perfect example of the franchise's signature combination of molasses-paced atmosphere and desperate life-or-death struggle, and the song that plays at the very end is a perfect choice to underline the mood. However, this cover of New Order's "True Faith" also has a backstory that you might not be aware of. 
Lotte Kestner's cover of New Order's True Faith was part of a controversial The Last of Us 2 mistake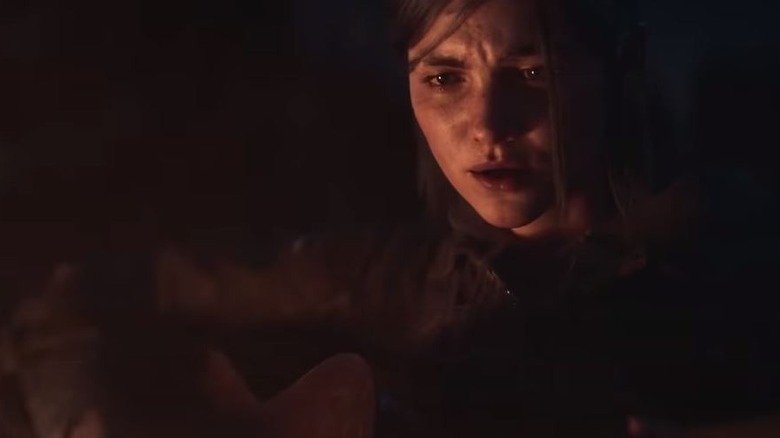 Naughty Dog
The song at the end of Episode 4 is a version of English rock band New Order's 1987 song "True Faith," delivered in the form of a haunting acoustic cover by singer-songwriter Lotte Kestner. This version of the song originally came out on Kestner's 2011 album "Stolen," but for "The Last of Us" fans with some behind-the-scenes information , it hits very, very different.
In "The Last of Us Part 2," Ellie is fond of strumming her acoustic guitar and singing mournful, moody versions of classic songs. In the game's promotional materials, one of the songs she performs is "True Faith." In 2020, Kestner caught wind of the similarities between her version and the one Ellie performs, and publicly accused "The Last of Us 2" of copying trailer music. 
The game's creative director Neil Druckmann was quick to address the situation. "Ellie's rendition of "True Faith" was inspired by Lotte Kestner's haunting cover of the song. Due to an oversight on our end, she wasn't credited as intended. Our deep apologies — we are rectifying this ASAP. We hope that @lottekestner receives the recognition she deserves," he wrote on Twitter.
Druckmann clearly delivered on his promise, as Kestner was quick to accept the apology. "So proud this music has found a home in such an amazing project. Thanks to Neil, Naughty Dog and everyone at Sony,", she wrote on Twitter in response to Druckmann's message.
As it happens, Druckmann is also the co-creator and co-writer of the HBO adaptation of the game, and it's probably fair to assume that he had something to do with Kestner's "True Faith" cover's presence in this episode. Not a bad way to make amends!