The Book Of Boba Fett's Carey Jones Didn't Know What Star Wars Project He Was In Until He Was On Set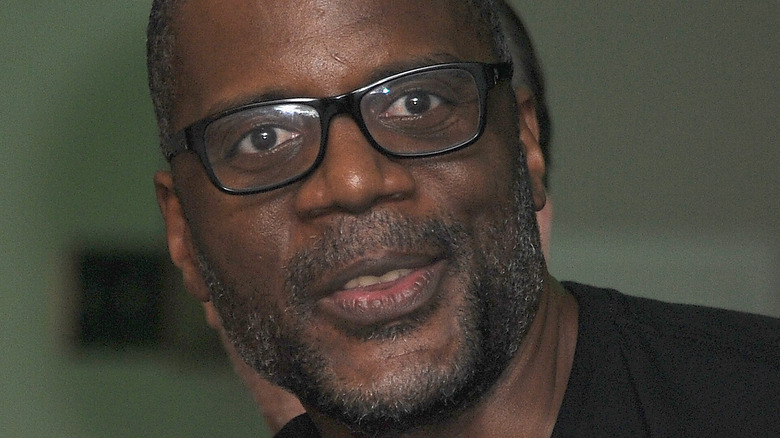 Albert L. Ortega/Getty Images
It's no surprise that massive studios go out of their way to retain a level of secrecy around their projects, and with the rising popularity of scoops and leaks, keeping things a surprise is harder than ever. Sometimes studios succeed, as was the case with "Avengers: Infinity War" and "Endgame." However, sometimes they don't, as fans saw with the leaked "Spider-Man: No Way Home" spoilers.
One studio that's pretty consistent in regards to maintaining secrecy is Lucasfilm. Not only did they surprise the world with their inclusion of Grogu (aka Baby Yoda) in "The Mandalorian" Season 1, but they also delivered another forceful surprise with the show's Season 2 ending featuring Luke Skywalker. 
"The Book of Boba Fett" also included its fair share of surprises that Lucasfilm managed to keep from leaking. The studio treated fans with another appearance from Luke while also bringing Ahsoka, Mando, Cad Bane, and Krrsantan into the mix. Lucasfilm undoubtedly puts a lot of resources towards keeping information top secret, which pays off tenfold when audiences are genuinely surprised watching their projects. As it turns out, the studio requires a certain level of clearance even to know what project you're working on ahead of time.
Carey Jones didn't even know he was playing Krrsantan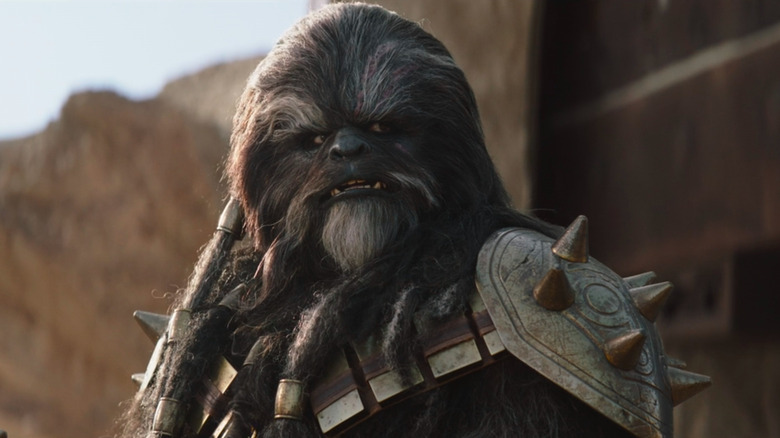 Lucasfilm/Disney+
Long-time "Star Wars" fan and actor Carey Jones couldn't contain his excitement after Robert Rodriguez called to give him a part in his "Star Wars" project. However, the "Book of Boba Fett" director didn't reveal to him what the project was, just that Jones would be playing a Wookie. "The funny thing about it is that although I knew that I'd been cast as a Wookiee, I didn't know that it was Krrsantan, or that we'd be making 'The Book of Boba Fett,'" Jones told "Star Wars Insider." "For a while, I'd assumed it was for another Star Wars show altogether, because Disney and Lucasfilm like to keep things so close to the vest, and they kept the scripts so secret. I didn't know it was actually a Boba Fett show until I was on set, but that was okay because I was going to be in a Star Wars production!"
The addition of Jones as Krrsantan in "The Book of Boba Fett" marks a rare time a "Star Wars" character has made the jump from the comics to live-action. Also known as Black Krrsantan, the Wookie is a formidable character in Marvel's "Star Wars" comics, making his first appearance in "Darth Vader" #1. He made a name for himself as a bounty hunter who's worked for Darth Vader and Jabba the Hutt and even fought Obi-Wan.
Jones revealed in the interview with Star Wars Insider that he got the part because he previously worked with Rodriguez on "Predators." Although you couldn't recognize him from watching the movie, Jones played the Tracker Predator, and his height made him a perfect choice to continue the late Peter Mayhew's Wookie legacy in "Star Wars."