The Office's Jenna Fischer Finally Reveals What Goldenface Said To Pam In Threat Level Midnight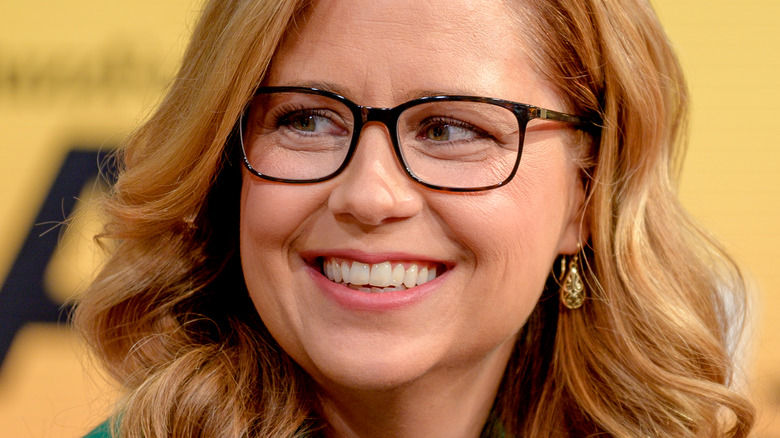 Roy Rochlin/Getty Images
It's amazing how "The Office" has remained a crucial part of the zeitgeist despite going off the air in 2013. It's been 10 years since fans said goodbye to the show, but thanks to streaming services and a broader cultural discussion, people haven't been able to let go of the iconic sitcom. Of course, the series' relevance is also aided by podcasts devoted to dissecting the show, and one of the most popular of these is "Office Ladies," hosted by two stars of the show — Jenna Fischer and Angela Kinsey. 
For the most part, each installment is dedicated to a separate episode of the series. Fischer and Kinsey are often joined by a special guest, and they talk about what went into the making of that particular episode and what it means to them. The January 11, 2023 episode of the podcast focused on the fan-favorite "Threat Level Midnight" with special guest B.J. Novak. It's a change of pace for the series as it mostly focuses on the Dunder Mifflin employees watching Michael Scott's (Steve Carell) movie, with the employees acting in various capacities in the film. 
Of course, there's one moment in the fictional movie that's always been a source of contention for fans, and Fischer set the record straight on "Office Ladies."
They had an entire backstory for Goldenface
In the original cut of "Threat Level Midnight," there's a scene in the fictional movie where Pam's character talks to Goldenface, played by Jim (John Krasinski). We hear Pam ask Goldenface about how his face ended up ... well, gold. But instead of focusing on the movie, the show turns its attention toward Michael and Holly (Amy Ryan). As such, it may be hard for some viewers to pick up on what's going on during "Threat Level Midnight."
Jenna Fischer and Angela Kinsey actually have the shooting script, so they're able to set up the scene that's supposed to take place. Interestingly, it's stated that Pam's character is supposed to be "flirtatious" with Goldenface. It makes sense; in the timeline of "The Office," they would have filmed "Threat Level Midnight" when Jim and Pam were still just friends, but now, the two can look back on it fondly. 
As for the scene itself, the hosts play a clip from the extended cut where Goldenface mentions how he used to work in a gold factory, but they weren't paid enough, so they had to eat gold to survive. You can watch this extended version on YouTube, along with the entirety of "Threat Level Midnight," without all of those pesky breaks of character development. And the thing about it all that shocks Fischer is that Pam was able to kiss Jim's cheek in front of Roy (David Denman) when she and Roy were still together. 
The show easily could've gone down the route of filming a few fake scenes of a movie to sell the episode. But it's pretty impressive they shot a whole short film that only Michael Scott could've come up with.