Logan Lerman Told Chris Hemsworth He Was A Stuntman For Extraction 2 When They Stayed At The Same Hotel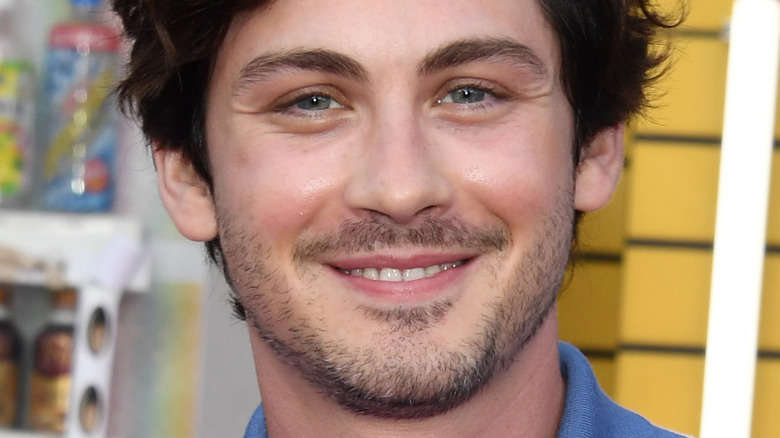 Jon Kopaloff/Getty Images
Like any star of an action series, Logan Lerman has to work out a lot for his role in "Hunters." On the Amazon Prime series, Lerman plays the math whiz Jonah Heidelbaum, who must be up for any combination of action and adventure. Otherwise, the Fourth Reich might take over America. According to Lerman, this all translates into many hours spent at the gym.
His costar, Al Pacino, naturally doesn't have to work out quite as much. Pacino, 82, plays the former leader of the titular "Hunters," an elite group that goes in search of Nazis within the United States during the 1970s. On January 9, 2023, the legendary actor joined his costar on "The Tonight Show Starring Jimmy Fallon" to help share an amusing story about an amusing recent encounter Lerman had with Chris Hemsworth. While the two visited Fallon to promote the second and final season of "Hunters," which premieres January 13, the anecdote about Hemsworth quickly took center stage.
Hemsworth had no idea who Lerman was
At first, as Logan Lerman shared the Chris Hemsworth anecdote with Jimmy Fallon, Al Pacino pretended not to know who Hemsworth was — a volley that Lerman didn't pick up on right away. But Lerman quickly launched into a story about meeting Hemsworth at a gym in Prague while the two were filming their respective projects. Logan joked that Hemsworth, who was working on "Extraction 2, made him feel quite emasculated when the two of them shared a gym.
"He has no idea who I am, and we're down there often and we start talking, and for some reason, he thought I was a stunt guy on his movie," Lerman told Jimmy Fallon. "And I never told him that I wasn't. So I pretended like I was just the stunt guy on his film showing up every day. I'm like, 'Yeah, work was crazy yesterday in the prison set, for sure. Definitely, for sure. I know what you mean.'"
When Fallon began to ask if Hemsworth ever discovered the truth, Lerman quickly blurted out, "He probably doesn't know who I am." Of course, if Season 2 of "Hunters" or Lerman's other upcoming projects pick up more steam, that could change soon. Then, Hemsworth might have a sudden epiphany about that one particular stunt guy he encountered in Prague.