A Quiet Place: John Krasinski And Emily Blunt Talk Creating The Unique Thriller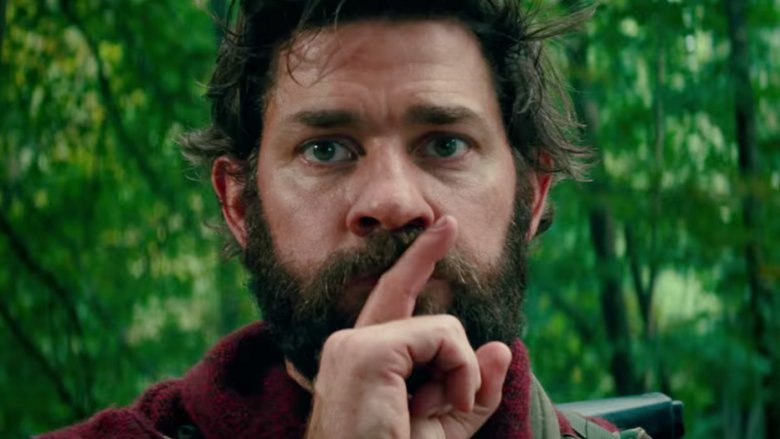 Paramount Pictures
If you've seen the spooky trailers for A Quiet Place, you'll know the flick isn't your average horror fare. Mysterious demons haunting a world where silence is the key to safety, and where a family of four must communicate using only sign language, wide eyes, and worried expressions? Not exactly Paranormal Activity or The Conjuring. 
Director John Krasinski, who makes his feature directorial debut for a major studio with A Quiet Place, and his on-screen and off-screen partner Emily Blunt recently spoke with Entertainment Weekly about crafting the upcoming thriller, discussing what it was like working together as husband and wife.
Krasinski first addressed the ever-present question of why he decided to take on a horror movie, when he's best known for playing a goofy prankster on a sitcom (Jim Halpert on The Office) and will next portray a slighty rough-around-the-edges CIA analyst on an Amazon-exclusive action drama (the titular Jack Ryan on Tom Clancy's Jack Ryan). 
"People are like, 'Why did you do a horror movie?' I didn't. I chose to do a family movie that happens to be scary," Krasinski explained. "I thought this story could be the greatest metaphor for parenthood — I mean, it'd be a terribly cheesy tagline: What would you really do for your kids?"
Surprisingly, it wasn't actually Krasinski's idea to direct A Quiet Place. After Krasinski read and rewrote the spec script from Bryan Woods (Nightlight) and Scott Beck (Spread), Blunt suggested that he take the reins to helm what would be his first effort for a studio of Paramount Pictures' caliber. (Krasinski previously directed 2009's Brief Interviews with Hideous Men for IFC Films and 2016's The Hollars for Sony Pictures Classics.) He agreed on one condition: Blunt take the lead role as Evelyn Abbott. 
"It is the greatest compliment of my entire career," Krasinski said of Blunt's suggestion, later stating that "no one else" could have played Evelyn like Blunt did. 
Blunt opened up about the reality of having her husband direct her for the first time, admitting that they both were "terrified the night before" shooting began. "You just don't know, you know? How you like to work and how you apply yourself at work and you don't know if those processes are going to crack heads sometimes. Which is not to say it was sunbeams and rainbows the whole time," the actress said with a laugh. "But I just knew he had my best interests at heart, and I had his, and we realized just how aligned we really are creatively. It was eye-opening. It was so new to us. We hadn't had that before. We discovered different sides to each other that go beyond us being a married couple."
Krasinski added that he would often forget Blunt was his wife because "she's just that good." 
As for whether A Quiet Place has made the couple want to collaborate again in the future, Krasinski and Blunt revealed that they'd love to join creative forces once more. 
"We really, really do [want to work together again]. It would have to be the right thing, but if he would direct me, I could pop in," said Blunt. She added with a chuckle, "I don't have to be the lead!"
Krasinski agreed, but coyly admitted that it's "definitely going to be hard to top" A Quiet Place.
We can see the fruits of Krasinski and Blunt's labor when A Quiet Place is released on April 6.