Criminal Minds Fans Are In Full Support Of Paget Brewster's Updated Look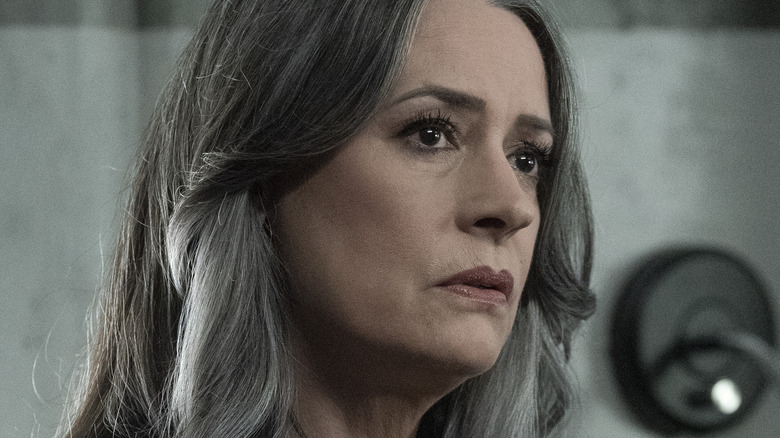 Michael Yarish/Paramount+
Paget Brewster is sporting a "new" look in Paramount+'s "Criminal Minds: Evolution." One of the stronger aspects of this sequel-reboot is the show's attempt to depict some semblance of off-screen change for the characters, which occurred during the show's irregularly long hiatus. David Rossi (Joe Mantegna) has lost more than most of his peers, throwing himself blindly into his violent work as a result, while Penelope Garcia (Kirsten Vangsness) had begun a journey of self-reflection and healing that ultimately drove her away from criminal justice entirely.
Brewster's character sees a more subtle change, her new position pulling her from the field and burying her in unending bureaucracy. As such, she carries a more mature sense of authority and experience this season, which is reflected in her refreshingly updated appearance.
Returning to her role as Emily Prentiss, — a high-ranking member of the FBI's Behavioral Analysis Unit — Brewster rocks her natural gray hair on set. While this may seem like a small deal, it's a relatively remarkable development for a series with firm roots in a bygone age of television. Brewster shouldn't have to wear wigs or dye her hair to meet the expectations of others — a fact which her fans couldn't be more in agreement with.
Brewster's new look is incredible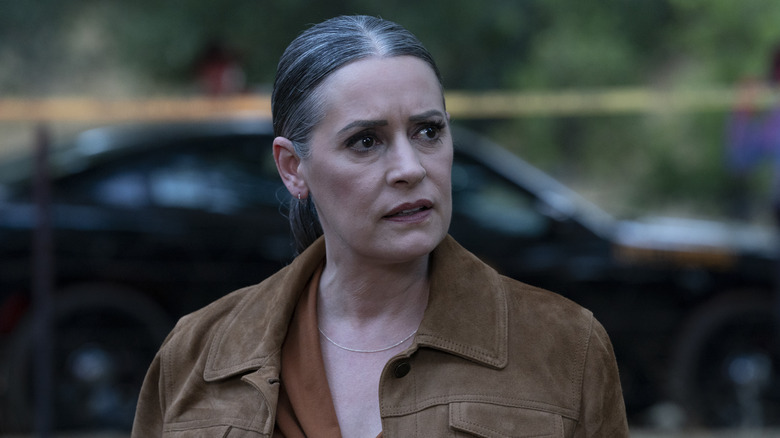 Michael Yarish/Paramount+
In the r/criminalminds subreddit, a user shared a screenshot of a tweet from Paget Brewster — over a selfie featuring her grey locks, her caption read: "Oh, hi guys !! This is my first [Criminal Minds] hair and make up from this morning... I hope you're all excited for a slightly older, sassier no filters, grey haired Prentiss. And if you aren't, that's cool, just tell someone else."
Critics may have a hard time finding someone to tell — as of this writing, the post has over 1,400 upvotes and an approval rate of 99%. Aside from the fact that it perfectly suits her new position as well as the age her character would reasonably be, fans seem very excited that the series will do away with its noticeable attempts to cover up her natural hair color.
"So glad they are finally letting Prentiss rock Paget's grey hair," wrote u/Queen-Leviosa. "The wigs the last few seasons were completely unnecessary and not great quality anyway." u/pxmpkxn agreed, calling her look "incredible" before writing: "The wigs were pretty bad and kinda obvious and honestly her natural hair looks really great."
Despite some fans criticizing the apparently obvious use of wigs in recent seasons, others were shocked to hear this news. u/Valen258 explained: "If you rewatch the latter [sic] seasons you'd notice how little her hair style changes not even her fringe or parting. She also never wore it in a pony which she often did at the start especially when out in the field."
"I'm glad we get to see a woman in her 50s looking her age," continued u/pxmpkxn, "and looking great at the same time." At the very least, its a credit to this subreddit that they were overwhelmingly and almost unanimously supportive of her choice.