Blue Bloods Fans Are Now Speculating About The Future Of Danny And Baez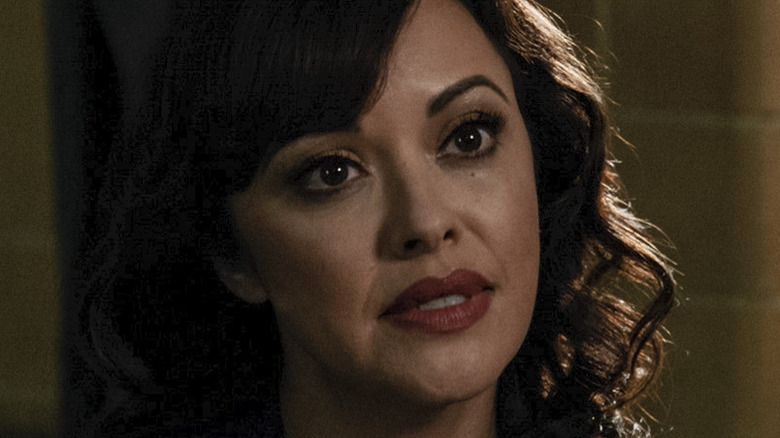 CBS Entertainment
The following article contains spoilers for "Blue Bloods" Season 13, Episode 9 — "Nothing Sacred."
Danny Reagan (Donnie Wahlberg) and his partner on the police force, Maria Baez (Marisa Ramirez), have come a long way since they became a no-nonsense team during Season 3 of "Blue Bloods." They'd been friends for over 10 years before finding themselves paired up in the field, and in the 10+ years since then, a lot of terrible and wonderful things have occurred — incidents that have bounded them as friends and cemented their connection. 
During the span of their partnership, Danny has lost his beloved wife, Linda Reagan (Amy Carlson), and dealt with single parenthood along with a whole host of nasty perps, but he has also been promoted up the ladder at work. He deals with strife on the home front after his brother, Jamie Reagan (Will Estes), is promoted into his old position as Sergeant, causing their professional conflict to become personal. Baez, meanwhile, has adopted a baby girl named Elena and had a brief relationship with Jimmy Mosley (Johnathon Schaech).
Fans of the police procedural have always had mixed feelings about whether Maria and Danny's professional relationship and strong friendship should turn more romantic: While some wholeheartedly support the notion of them getting together, others would rather things stay platonic between the two friends. A comment Danny makes about Maria during "Nothing Sacred" has viewers wondering if the show's producers are finally prepared to pull the trigger on a Danny and Maria love story.
Danny thinks Maria might be the right woman in his life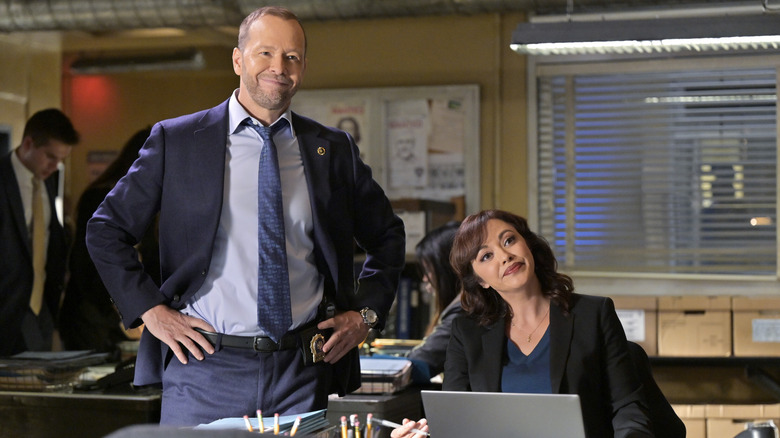 John Paul Filo/CBS
During "Nothing Sacred," Danny Reagan is called to intervene in a deep cover mission that has ensnared his friend, John Dixon (Ben Thompson). Danny soon learns that John has taken up drinking, and he isn't entirely sure at first if this is part of John's cover or if his friend is in genuine crisis. John's wife, Naomi (Erin Anderson), is soon kidnapped by the bad guys John has been ingratiating himself with, and John is pulled from the case to help find her, ultimately resulting in him realizing he belongs at home with Naomi and their family. Afterward, Danny and John talk about their luck in finding the support they have, and Danny says, "I'm happy with my partner. We have the right women in our lives" — indicating Maria Baez, in his case.
Fans of the show who hang out on Reddit and Twitter immediately picked up on Danny's reference to Maria and are running wild with it. Twitter fans are enthusiastic about the notion of a Danria romance. "Is there some hope?" wondered @MissIceTee. While some fans remain uncertain about the prospect of the duo getting together, and other fans feel that Danny's reference was intended to be platonic, those who ship the characters together are taking this as a sign that the couple might become canon soon. "Mark my words! Danny and Baez will be together by the end of the season," said @dannyandbaez. Other fans just want Danny's long, post-Linda loneliness to finally end via a connection to Baez. "[P]lease let Danny be happy again with Baez," begged @lisamarieLML.
Wahlberg and Ramirez — and the show's producers — weigh in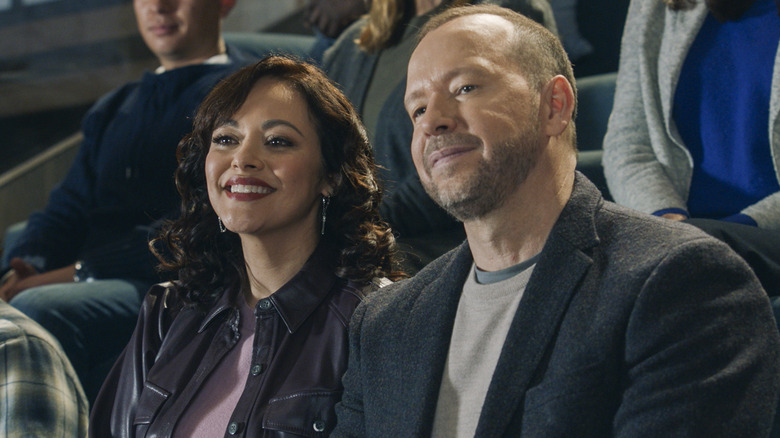 John Paul Filo/CBS
Reddit fans were also intrigued by the notion of the characters' pairing. "I know the show doesn't want to go that route, but if you just analyze that line without thinking of that, to me there is no way there is no deeper meaning to it," said u/llcarr. "I say this knowing the showrunner is against it and it's probably never going to happen, but that line just doesn't align with that stance at all."
The comments referenced by u/llcarr refer to an October 2021 TV Insider interview with showrunner Kevin Wade, who remains staunchly against the idea of pairing Baez and Reagan together. "Once it happens, there's nowhere to go. There really aren't stories in happy couples and there are definitely not stories in police detectives on the job having a personal relationship with their partner," he said, adding that they would have to go to the trouble of separating Maria and Danny in the field if they become a couple and would be forced to add new partners for both of them.
And how do Donnie Wahlberg and Marisa Ramirez feel about their characters potentially pairing up? During a September 2021 appearance on "The Talk" (via the show's official Instagram page), Wahlberg referenced the pairing of Jamie Reagan and Eddie Janko (Vanessa Ray), which resulted in the characters having to take on new partners and the actors resultingly spending much of their on-camera time apart. "If they [Danny and Baez] start a relationship, we won't have scenes together, and then I'll miss my friend," he said.
"I don't want to be here if I don't have scenes with him," agreed Ramirez. For now, it looks like fans will just have to wait and see what lies ahead.