Darren Aronofsky Praises Ty Simpkins For His Performance In The Whale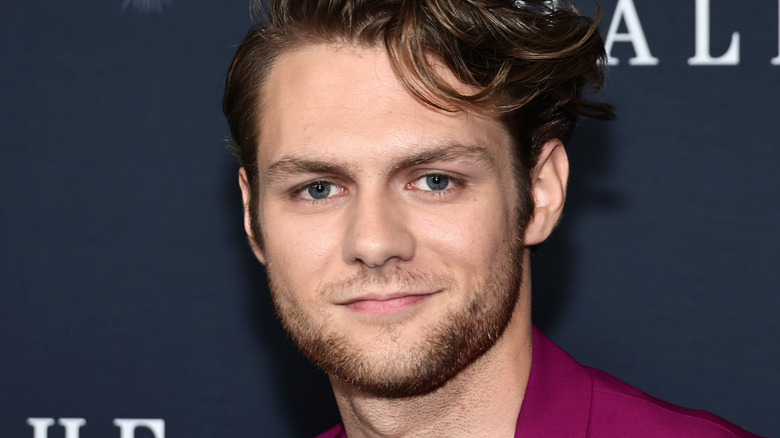 Jamie Mccarthy/Getty Images
After over two decades directing a wide variety of controversial films, Darren Aronofsky seems to be on the cutting edge of snapping up actors who started young. His newest film, "The Whale," stars Hollywood veteran Branden Fraser in his big-screen comeback after years away from the spotlight (via StyleCaster). And Fraser's in good company — the younger actors are also holding their own in the film, including Sadie Sink, who plays the lead character's daughter Ellie. Sink got her start on Broadway in productions like "Annie" but more recently has become a household name due to Netflix's nostalgic phenomenon "Stranger Things" (per Variety).
She's joined by rising actor Ty Simpkins in the role of Thomas. And if that name sounds unfamiliar, it's still more than likely you have seen him in some capacity. Fans of horror may recognize him from James Wan's "Insidious" series as haunted child Dalton Lambert, and he went on to appear in huge blockbusters such as "Jurassic World" as well as "Iron Man 3." With his star on the rise, Aronofsky has nothing but praise for the young actor and his performance in "The Whale."
Ty Simpkins is comfortable with vulnerability
Judging by his performance as the precocious Harley in "Iron Man 3," Ty Simpkins has comedic chops. While it's not the highest-ranked film in the Marvel Cinematic Universe, one of its standout elements was the chemistry between Robert Downey Jr. and the up-and-coming young actor. Simpkins has taken some time away from the camera the past few years, but it appears he hasn't lost his touch.
"Ty has a very good comedic sense," Darren Aronofsky noted while dissecting a scene with Sadie Sink for Vanity Fair. "And there's a lot of male actors that won't act silly and vulnerable like that. And he's very, very openhearted to embarrass himself, basically." Aronofsky pointed out the distinctive walk that Simpkins implements while running away from Sink's character. Moments of levity are needed for a film that explores as many dark themes as "The Whale," and finding the right actor for the fake missionary was no easy task. Though many were in the running, none of them were as close to Sink's age as the director had hoped.
"Right before we were about to start ... Mary Vernieu, our casting director, was like, 'Oh, there's this one guy, Ty Simpkins. He was a child actor, but he hadn't acted in a while' ... But he got on tape and the next day he got on a plane and joined us in New York, where we shot the film, and he was great!"