Longlegs - What We Know So Far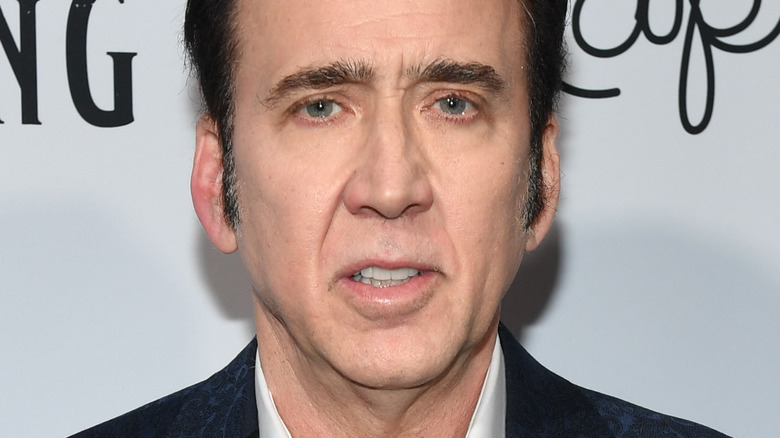 Sonia Recchia/Getty Images
Nicolas Cage has had quite the career trajectory. As a member of the Coppola family, Cage always seemed destined to pursue a path in Hollywood, and he's certainly made his mark as one of the most eclectic performers around. Since the 1980s, he's gone through several career phases, beginning with run-of-the-mill projects before winning an Academy Award for best actor in 1996 for "Leaving Las Vegas." Since that time, he moved between franchise films and straight-to-DVD projects, but right now, he's currently in the midst of a resurgence. 
He earned widespread acclaim for starring in the 2018 action/horror film "Mandy" and went on to star in numerous other prolific projects, including "Pig," "Color Out of Space," and "The Unbearable Weight of Massive Talent." And the actor shows no signs of slowing down any time soon. He has numerous projects in the works, and one you definitely want to keep an eye on is called "Longlegs." Here's everything we know about the upcoming horror movie so far. 
When will Longlegs be released?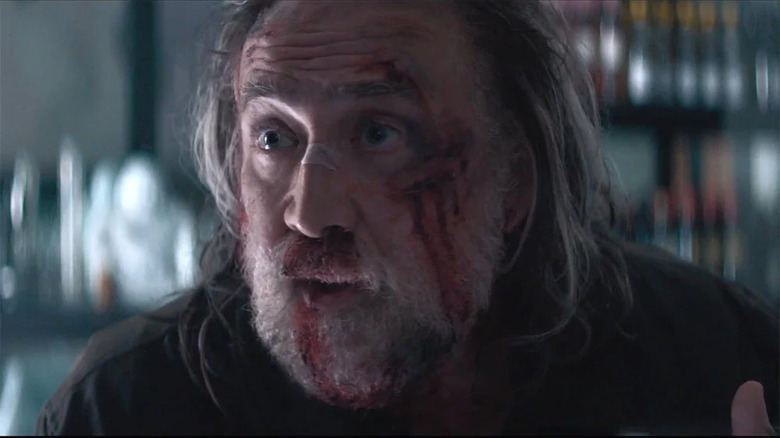 Neon
News of "Longlegs" came in November 2022, so it's still pretty fresh in people's minds. Unfortunately, there's no information at this time about when we can expect "Longlegs" to come out. All we know is that the plan is to start filming in 2023, so with everything Nicolas Cage has on his plate these days, it could take some time. 
Later in 2023, Cage will play Dracula in "Renfield." After that, he has an assortment of films due to be released, including "The Retirement Plan," "Sympathy for the Devil," "Dream Scenario," and "Sand and Stones." That's not even getting into "Longlegs," and we know that project is further down in Cage's pipeline. In November 2022, Cage had a conversation with director John Carpenter where he spoke about his upcoming slate of work, saying, "I'm gonna do a movie called Sand and Stones. I play a father in that, with twin sons. It's kind of a post-apocalyptic [survival] situation. After that, I'm working with Oz [Perkins]" (via Document). 
Perkins will be the director for "Longlegs," so we know filming for "Sand and Stones" comes first. It may be a while until audiences finally see "Longlegs," but hopefully, the movie's worth the wait. 
What is the plot of Longlegs?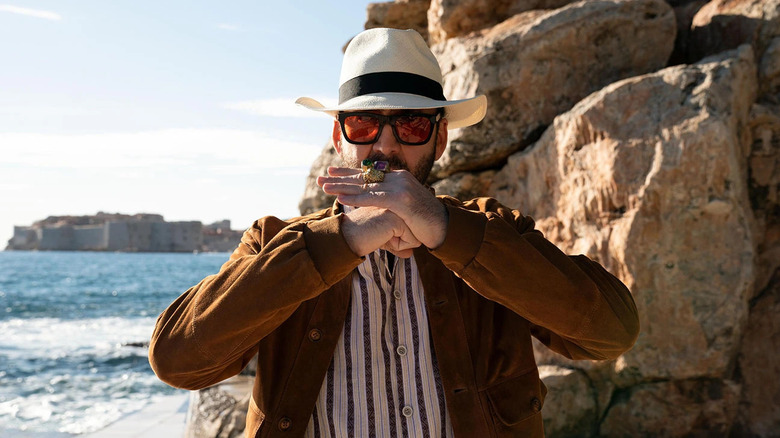 Lionsgate
When information about "Longlegs" first came out, any details were pretty sparse. Deadline even reported that details were being kept under wraps due to the project being a horror-thriller, and producers allegedly wanted to keep it that way in the vein of prior psychological thrillers in Hollywood.
However, Nicolas Cage couldn't help but let a few tidbits slip in his conversation with John Carpenter. Cage went on to talk about the project, and all that he would let slip was, "It's about a character who's hearing voices. It's kind of like a possessed Geppetto, who's making these dolls." Geppetto is naturally famous as the puppet maker from "Pinocchio," but it's unclear how much this movie will borrow from that story if anything at all. It could be an entirely different story about a dollmaker, but it certainly sounds like something up Cage's alley. Cage has made excellent use of the horror genre in recent years with "Mandy" and "Willy's Wonderland," so hopefully, "Longlegs" carries on that trajectory. 
Who is starring in Longlegs?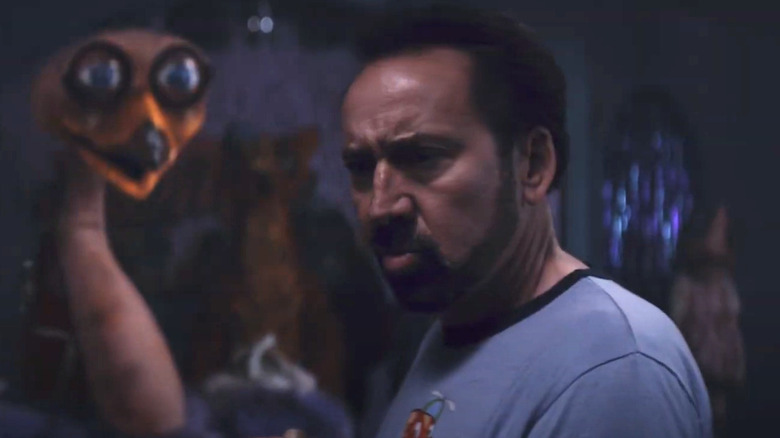 Screen Media Films
As you should know by this point, "Longlegs" will star Nicolas Cage as a Geppetoo-like figure. Not much else is known at this point, and it has not been announced what other actors are attached to the project. But lead actor isn't the only role Cage is taking on for this endeavor. He'll also function as a producer, and the movie will be made in partnership with his production company Saturn Films, which has been behind many of Cage's films over the last two decades. 
Saturn Films' first endeavor was in 2004 with "National Treasure" before moving on to many other Cage projects, including "Willy's Wonderland," "Pig," and "Prisoners of the Ghostland." It's also his most recent endeavor, the Western flick "The Old Way." To be honest, it doesn't really matter who else stars in "Longlegs." Cage's name alone is enough to put people in seats.
Who is directing Longlegs?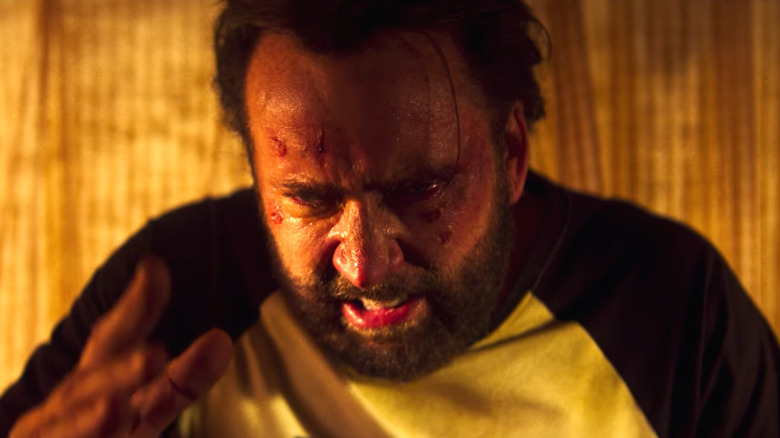 RLJE Films
The director behind "Longlegs" is the same as the screenwriter: Osgood Perkins. That last name should sound familiar to you as he's the son of actor/director Anthony Perkins, who's perhaps best known for playing Norman Bates in "Psycho." But that's merely one credit in a long history in the industry, as he's also recognizable for his parts in "Catch-22," 1974's "Murder on the Orient Express," and "Mahogany." 
Osgood Perkins seems to have followed in his father's footsteps. Before venturing into the realm of writing and directing, Perkins acted in an array of films, including "Psycho II" as a young version of Norman Bates. He's certainly no stranger to the horror genre, as he recently acted in a small part in Jordan Peele's "Nope." He's also directed several horror films himself, such as "The Blackcoat's Daughter" and "Gretel & Hansel." He also has an episode of "The Twilight Zone" reboot under his belt, so "Longlegs" comes from a seasoned professional. 
Who is producing Longlegs?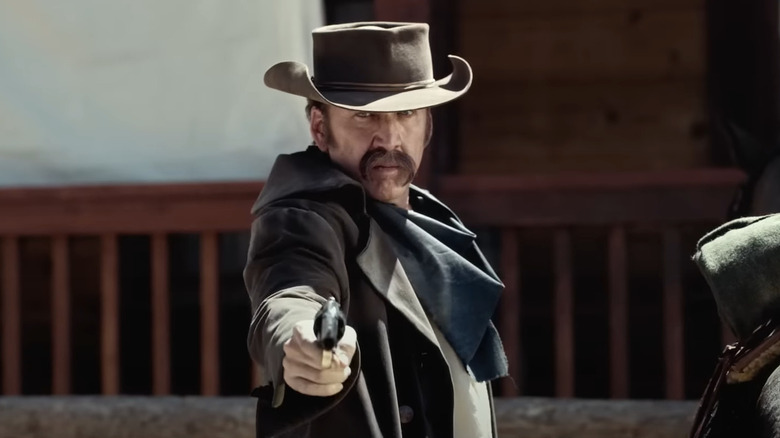 Saban Films
Nicolas Cage will produce "Longlegs" in addition to starring in it, and he has some noteworthy talent backing him up. Deadline reports that other producers on the film, including a bevy of horror talent who seem especially suited to this kind of film. He'll be joined by Dan Kagan ("Significant Other"), Chris Ferguson ("Child's Play"), Dave Caplan ("Babylon"), and Brian Kavanaugh-Jones ("Insidious"). 
Deadline also states that Fred Berger ("La La Land") and Jason Cloth ("Joker) will be onboard as executive producers. Both Cloth and Caplan are affiliated with C2 Motion Picture Group, which is presently in the midst of working on an action-horror film called "Azrael," which stars Samara Weaving. C2 Motion Picture Group will fully finance the film, and with this kind of talent onboard, it seems like a sure thing "Longlegs" will be something special.