John Krasinski Credits The Office Costar Rainn Wilson With Giving Him The Push To Start Directing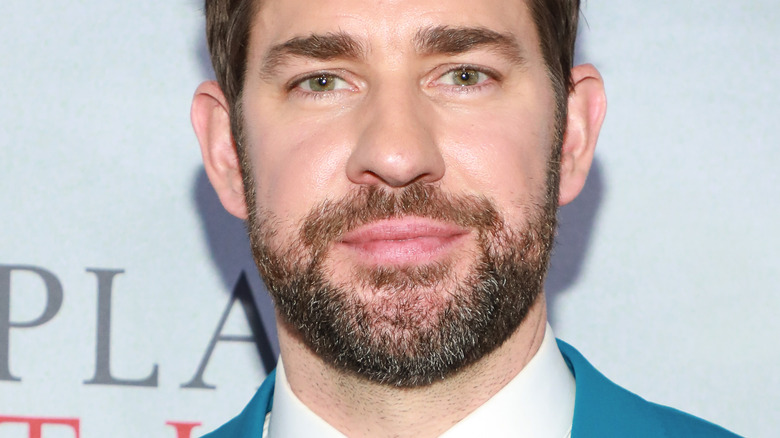 Jason Mendez/Getty Images
Anyone who watched "The Office" – the NBC mockumentary-style sitcom about a group of employees working at the fictional Dunder Mifflin Paper Company — knows that two of the most notable characters are Jim Halpert (John Krasinski) and Dwight Schrute (Rainn Wilson). Jim is sarcastic and affable, often acting as the voice of reason in the ridiculous mishaps that happen around the office, while Dwight is quirky and out-there but also goes to great lengths for his job.
As fans also know, Jim and Dwight are even more notable as a pair because the pranks they pull on each other make for some of the funniest moments of the show. Some of the most memorable pranks include Jim dressing up as Dwight to impersonate him, Jim setting up Dwight's desk in the bathroom, and Jim having someone else (Randall Park) pose as himself at work to mess with Dwight's head. On the other side of things, Dwight helped Jim get used to his fake fire drills.
As it turns out, Krasinski and Wilson have a very different relationship than the frenemy situation between their characters on "The Office." In actuality, they seem to have a very supportive friendship. In fact, Wilson encouraged Krasinski to start his directing career, and here's what Krasinski has to say about his former co-star's support.
Krasinski says he received words of encouragement from Wilson prior to taking on a director role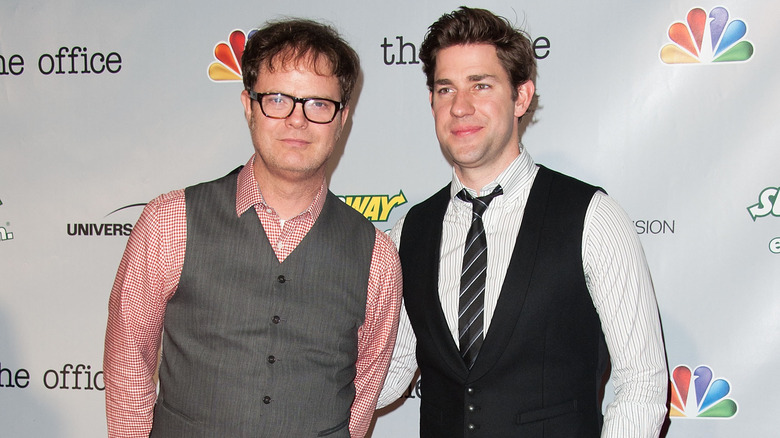 Valerie Macon/Getty Images
John Krasinski recently appeared on the podcast, "Smartless" – hosted by Jason Bateman, Sean Hayes and Will Arnett — to talk about his career. When they got to Krasinski's directing career, the filmmaker revealed he got the push he needed to take on the task from none other than Rainn Wilson. Krasinski noted that he had the idea of directing in the back of his head, but he thought he lacked the confidence to do it. Then, he and Wilson had a meal together when Krasinski mentioned he was trying to find a director for a film he wrote, "Brief Interviews with Hideous Men."
"[Wilson] goes, 'Why don't you do it?' And my brain shut off," Krasinski said. "I went, 'What are you talking about?' He was like, 'You should just do it!' And so I did. He encouraged me to direct it." "Brief Interviews with Hideous Men" was then released in 2009, with Krainski as the director and writer. 
Krasinski then revealed that when the crew of "The Office" heard about his plan to direct, they proposed the idea that Krasinski take on the task of helming a few of the sitcom's episodes, which he credits as helping him learn the art form. "They said, 'Why don't you direct a couple episodes to get your feet wet?' And 'The Office' was my entire film school," Krasinski said. "Everything I could ever dream of, I got in the purest form on that show, [from] the unbelievable writers room that we had to these unbelievable editors."