Walter Matthau Ended His Career With A Flop Instead Of A Bang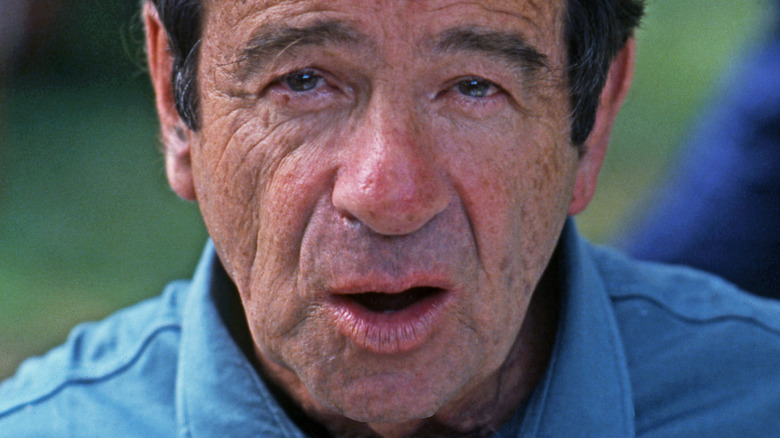 Edoardo Fornaciari/Getty Images
There is no denying that Walter Matthau had a very rewarding career, lending his incredible onscreen talents to a remarkable number of top-rated titles throughout the years he was active in the industry (via Rotten Tomatoes). But after starring in so many worthwhile endeavors, it's unfortunate to report that the actor's last role was in a film many considered unsuccessful and others believe is downright hard to watch.
Many people probably know Matthau from his frequent collaborations with actor Jack Lemmon. Together the two icons starred in ten films, including "Out to Sea" and "The Odd Couple." But Matthau also made a name for himself in several features without Lemmon in the mix. Some of his more noteworthy cinematic runs included "The Taking of Pelham One Two Three," "Charade," and "The Bad News Bears" (via IMDb). In the process, he would go on to win several accolades during his tenure in Hollywood. He earned an Academy Award for his work "The Fortune Cookie" in 1966 and a Golden Globe award for his performance in "The Sunshine Boys" in 1976. He also took home a few Tony Awards for his efforts on Broadway (via Broadwayworld.com) and received an Emmy nomination for his memorable turn in "The DuPont Show of the Week." It seems clear that Matthau most assuredly accomplished a lot during his time in Hollywood, but sadly, his final movie role was part of a very forgettable motion picture that does not do a great job of reflecting his actual body of work.
Hanging Up was a dud with critics and at the box office
Among the many movies Walter Matthau appeared in, many would agree that he was a solid player when it came to the comedy genre. With that in mind, it is perplexing that his final movie didn't get as many laughs as expected. The 2000 comedy-drama movie "Hanging Up" was Walter Matthau's last onscreen credit before his death on July 1, 2000. The feature was based on the novel of the same name written by Delia Ephron, who also penned the screenplay with Nora Ephron, a well-renowned writer known for her exemplary work on films such as "You've Got Mail" and "When Harry Met Sally." Academy Award-winner Diane Keaton directed the film and starred alongside Meg Ryan and Lisa Kudrow. The narrative follows the three actresses playing sisters with very different lives who bond over their ailing father, played by Walter Matthau. Despite having big names attached both on and off camera to the project, the film failed to resonate with critics and viewers, earning dismal scores on Rotten Tomatoes and IMDb. The box office returns were also anything but stellar, taking in a measly $51 million off of a reported budget of $60 million (via Box Office Mojo).
While the film is not considered to be the worst comedy of all time and did fare better than certain titles on Rotten Tomatoes when comparing embarrassingly low scores, "Hanging Up," however, does put Walter Matthau on the list of actors who went out playing roles in movies that didn't do very well at all compared to the rest of what they achieved.