Star Wars: Episode IX Will Bring Finn And Rey Back Together Again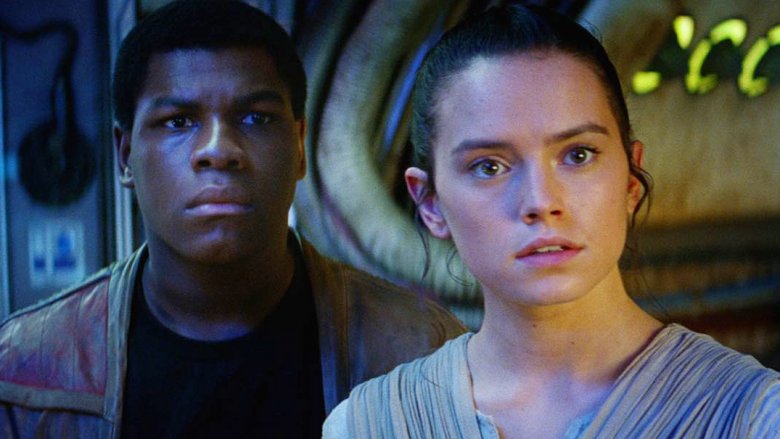 Lucasfilm Ltd.
Expect to see a reunion of galactic proportions when Star Wars: Episode IX soars into cinemas.
Current Star Wars trilogy actor John Boyega, who plays the former Stormtrooper-turned-total Rebel scum Finn, revealed during an appearance at Awesome Con in Washington D.C. that Episode IX will bring his character and Daisy Ridley's Rey back together again. Though Boyega himself hasn't read the script for the upcoming installment, he did get word from Ridley that director J.J. Abrams is pairing the two heroes up once more for the trilogy's final adventure.
"I haven't read the script for Episode IX. But Daisy did shoot me a text saying, 'Oh my gosh, I just heard from J.J., and we're back together,'" Boyega said (via Slashfilm). "That's what I'm really excited about, is Finn and Rey back together again."
This is fantastic news for franchise fans who first fell in love with Finn and Rey's friendship in The Force Awakens. The film introduced us to Ridley's Force-sensitive scavenger and Boyega's runaway First Order follower, and we watched as the two teamed together to fight for what's right and to find Mark Hamill's then-missing Luke Skywalker. 
The ragtag duo that spent the majority of The Force Awakens side by side then separated in The Last Jedi, with Rey journeying to the island-covered planet Ahch-To to learn more about Luke and the Skywalker legacy and Finn making a new friend in Kelly Marie Tran's Resistance worker Rose Tico. The Last Jedi writer-director Rian Johnson explained that the characters weren't together in the film because they "don't challenge each other," but it seems that Episode IX will be a different story entirely.
Boyega confirmed as much later on at Awesome Con, stating that Episode IX will be incredibly intense. "I think it's going to be all-out war in this final chapter, so we need to be prepared," the 26-year-old actor said. 
As for what else the movie might entail, Boyega couldn't dish up a whole lot of details, as he still hasn't seen the script, but he did reveal the one story he hopes Episode IX will explore: Finn's origin. "One question I've always had as an actor being involved in Star Wars is why Finn decided to defect in the first place. I still don't understand. I would love to know more, to go into his life as a Stormtrooper," Boyega stated. 
Joining Boyega and Ridley for Episode IX are Adam Driver as the nefarious Kylo Ren and Oscar Isaac as the smooth-talking and risk-taking X-wing pilot Poe Dameron.
Star Wars: Episode IX is set for a December 20, 2019 launch.