Leonardo DiCaprio As The Joker Is The Creepiest Sight We've Ever Seen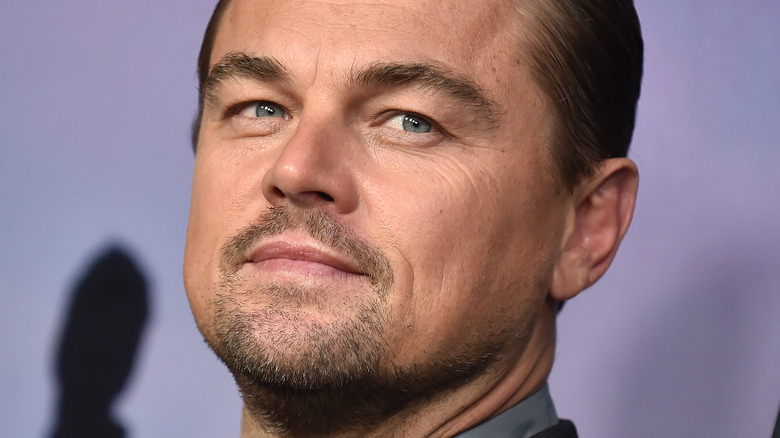 DFree/Shutterstock
Leonardo DiCaprio is one of the last remaining movie stars of his generation — an actor who has somehow mastered the craft of starring in films that are both box office blockbusters and critically acclaimed award-winners. His best-known movies include era-defining hits like "Titanic," "The Wolf of Wall Street," "The Revenant," "Once Upon a Time in Hollywood," and "Inception."
DiCaprio has appeared in nearly every film genre, ranging from period romance to social satire. Yet, there's one field he's studiously avoided to date: the superhero/comic book movie. Two huge roles DiCaprio turned down included Robin in 1995's "Batman Forever" and Spider-Man in Sam Raimi's 2002 film. DiCaprio was also a top pick to play the web-slinger in James Cameron's abandoned adaptation (according to Empire, via Spider-Man News). Still, he has yet to suit up.
Although he claims to have nothing against the genre and has said he just hasn't found the right project, DiCaprio also apparently advised Timothée Chalamet (via Vogue) to avoid superhero movies. So while The Hollywood Reporter claimed in 2017 that Warner Bros. wanted DiCaprio to star for executive producer Martin Scorsese in the supervillain origin movie "Joker," it should come as no surprise that, as director Todd Phillips told the New York Times, the film was developed with Joaquin Phoenix in mind for the role and DiCaprio was never a factor.
However, that hasn't stopped one artist from imagining how DiCaprio might look as Batman's greatest adversary.
Now we almost wish Leonardo DiCaprio did get the part
Royy Ledger, a self-described "art director and VFX wizard" (via Instagram), has posted a series of digital paintings online. Many of them are different iterations of DC superheroes and other popular genre characters from movies, TV, and comics. But one picture stands out: an unsettling painting of Leonardo DiCaprio as the Joker (which you can see here). It features DiCaprio with a fairly traditional Joker look — the green hair, the white skin, the smeared red lips, and perhaps some scarring around the mouth. But what really grabs the viewer's attention is the manic gleam in his eyes and his wide rictus grin. These factors both help to project this Joker as a homicidal maniac without even seeing him in action.
Many actors have played the character over the years, and he remains the only screen supervillain for which two different thespians — Heath Ledger and Joaquin Phoenix — have won an Oscar. We've also seen memorable portrayals of the character from the likes of Jack Nicholson, Cesar Romero, Mark Hamill, and, most recently, Barry Keoghan.
But what if Warner Bros. had pursued Leo? With no disrespect to Phoenix and the incredible performance he gave in "Joker," Royy Ledger's reimagining of DiCaprio as the character, who is regularly ranked as one of the best movie villains, can't help but make one want to see that film as well. And who knows? Perhaps one day we will. The Joker isn't going anywhere, and neither is DiCaprio.