Mark Cuban Once Called Out The Breathometer As The Worst Shark Tank Investment He Ever Made
Mike Stobe/Getty Images
Here's a typical "Shark Tank" segment: an entrepreneur comes in with an innovative product and pitches it to the sharks. The sharks compete with each other to make an investment offer, and once that investment offer is accepted, the shark and the entrepreneur begin a fruitful business relationship.
The reality is a lot more complicated. In a 2016 survey of "Shark Tank" participants, Forbes discovered that 73% of those who accepted a deal on the air didn't actually get the deal they agreed on. Often, the sharks will revise the deal after further investigation, or cancel it entirely. Assuming the deal does go through, that's no guarantee that the company will go on to become successful. While "Shark Tank" does occasionally provide updates on how businesses are doing after getting their deal, the vast majority of deals are never brought up again. Starting a business is risky, whether that includes "Shark Tank" or not.
Of course, this risk cuts both ways. Just like entrepreneurs take a big risk by starting a business, the sharks also take a big risk by investing in businesses they know little about. Recently, Mark Cuban appeared on the Full Send podcast to talk about his worst ever "Shark Tank" deal.
The Breathometer seemed like a surefire hit
ABC/Hulu
Entrepreneur Charles Michael Yim appeared on the second episode of "Shark Tank" Season 5 to pitch the Breathometer, with his episode airing in September 2013. The premise of the Breathometer was simple: it was a smartphone attachment that could detect a person's blood alcohol content after they breathed into an apparatus. If a person's blood alcohol content was too high, the Breathometer would tell them how long it would take to sober up. Best of all, the Breathometer could easily arrange for them to call a cab.
Yim asked for $250,000 in exchange for a 10% equity stake in his company. All five of that week's sharks were interested, including Cuban, Kevin O'Leary, Mark Herjavec, Lori Greiner, and Daymond John. In the end, Yim made an unprecedented deal with all five sharks: $1 million in exchange for 30% equity. Mark Cuban agreed to pony up $500,000 for 15%, with the other four sharks contributing the remaining $500,000 for the other 15%.
The plan was to combine Cuban's sensor technology expertise with Greiner's retail know-how, along with O'Leary, Herjavec, and John's business guidance. All five sharks were confident that it would work, but ultimately it fell apart. The reason why is still in dispute.
Mark Cuban recalled the Breathometer's inventor as an inveterate party boy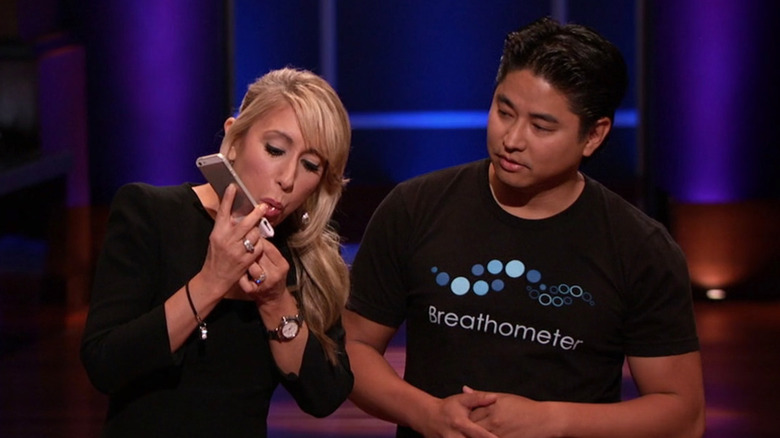 ABC/Hulu
On the Full Send podcast, Cuban started off by admitting that of the nearly  $20 million over the show's 14 seasons, he's taken a loss. "I've gotten beat," as he put it.
Cuban then pointed to the Breathometer as his biggest failure. According to Cuban, Charles Yim frittered away the company's prospects with his hard partying lifestyle. "I'd look at his Instagram, and he'd be in Bora Bora. Two weeks later, he'd be in Vegas partying. Then he'd be on Necker Island with Richard Branson," Cuban recalled. "And I'd text him like, 'What the f— are you doing, you're supposed to be working!' 'Oh no, I'm networking.' And the next thing you know, all the money is gone."
Charles Yim disputes that characterization. Yim told CNBC that Cuban's remarks were "completely off base" and that he didn't spend any company money on personal travel. Yim explained that the purpose for the trip to Necker Island was to pitch the Breathometer to Branson. The airline and media mogul was so impressed with Yim that he invited the entrepreneur to pitch in his 2015 Extreme Tech Challenge, and he Breathometer was a finalist that year.
That being said, the Federal Trade Commission did file a complaint against the Breathometer in 2017 for misleading investors, and Yim later reached a settlement over it. Today, the Breathometer is no longer available. Yim admitted to CNBC that his company wasn't "rigorous" enough in the testing phase, which led to the product's failure.
Whatever the reason for the Breathometer's demise, Mark Cuban would definitely like to have that one back.