Tony Gilroy Says He Didn't Have Trouble Including An LGBTQ+ Couple In Andor
Theo Wargo/Getty Images
To wrap up Lucasfilm's "Star Wars" offerings for 2022, Disney+ gave audiences "Andor." Starring Diego Luna as the titular Cassian Andor, the series explores how he came to join the Rebel cause after spending years on the sidelines. Additionally, it gives viewers some fascinating insight into the early days of the Rebel Alliance and the Empire's initial response to their, well, rebellious antics. As if this wasn't enough for "Andor" to make headlines, it's all told in a tense, slow-burn format that turned out to be a welcome breath of fresh air in the typically fast-paced franchise.
There's also the matter of representation, which "Andor" does quite well with by most accounts. Not only does it boast a diverse cast to tell its rather anti-fascist story, but it prominently features an LGBTQ+ couple — at least more so than 2019's "Star Wars: Episode IX – The Rise of Skywalker" did. Luthen Rael's (Stellan Skarsgård) Rebel allies Vel Sartha (Faye Marsay) and Cinta Kaz (Varada Sethu) are repeatedly said to be in a relationship. Nevertheless, they have yet to allow their close romantic connection to get in the way of their high-risk, high-reward missions.
Vel and Cinta's mutual love became one of the most talked-about elements of "Andor," but according to showrunner Tony Gilroy, making their romance a reality couldn't have been more simple.
Lucasfilm didn't push for or against Vel and Cinta's relationship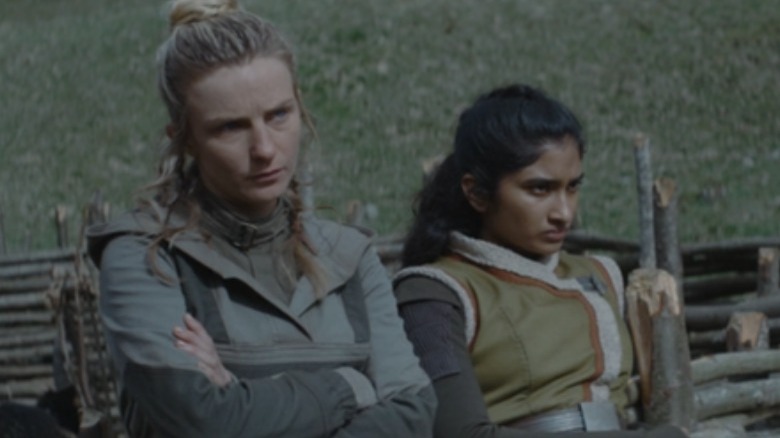 Lucasfilm/Disney+
In November 2022, Tony Gilroy spoke to Variety about what it took to get Vel and Cinta's "Andor" relationship to the small screen. Truth be told, the story isn't that over-the-top. "From the very beginning, no one ever said we couldn't do it, and no one ever said, 'Oh, God, please do it.' Our whole attitude is it's just another relationship," he explained, making sure to mention that even though Vel and Cinta's relationship was one seldom seen in the "Star Wars" universe, he and the rest of the "Andor" team wanted to make sure it didn't come across as performative or as if they were pandering to the LGBTQ+ community.
Even though there's a lot to applaud when it comes to Vel and Cinta's relationship, some fans are convinced there's trouble on the horizon. As noted by Redditor u/Armamore, there could be conflict brewing between Cinta and Vel over their beliefs in the Rebel cause. They point out that several times throughout the series, Vel appears hesitant to do what needs to be done, leading them to speculate that she could let the Rebellion down in Season 2. Some in the comments even feel that her ties to Mon Mothma's (Genevieve O'Reilly) rich, high-class family could get in the way of her missions, as well as her romance with the seemingly more committed Rebel, Cinta.
With "Andor" Season 2 on its way down the production pipeline, we'll just have to wait and see what becomes of Vel and Cinta's relationship. One can only hope it can withstand whatever trials and tribulations are on the way.