John Krasinski Was Hired By The Office Three Weeks After Being Talked Out Of Leaving Acting By His Mom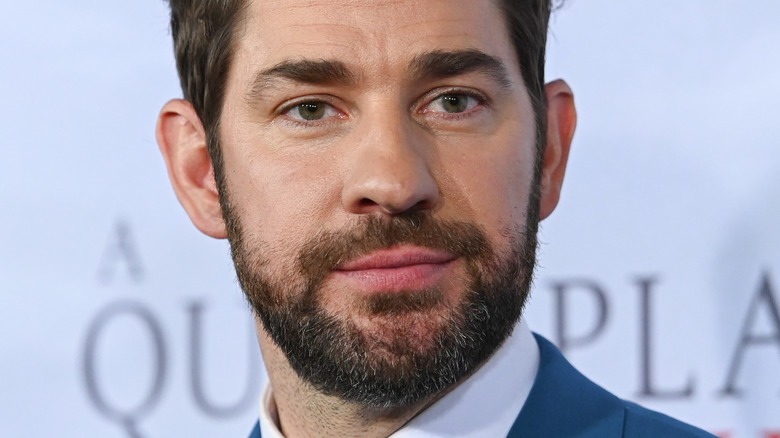 Mike Coppola/Getty Images
One of the major reasons that "The Office" — the popular mockumentary-style sitcom about the lives of the employees of the fictional Dunder Mifflin Paper Company — is so funny is the ensemble of unique characters. There's the oblivious regional manager Michael Scott (Steve Carell), as well as quirky top salesman Dwight Schrute (Rainn Wilson) and amiable receptionist Pam Beesley (Jenna Fischer). Further, there's romance-obsessed customer service rep Kelly Kapoor (Mindy Kaling), egotistical temp Ryan Howard (B.J. Novak), and rigid accountant Angela Martin (Angela Kinsey), among others.
Additionally, one of the most popular and well-known characters is Jim Halpert, the sarcastic yet friendly salesman, played by John Krasinski. Jim is known for his will-they-won't-they relationship with Pam, as well as his ultimately friendly rivalry with Dwight (which, with Jim's many pranks on Dwight, has led to some of the funniest moments on the show).
"The Office" was inarguably Krasinski's breakout role, launching his now-busy and varied career in film and television. But his life could have been very different because, as it turns out, he had made up his mind to quit acting right before he landed the gig on "The Office."
Right before landing the part of Jim, Krasinski's mom convinced him to stick it out for a few more weeks
In September 2018, John Krasinski appeared on The Late Show with Stephen Colbert and, during the conversation, revealed a fascinating detail about the history of his acting career. He explained that his original plan was to become an English teacher, but then he changed his mind to becoming an actor and transferred from Brown University to National Theater Institute. After telling his mom that he wanted to be an actor, she was very encouraging but made him promise that if nothing was happening within a few years, he would agree to move on.
Krasinski continued, "Cut to two and a half years later, I was like, so I'm out, this is terrible, it's so scary." But then, his mom told him to wait it out until the end of the year, just to see. Then, three weeks later, he landed his gig on "The Office." Referring to his mom's encouragement, Krasinski then quipped, "So I give her a lot of love and 10%. She deserves it."
In response, Colbert joked, "So that's something that all parents should know is that success is only three weeks away."
Krasinski thinks The Office will always be the best part of his career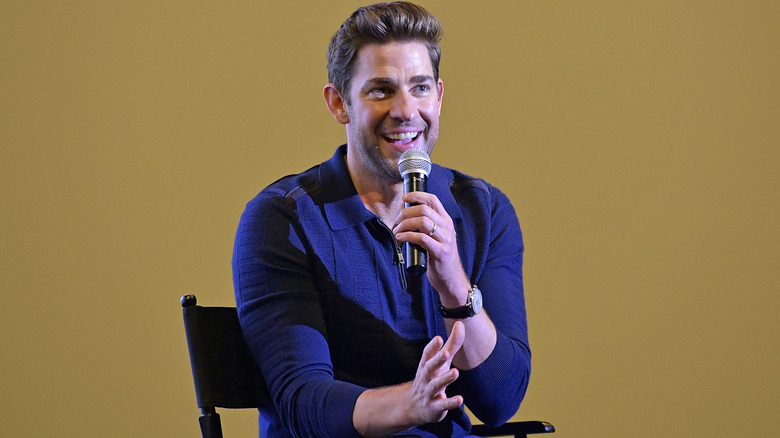 Roy Rochlin/Getty Images
In May of 2020, John Krasinski reunited with his former co-star, Rainn Wilson, for Wilson's Instagram Live series, "Hey There, Human" (via Complex). Naturally, the subject of "The Office" came up — after all, how could it not when Jim and Dwight are reunited? During their discussion, Krasinski admitted that he knows "The Office" will likely be one of the peaks of his career.
Krasinski declared, "Personally, I think it's the best thing I'll ever do in my career. Everybody always says, 'At the end of the day, what if you're only known for Jim Halpert?' I was like, 'Are you kidding me? That would be the greatest thing ever.'" The actor went on to reveal that he is not the only former cast member of "The Office" who has this mindset. He continued, "I remember Steve [Carell], one day he was like, 'You guys know that no matter what we do—we could go to space—and this will always be the thing we're known for,' and how lucky we are that that's the case."
Krasinski then went on to praise his collaborators on the series, namely those in the writers' room, for being able to create such a brilliant show that he is grateful to have been a part of. Krasinski concluded, "My favorite question I always get is, 'How much did you guys improv?' And I was like, 'Hardly at all.' 'Cause even my looks to the camera were written by the writers. Those people are the most talented folks in the world."