Capp Had Chicago Fire Fans In Stitches Over That Burrito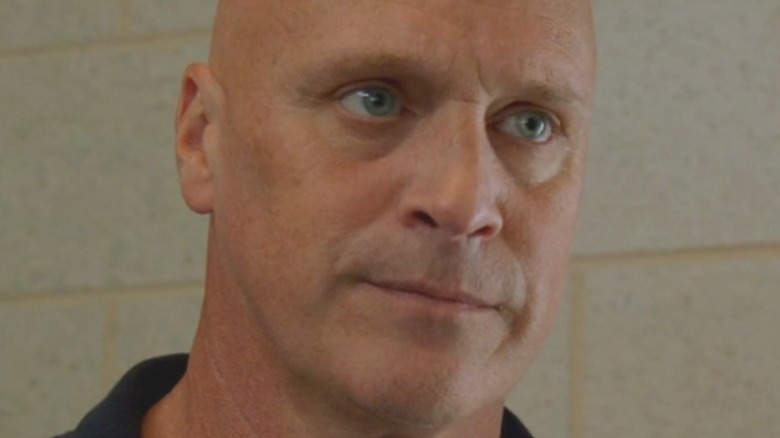 NBC
"Chicago Fire" is one of those shows that gets audience members invested by showing off the lives of several different people and their personalities while working in a Chicago-based fire department. As part of the "One Chicago" franchise, "Chicago Fire" shares some episodes with its sibling shows of "Chicago P.D." and "Chicago Med," and there have been a couple of crossover episodes featuring cast members from each show. Despite "Chicago Fire" typically dealing with life-threatening and dangerous situations, there are also moments of levity throughout the show that give it a personal touch.
Currently in Season 11, "Chicago Fire" has seen several shakeups, comedic moments, and heart-touching feelings over just a couple of episodes. Reeling from her relationship with Matthew Casey (Jesse Spencer), Sylvie Brett (Kara Killmer) is trying to make sense of her life. Likewise, the burgeoning relationship between Stella Kidd (Miranda Rae Mayo) and Kelly Severide (Taylor Kinney) is also front and center, with Severide showing more and more emotions as the show goes on. The most recent episode, "Something for the Pain," picks up with Kidd having gone through an explosion caused by a rocket-propelled grenade, which causes intense emotions to wash over Severide. However, despite starting off with a shocking moment, "Something for the Pain" also features a hilarious scene involving a burrito, which fans have wasted no time in discussing.
A heated box meant for abandoned babies apparently makes a good place for food deliveries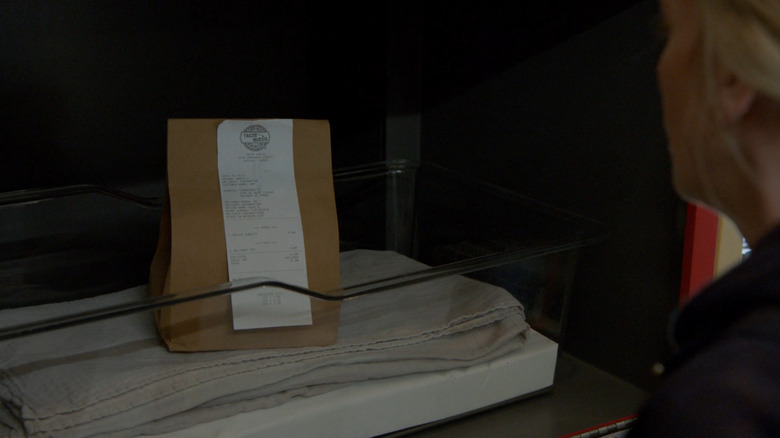 NBC
Aside from the issues surrounding Stella Kidd's wounds, another plot of "Something for the Pain" involves Sylvie Brett setting up a device that allows for the safe turnover of abandoned children. Receiving a massive box that requires some significant assembly, this heated and raised box is the next technological step over simply leaving an abandoned baby in a basket on a doorstep. Not only is this safe-surrender box heated, but it also comes with a piercing alarm that lets the members of "Chicago Fire" know that a baby has been relinquished to their custody.
Towards the tail end of the episode, the plugged-in alarm for the baby box is triggered, which causes Sylvie and her co-workers to immediately react and rush towards the box, only to discover a delivery order consisting of a burrito. Confused, it is then revealed that Harold Capp (Randy Flagler) had ordered the item with the instructions to the delivery driver to leave it in the "outside slot." This causes Sylvie to react rather angrily and throw Capp's burrito in the trash, which makes him apologize and later retrieve said burrito from the trash. It was this moment that fans absolutely loved, and they immediately took to social media to express their thoughts and feelings.
Fans love that Capp had his burrito delivered to the baby box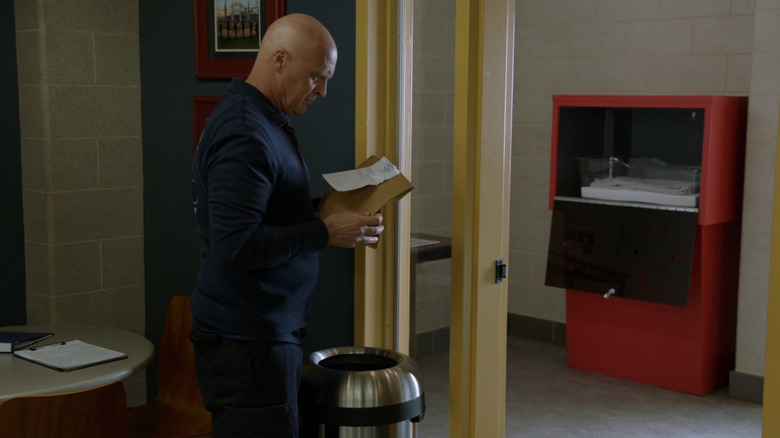 NBC
Converging on Twitter, many "Chicago Fire" fans shared that they adored this moment from the most recent episode. @bigsexc70 wrote, "Did Capp really leave instructions for GrubHub to leave his burrito in the outdoor slot? I swear, only Capp." Others also laughed at this moment, with @Mytickceleste saying that they knew Capp was going to go into the trash to retrieve his burrito after Sylvie tossed it in anger. Meanwhile, @nikeyayoung asked if anybody else cracked up at Capp's actions, suggesting that Capp knew full well what he was doing and that he realized he was wrong, but he did it anyway.
Also highly entertained by this moment in "Chicago Fire," @TeresaAustene wondered if anybody else suddenly had a hankering for a burrito after the episode. Even Randy Flager got in on the fun, and made reference to a moment between Sylvie Brett and Sharon Goodwin (S. Epatha Merkerson) at the end of the episode. Flager tweeted, "Goodwin! Yes! Capp gave her a call to let her know the effectiveness of the box after it kept his burrito warm for so long. Chicago needs more Capps, you heard her." 
Even though this new addition to the firehouse in "Chicago Fire" is quite a serious affair, it seems as if both the actor who plays Capp and the fans love the rather unconventional usage.