How Rian Johnson Helped Janelle Monáe Juggle Her Four Roles In Glass Onion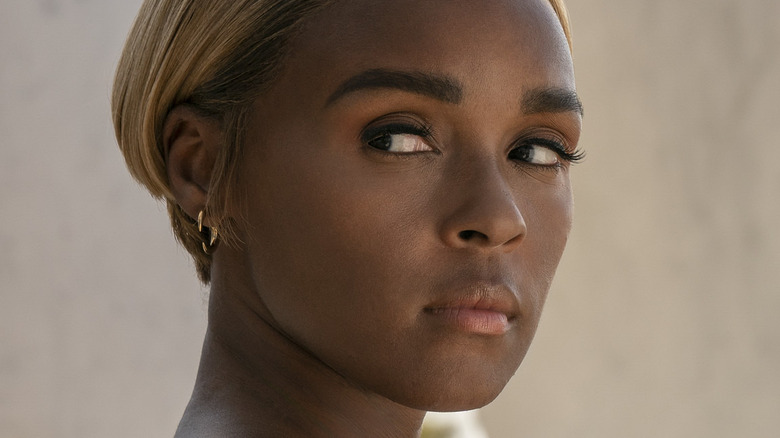 John Wilson/Netflix
Contains spoilers for "Glass Onion: A Knives Out Mystery"
In a movie stuffed with standout performances from the likes of Daniel Craig, Edward Norton, Kate Hudson, and Dave Bautista, the work done by Janelle Monáe in "Glass Onion: A Knives Out Mystery" may be the most striking of the bunch.
Writer-director Rian Johnson's second puzzler featuring the master detective Benoit Blanc (Craig), "Glass Onion" gathers several longtime friends and colleagues together at the remote island and titular house owned by tech billionaire Miles Bron (Norton), who's assembled his compatriots — each of whom either owes him a debt or holds a grudge against him — for a weekend retreat to solve his (fake) murder. Among those on the guest list is Andi (Monáe), Miles' former business partner, who he forced out of their company in a nasty, protracted legal battle. When real murders begin happening at the gathering — including, apparently, that of Andi herself — the surviving members of the group all become suspects. But as always in a mystery, not all is what it seems.
It turns out that Andi is indeed dead — but she died by a staged suicide the week before the trip. The person on the island is her twin sister Helen, who is impersonating Andi and has hired Blanc in advance to help her determine the truth about her sibling's death. So not only is Monáe playing both Andi and Helen in flashbacks, but she's also playing Helen playing Andi both before and after the audience discovers who she actually is. "Really what Janelle's doing is playing four roles," Johnson told Indiewire. "And she's doing a very subtle smart calibration between those two things."
The little things kept Janelle Monáe on track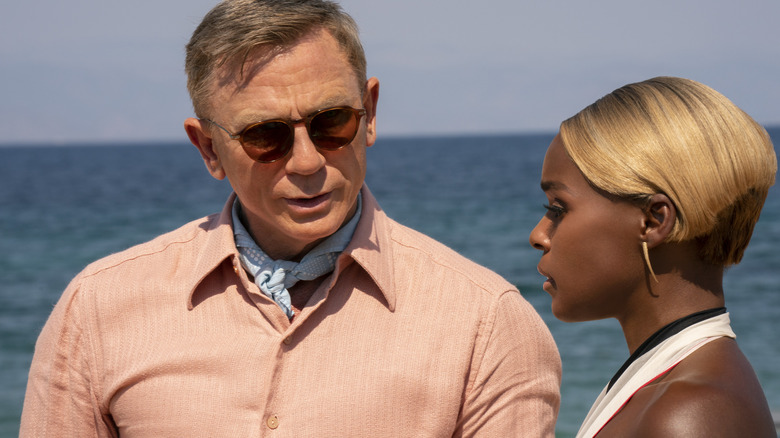 John Wilson/Netflix
You read that right: Janelle Monáe is playing, depending on how you look at it, four roles in "Glass Onion: A Knives Out Mystery" – two twin sisters, plus one of them impersonating the other in two different situations. So how did the actor manage to keep it all straight and know which one she was playing in any given scene? She kept journals — three of them.
"I kept one for Helen, with all her scenes, one for Andi, with all her scenes, and one for when Helen was pretending to be Andi, for all those scenes," Monáe explained to Indiewire. But she took it even further, working out subtle physical clues with Rian Johnson that would distinguish one performance from the other.
"We would talk about stuff down to the parts of their hair," Monáe continued. "What part Helen's hair was, what part Helen [had] pretending to be Andi ... What side that was on is totally different from the side of Andi's because she was in the mirror parting her hair. So she thought it was on the left side when it was supposed to be on the right side, or vice versa."
Monáe admitted it was a challenge to keep the different aspects of the performances organized in her mind, and also said that viewers may have to see the movie more than once to catch all the clues. But they're in there if you look hard enough: "We had so much fun putting Easter eggs in for the audience."
"Glass Onion: A Knives Out Mystery" is streaming now on Netflix.