Ari Aster And Joaquin Phoenix Serve Up A New Nightmare In The Trailer For Beau Is Afraid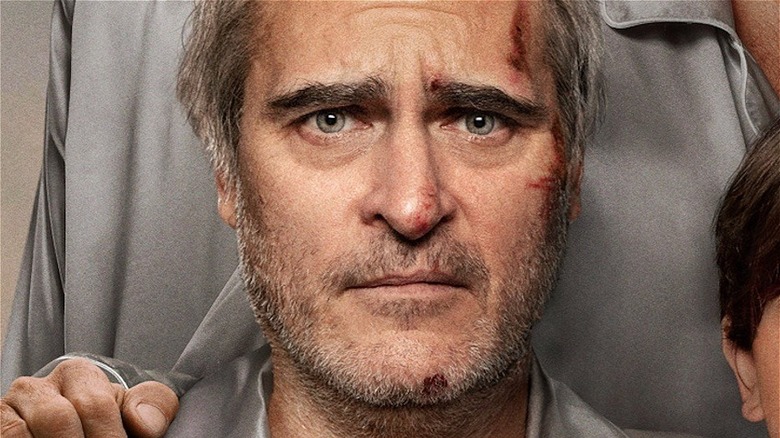 A24
There are a handful of psychological horror films hitting us in 2023, but perhaps the most anticipated is Ari Aster's "Beau is Afraid." The A24 flick is the third from Aster and the studio, with his former two films ("Hereditary," "Midsommar") being some of the most loved and discussed from the company. If you've viewed either of those movies, you know what you're in for with "Beau is Afraid" — one giant thrilling curveball. While the previous two films were obvious in their horror roots, "Beau is Afraid" looks completely different from anything Aster has done before. 
Joaquin Phoenix takes center stage as the titular character, who we will see over several decades. Based on the trailer and the first poster released for the film, we'll see at least four versions of the character at different stages in his life in what Aster admitted will be a four-hour-long movie (per /Film). It's also been described by the director as a nightmare comedy, and it's evident by what we're shown in the first trailer for the film. This is an A24 project through and through, and there might be another Oscar nomination in Phoenix's future. There's a smorgasbord of character actors, weird masks, animation, and surrealist imagery that we'll all be speculating about until the film arrives in theaters.
Beau is Afraid is an A24 film for sure
"Beau is Afraid" is going to be another wild ride for A24. Keeping in theme with many trailers from the studio's past, it's hard to tell exactly what's going on in the movie. The plot isn't obvious and what's going on is one big question mark, which is how we'll probably feel while sitting through the four-hour adventure. We get to see Beau in his different stages of life and his entrepreneurial spirit, but the trailer has us feeling left in the dark a good bit. Is this a dream following a car accident? Are these hallucinations from a medicated man? Are these dramatizations of scenarios he discusses with his therapist? And what the hell is the deal with the random theatrical production elements?! This is the A24 way, and we'd expect nothing less from Ari Aster. Will he match the magic of "Midsommar" and "Hereditary?" It remains to be seen. 
Rounding out the cast of "Beau is Afraid" is Nathan Lane, Patti LuPone, Amy Ryan, Kylie Rogers, Parker Posey, Stephen McKinley Henderson, Denis Ménochet, Hayley Squires, Michael Gandolfini, Richard Kind, and Zoe Lister-Jones. That's a lot of acting powerhouses to be joining Joaquin Phoenix on his adventure, and we can't wait to see what else Aster has in store.
"Beau is Afraid" lands in theaters this April.