The Chicago Fire 2023 Premiere Gave Fans The Crossover They Didn't Know They Needed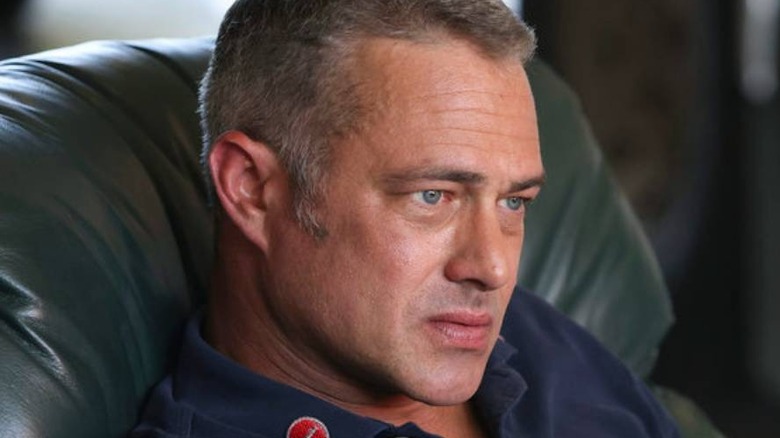 Adrian S. Burrows Sr./NBC
Dick Wolf has become the master of the crossover. From the "FBI" franchise to the "Law & Order" series, Wolf has developed numerous shows that interact and connect with one another in intricate ways. While audiences can certainly only stay abreast of one show if they so desire, they can also watch all of them and stay up to date with every single character. 
Nowhere is this more evident than in the "One Chicago" franchise. Starting with "Chicago Fire" in 2012, the universe has expanded in big ways to include the likes of "Chicago P.D.," "Chicago Med," and "Chicago Justice." However, "Justice" has since been canceled, while the other three are still going strong. The three remaining shows have characters related to one another in interesting ways, allowing them to crossover and play roles in the other shows. 
It makes sense; every show deals with another emergency service in the Windy City, so professionals often have to work with one another to save lives. That was on full display with the "Chicago Fire" 2023 premiere after its winter break. On January 4's "Something for the Pain," Sharon Goodwin (S. Epatha Merkerson) acts alongside Sylvie Brett (Kara Killmer). And fans loved the two characters rubbing shoulders. 
Fans loved Goodwin's compliment to Brett
Adrian S. Burrows Sr./NBC
The Sylvie/Sharon scene takes place later in the episode when Sylvie goes to exit the fire station, only to find Sharon looking through the Safe Surrender Box. They spend a moment to bond over how helpful it can be to give infants a better way of life, and Sharon ends the interaction by saying how Chicago could use more people like Sylvie. It was a fun treat for fans of "One Chicago" and reemphasized how all of these characters are really working together to create a better city, even if they don't see each other on a daily basis. 
On Twitter, fans of the show were over the moon over the interaction, with plenty quoting Sharon's line, including @CatrelCathey, who wrote, "'Need more Sylvie Brett in Chicago'. From Sharon Goodwin. That is a honor." @EGMike84 was of a similar opinion: "Look at Goodwin and Brett hitting off! Sharon is right we could use more Bretts in Chicago! Good job Brett!" For @SybieMH, it was a great way to kick off the second half of the season: "I didn't know I needed a Goodwin and Sylvie scene! This was beautifully done! Also, bravo to Brett for implementing something very important for the community!"
The scene served as a good reminder of what's possible in the "One Chicago" universe, and it could be a sign of more crossovers to come in this season.