Chicago Fire's Melissa Ponzio Says Her College Major Helped With Her Acting Career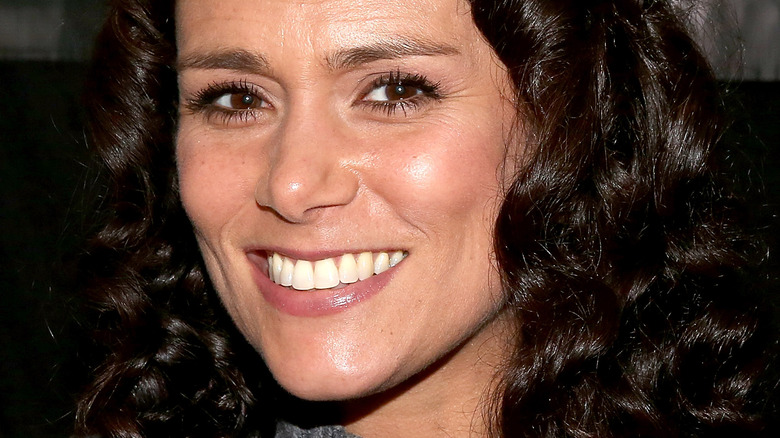 Paul Zimmerman/Getty Images
Pursuing a career in acting is no easy feat. In the cutthroat world of Hollywood, countless hopefuls are vying for the same roles. Therefore, one needs an edge, a certain quality that helps them stand out from the pack. For Melissa Ponzio, her educational background did the trick.
Over the course of her career, Ponzio has added numerous bullets to her ever-growing resume, including Karen on "The Walking Dead" and Rachel Gonzales in "Thunder Force" (via IMDB). However, two roles truly put her on the map and made her a beloved staple on people's TV screens — Donna Boden on NBC's "Chicago Fire" and Melissa McCall on MTV's "Teen Wolf." In both series, Ponzio's characters find themselves in unexpected, dramatic moments. Both adapt accordingly and ultimately thrive in their new situations.
Donna enters "Chicago Fire" in Season 2, Episode 12 ("Out With a Bang"), which sees Chief Wallace Boden Jr. (Eamonn Walker) respond to a fire at her apartment complex, where the residents are forced to heat the living space with a barbecue grill due to a negligent landlord. Romance ensues, with the pair eventually welcoming their son Terrance Boden in the back of Squad 3's vehicle. There's much stress when Terrance's lungs aren't working properly, but Donna stays strong for her family.
Ponzio's fierce nature is also evident in "Teen Wolf." She must comprehend that her son, Scott McCall (Tyler Posey), is not only a werewolf but a key protector of Beacon Hills. Rather than shy away from the supernatural, she embraces it and utilizes her healthcare background to help and heal when she can.
Such roles can be challenging to film, let alone successfully audition for. But Ponzio's multifaceted background often comes in handy.
Melissa Ponzio's news career taught her about deadlines
In an interview with Traversing the Stars, Melissa Ponzio shared details on her academic background, which didn't include an elite film school. Rather, she earned her bachelor's degree in journalism, with a minor in theater, at Georgia State University.
Despite having a lifelong interest in acting, her mother — a model and actress in New York — urged Ponzio to obtain a degree, get a job and be able to afford health insurance. Her mom supported her dreams but wanted Ponzio to have something concrete in the meantime. Ponzio worked for CBS in Atlanta for over three years before solely pursuing acting. Still, that time wasn't wasted. It equipped Ponzio with invaluable skills that helped her land auditions.
"There's a certain amount of deadline that you have with news, right? So you can't get nervous with news. You have to get prepared ... You have to get information, you have to digest that information, you have to be able to give it back to certain people in the newsroom. It has to be concise," Ponzio explained, who compared this high-pressure environment to the audition process.
She said of auditions, "You're getting it [the script] last minute ... It keeps you on your feet ... You're not gonna be able to take away the entire character description if you only have a couple hours with the audition. But you have to take enough of it to make some choices, and in news you have to make choices."
Those choices paid off for Ponzio. Though "Chicago Fire" fans have been missing her since Season 9 (via Distractify), she's reprising her role of Melissa McCall in "Teen Wolf: The Movie," which, according to TV Line, drops on Paramount+ on January 26.