John Candy Ended His Career With A Flop Instead Of A Bang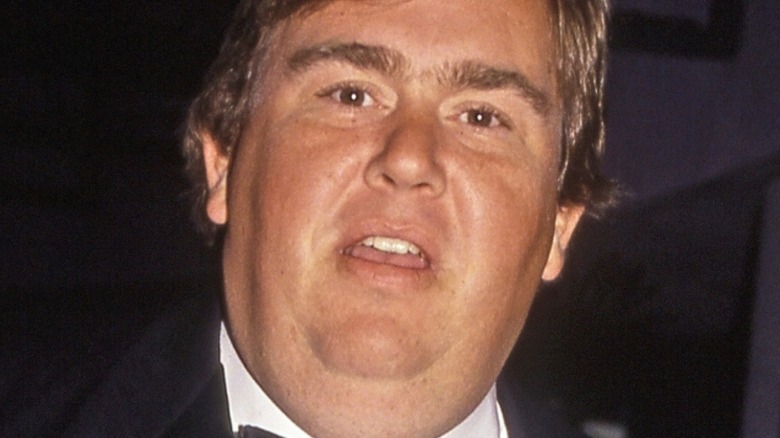 Vicki L. Miller/Shutterstock
Although Canadian actor John Candy tragically passed away at the age of 43 in 1994, the cherished comedian's humorous filmography still lives on. Candy's career of bringing joy and laughter to millions began on the sketch show "SCTV," which helped earn him the recognition that would lead to a film career with supporting roles in "1941," "Stripes," and "The Blues Brothers." Leading roles were soon to follow, including numerous memorable parts in John Hughes vehicles such as "Planes, Trains, and Automobiles" and "Uncle Buck." The comedian was at ease appearing both in small cameos and as a leading man in feature films. 
The late actor's comedic genius combined with a humble and endearing spirit also lives on nearly 30 years after Candy's passing. His daughter, Jennifer Candy, touchingly told Global News in 2019, "It's [John Candy's legacy] something that can go from generation to generation to generation, so I don't see that slowing down any time soon, just because of everyone who loved him and the work that he created was timeless." But like many famous comic thespians, not all their choices turn out to be golden, and for Candy, a flop closed out his career instead of a bang.
The influential comic actor's final released film was the disastrous political comedy Canadian Bacon
A prominent acting career can end for many reasons, be it a tragic passing or moving on to a new occupation. Along with this certainty are many examples of actors who ended their careers in bad movies. John Candy's final film that he worked on before his death was the dismal "Wagons East," but his final released movie was the equally as unremittingly bad political satire from Michael Moore titled "Canadian Bacon." Moore is better known for his poignant and controversial documentaries like "Roger & Me" and "Bowling for Columbine," but there was a time when the filmmaker turned his talents to scripted filmmaking. But with the eventual reception of the feature film, there is likely a good reason why he has never returned to fiction movies.
The feature is meant to play like a comedy as it explores satirical, situational humor revolving around relations and perceptions between the U.S. and Canada. Candy starred in the film as Sheriff Bud B. Boomer along with Rhea Perlman as Deputy Sheriff "Honey." Made on a budget of $11 million, the film spectacularly bombed at the international box office, bringing in a meager total of $163,971. It was also universally panned by movie critics, and currently holds a 12% critic and 52% audience score on Rotten Tomatoes. The ill-fated comedy would go on to be released over a year after Candy's death.