The Saddest Death In Scrubs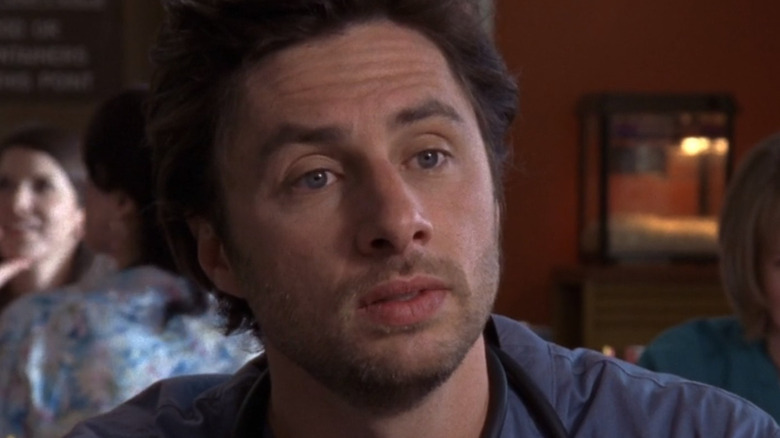 ABC/Hulu
Debuting on NBC in 2001, "Scrubs" follows the dorky Dr. John "J.D." Dorian (Zach Braff) as he navigates his career first as a resident, before becoming a full-fledged attending physician at Sacred Heart Hospital. Throughout the show, he gets into some goofy antics with his bromance partner Dr. Christopher Turk (Donald Faison), who is married to nurse Carla Espinosa (Judy Reyes), an emotional confidante to J.D. Acting as his reluctant mentor is Dr. Perry Cox (John C. McGinley), from whom J.D. is often desperate to receive approval and affection as a surrogate father figure. And like many sitcoms, "Scrubs" also explores a will-they-won't-they trope with Dr. Elliot Reid (Sarah Chalke), a fellow doctor.
For nine years, "Scrubs" mixed humor and heart to create a memorable sitcom that takes place in the world of medicine. The series is not only wacky and cartoonish but it is also known to tug at heartstrings with its wonderfully human characters and their interactions with patients. And as with any medical drama, death is an inevitability, and "Scrubs" has a special way of handling it.
A Humanitas award is given annually to writers in TV and film who are able to beautifully explore the human condition; during the show's run, "Scrubs" managed to win three for episodes dealing with death. And there have been plenty throughout the series, with each one increasingly sadder than the one before it. But which death is the saddest? Fans have weighed in on their choice.
Fans are still emotional over the death of Ben Sullivan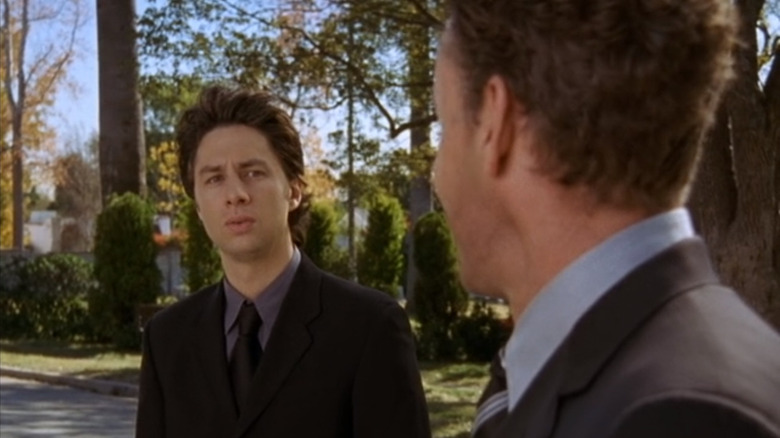 ABC/Hulu
In 2022, Reddit user, u/Iridescent126, asked which fictional character's death users consider the saddest, which received over 30,000 comments ranging from Stanley Mellish and Irwin Wade from "Saving Private Ryan" to the cartoon shoes in "Who Framed Roger Rabbit."
"Scrubs" fans made sure to throw their hat in the ring, with u/aqualad213 declaring that Ben Sullivan's (Brendan Fraser) death in Season 3 takes the cake (which is also considered one of the saddest sitcom moments ever). With over 9,000 likes, it's clear that is considered the saddest death in "Scrubs" by fans.
Many pointed towards the devastating way in which Ben's death is revealed to the viewer, while some expressed their reactions to the scene upon first watching it. Extolling both the dialogue and the show, fans also cited J.D.'s line to Dr. Cox which revealed Ben's death — "Where do you think we are?" — as the kicker. Redditor u/Djimi365 wrote: "One of the best delivered lines in all of television. 'Scrubs' was an amazing show for this, to be able to go from this absurd comedy to deep emotional moments like that is something that few shows managed to achieve as well."
Brendan Fraser is grateful to have appeared on Scrubs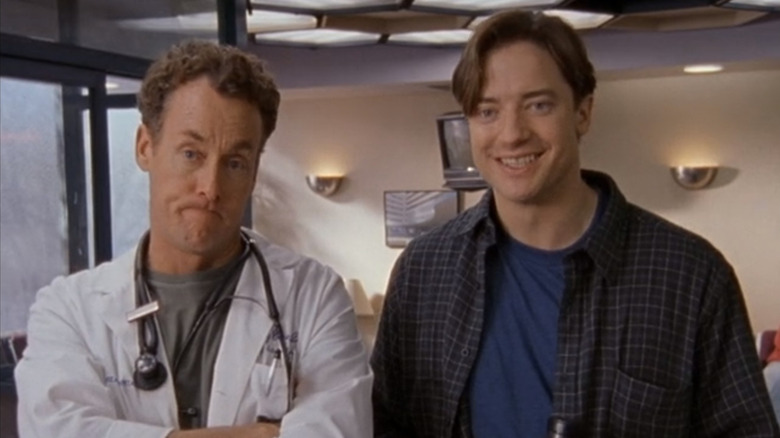 ABC/Hulu
Ben is the brother of Dr. Cox's partner, Jordan Sullivan (Christa Miller), and his best friend. In his first appearance in Season 1, Ben visits Sacred Heart due to a minor accident where J.D. discovers that he tested positive for leukemia. After undergoing chemotherapy, Ben goes into remission and travels the world for two years, before returning in Season 3's "My Screw Up" to meet his nephew Jack and attend his birthday.
Since Ben didn't see any doctors during his trip, Dr. Cox has J.D. examine Ben. Unfortunately, Ben dies of cardiac arrest 20 minutes after Dr. Cox leaves. During the episode, Dr. Cox is gripped with guilt over Ben's death and is plagued by a persistent apparition of Ben.
However, viewers are not aware of Ben's death throughout the episode as Dr. Cox's delusion fools the audience into believing that Ben is alive. At the end of the episode, audiences are dealt a gut-busting scene in which Cox believes that he's attending his son's birthday party, only to discover that it's Ben's funeral.
Appearing on Braff and Faison's podcast "Fake Doctors, Real Friends" in 2020, Fraser expressed gratitude for his time on "Scrubs." "I've been going to comic conventions in the last two years or so, everyone says that they're moved by that episode," he intimated. "I should say a belated thank you, 17 years later now, for including me in that cast and pulling me into the fold."