Star Wars: The Bad Batch Fans Can't Contain Their Excitement Over First Look At Tech In Season 2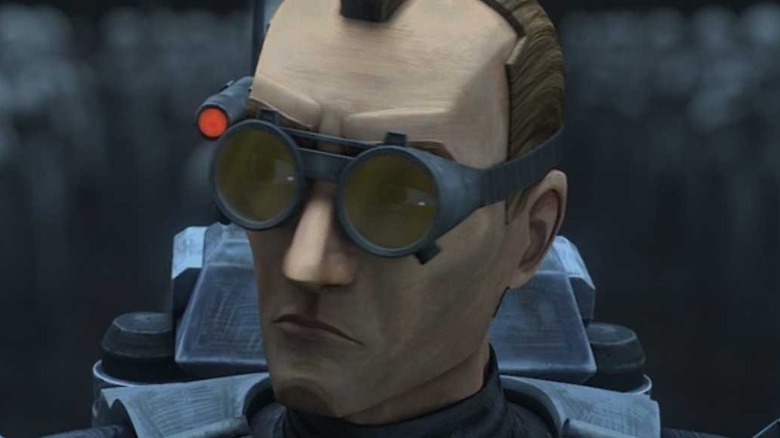 Disney+/Lucasfilm
The prequels were divisive amongst "Star Wars" fans, to say the least. But regardless of what your opinion on the trilogy of films is, one thing most enthusiasts can agree on is that it spawned one of the greatest pieces of "Star Wars" media ever to exist — "The Clone Wars." Spanning seven seasons across three different platforms, "The Clone Wars" filled in the gaps between Episodes II and III, creating a more complete picture of the breakdown of Anakin Skywalker that would foreshadow his eventual turn to the dark side.
"The Clone Wars" may be a spin-off in and of itself, but even it had more stories to tell. Taking place in the aftermath of Order 66, "The Bad Batch" follows a squadron of rogue clones who don't exactly fit in with everyone else. Season 1 debuted on Disney+ to great acclaim, and now, Season 2 is on the horizon. And based on chatter online, fans can't wait to be reunited with their favorite geeky clone, Tech. 
Star Wars fans have a soft spot for Tech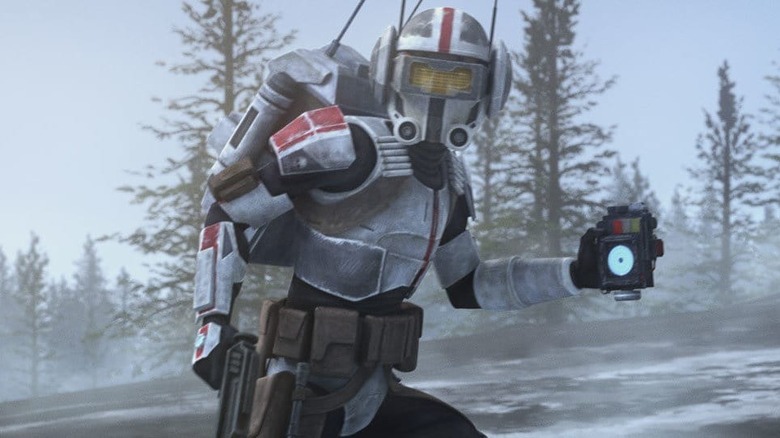 Disney+/Lucasfilm
It's safe to say each member of the Bad Batch has their fans, but people really seem to like Tech for some reason. The official "Bad Batch" Twitter account posted an image of the clone in anticipation of the release of Season 2, and the comments immediately filled up with people voicing their support and admiration for the science-loving Tech. 
Some of the comments you'll find directly under the initial post include "MY HUSBAND IS BACK" and "My favorite!!!!! I love this so much!!!!!" But Tech has even more fans than one might surmise from that post alone. Twitter user @Onyx_moon99 posted their favorite Tech attribute: "Let's be real, tech has the most beautiful hands out of the batch." This is accompanied by a couple of pictures of Tech's hands, and we suppose, given how dexterous he would have to be to build all their gadgets, his hands would have to be quite nice. 
Others had more obvious realizations, such as @SkywalkerCarrot, who wrote, "His new armor painting is awesome." Everyone will get a chance to see Tech and the gang in action once "The Bad Batch" Season 2 premieres on Disney+ on January 4, 2023.