Pelé's Minor Film Career Includes One Cinematic Classic Starring Sylvester Stallone And Michael Caine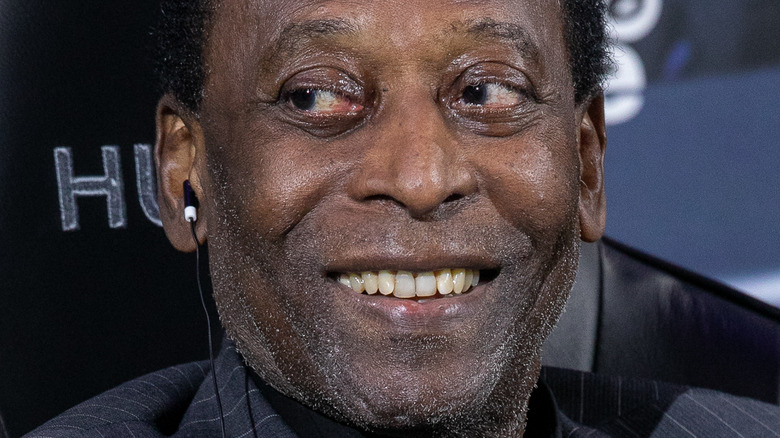 Marc Piasecki/Getty Images
Football superstar Pelé has died. Kelly Nascimento, his daughter, confirmed his passing on Instagram. He was 82. Pelé died of multiple organ failure as a result of colon cancer, per The Associated Press. The Brazilian player was widely known as the world's largest exporter of football, with many dubbing him as the sport's greatest ambassador (via Telegraph). With an impressive legacy that involves bringing home three World Cups, Pelé will go down as one of the sporting world's biggest icons in terms of sheer, raw talent.
Once he wrapped up his career as a footballer, Pelé focused his efforts on promoting the power of the "beautiful game," continually making appearances at World Cups and Olympic events throughout the years. With his charisma and magnetic aura, he naturally branched out of sports, trying his hand at acting. Though his filmography was slim, it features one of director John Huston's most interesting projects. The cinematic classic involved Pelé brushing shoulders with Sylvester Stallone and Michael Caine, making it a true must-watch for any football fan.
Pelé joined Sylvester Stallone and Michael Caine in the soccer war drama Escape to Victory
After he retired from football in 1977 (via BBC), Pelé was roped in by director John Huston to star in "Escape to Victory." Inspired by the Death Match of 1942 (via Bleacher Report), the 1981 production follows Allied prisoners in a German camp who participate in an exhibition match with the country's national football team. Sylvester Stallone and Michael Caine both headlined the film, appearing as American and British soldiers who spearhead the football match against the German team. Joining the duo was Pelé in a rare cinematic appearance, who starred as Corporal Luis Fernandez. Fernandez, who hails from Trinidad and Tobago, is best remembered for coming in as quite handy during the tense match against the German soldiers.
One of Huston's most underrated films, "Escape to Victory" received mixed to positive reception upon its release. The New York Times was particularly impressed with how Huston was able to capture the intensity of football matches, praising the film for its stylized yet authentic sequences involving Pelé. "The beauty of the sport, especially the ultimate grace of a player of Pele's extraordinary caliber, is captured in a series of slow-motion shots that communicates something of the appreciation and excitement that can be experienced only by a true aficionado," wrote critic Vincent Canby in 1981.
While discussing the production of "Escape to Victory" with BBC, the "Rambo" actor candidly shared that he was still obsessing over how the World Cup champion broke his finger while he attempted to block a penalty. As for Pelé? He adored his time on "Escape to Victory, describing it as a "fantastic" experience that allowed him to learn about the art of acting (via YouTube).