How Michelle Yeoh Broke The Tension On The Set Of The Witcher: Blood Origin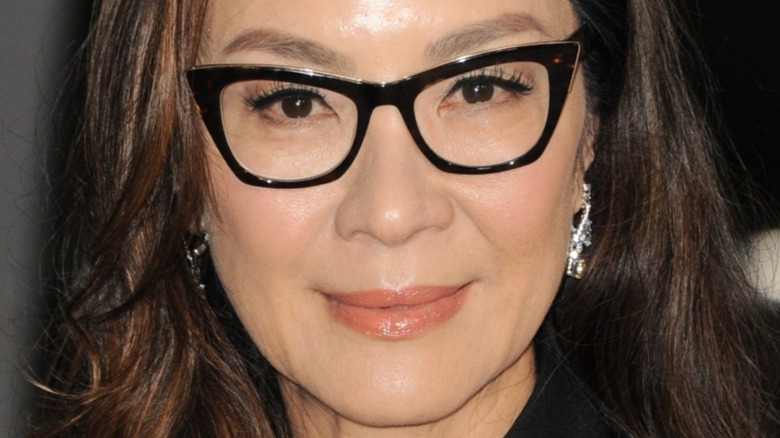 Tinseltown/Shutterstock
There are some actors who are able to move in and out of genres with both ease and skill, and Michelle Yeoh is certainly one of them. The Malaysian actress first gained recognition in a series of Hong Kong action films in the 1980s at a time when male actors like Jet Li, Jackie Chan, and Sonny Chiba dominated the field. During the '90s, her magnetic performances crossed over to English-speaking roles, with a particular highlight being her part in the James Bond film "Tomorrow Never Dies" in 1997. Yeoh has maintained a diverse and prolific acting profile ever since, with martial arts-centered roles in features such as "Crouching Tiger, Hidden Dragon," in addition to dramatic work in "Memoirs of a Geisha." The actress even turned to comedy with a memorable turn in 2018's "Crazy Rich Asians."
In 2022, Michell Yeoh continued to expand her range with two dynamically different performances in "Everything Everywhere All at Once" and the fantasy prequel miniseries "The Witcher: Blood Origin." Her part in the latter as Scian –- the last of an elven race on a quest to retrieve a sword -– continues her commitment to portraying varied characters. Her performance was singled out for praise by the San Francisco Chronicle due to her influence and dedication to making impactful action scenes. According to one of her co-stars on the show, the "Reign of Assassins" actress even purposefully broke the tension on set for those star-struck by working with her.
Laurence O'Fuarain and Declan de Barra praise Michelle Yeoh's humility and humor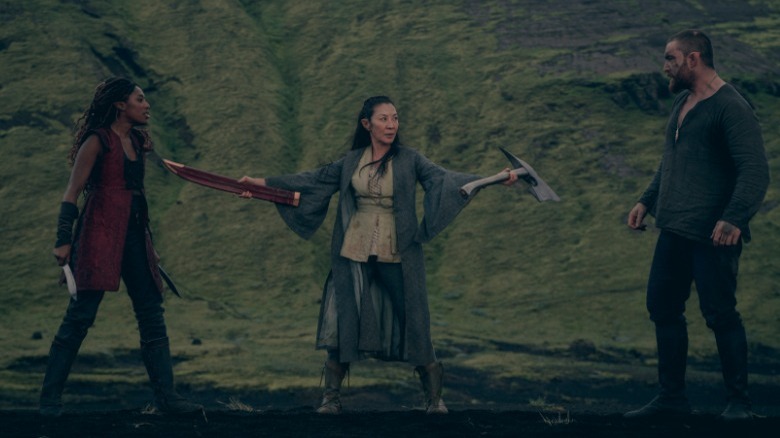 Lilja Jonsdottir/Netflix
In a forum interview for "The Witcher: Blood Origin" that was attended by Insider, Laurence O'Fuarain (Fjall) revealed that Michelle Yeoh poked lighthearted fun at him and tried to put the star-struck Irish actor at ease upon meeting her. O'Fuarain said the actress "demystified herself straight away," and this helped him feel less anxious when working alongside Yeoh. The actor went on to share how he and the prolific performer became good friends by the end of the first week of working together, which is a testament to the action heroine's nearly 40 years working on both film and television sets with a long list of co-stars.
The "Game of Thrones" actor then added, "A lot of pressure meeting her for the first time because you don't know what anybody's gonna be like." O'Fuarain concluded by stating how the venerable star "had my soul from day one," speaking to her humor, which her miniseries' co-creator also shares. Declan de Barra chimed in on meeting Yeoh by commenting, "I had pictured her as very aloof, and I was a huge fan and was slightly nervous when she came on set." The showrunner then observed how he was struck by her love of jokes and pranks, which shattered the intimidating image many of her co-workers seemed to have in mind.