No Soup For You - The Real Soup Nazi Laid Into Jerry Seinfeld When They First Met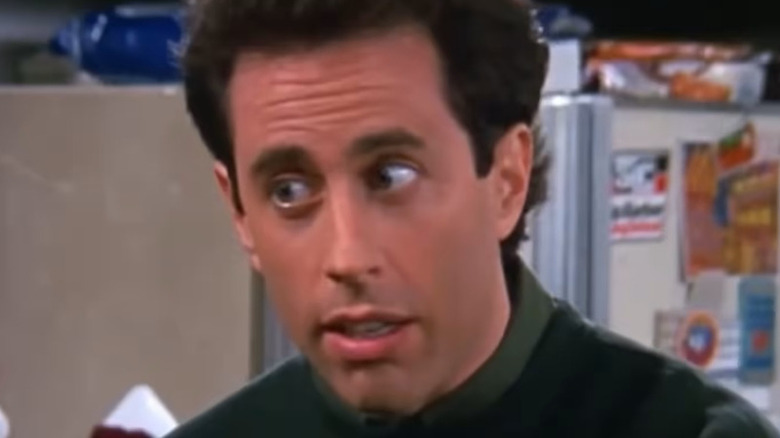 NBC
On November 2, 1995, one of the most quotable installments in "Seinfeld" history dropped on NBC – "The Soup Nazi." Season 7, Episode 6 sees Jerry Seinfeld bring George Costanza (Jason Alexander) and Elaine Benes (Julia Louis-Dreyfus) to the neighborhood's brand new soup eatery, but on one condition – they must follow the extremely strict rules of its owner, Yev Kassem (Larry Thomas), widely known as the "Soup Nazi." Customers need to know what they want, have their money ready, and, above all, keep the line moving.
The idea for this episode stemmed from writer Spike Feresten, who recounted his real-life experience at Soup Kitchen International, located at 259-A West 55th Street, to the show's creators, Seinfeld and Larry David. He told them all about the strict owner, Albert Yeganeh, and his rules for ordering. Wayne Knight, who portrayed mailman Newman on "Seinfeld," attested to his story, having been a customer as well. According to Knight, Yeganeh would always short him on strawberries, but he was fearful to say anything.
Though Feresten was simply making conversation, not pitching an idea, Seinfeld and David knew it would make a perfect episode for the sitcom. Larry Thomas was hired to play the TV version of Yeganeh and the "Soup Nazi" episode was a smash hit. In fact, Thomas was nominated in 1996 at the Emmys for Outstanding Guest Actor for A Comedy Series.
Despite the episode's success, Yeganeh didn't exactly love being the inspiration for "Seinfeld."
Albert Yeganeh felt the Soup Nazi episode on Seinfeld ruined his life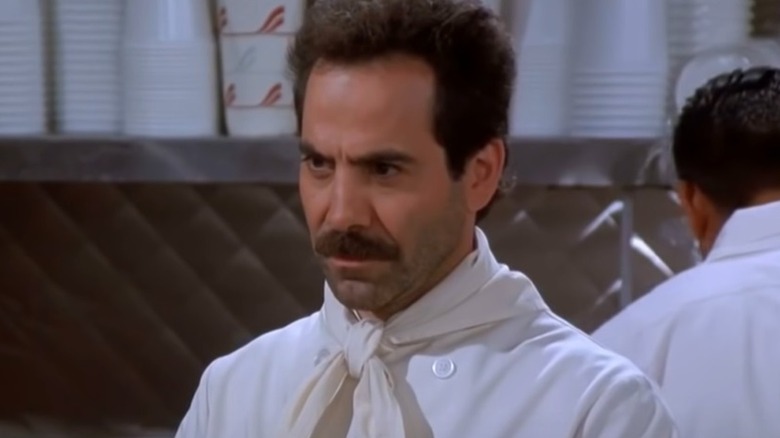 NBC
In a behind-the-scenes interview, "The Soup Nazi" writer Spike Feresten recalled Jerry Seinfeld's not-so-brilliant idea to visit Soup Kitchen International for lunch while filming the show's eighth season. Feresten, who heard of owner Albert Yeganeh's dislike of the episode, warned Seinfeld that they shouldn't go.
"He said, 'Why? I made him famous.' I go, 'He doesn't see it that way. He sees you as ruining his life,'" said Feresten.
When owner Yeganeh spotted Seinfeld in his line, he did a triple take before unleashing his fury at the comedian. Feresten said, "It was a very uncomfortable moment. People were shocked." Yeganeh demanded an apology from Seinfeld, who obliged, but sarcastically.
Based on a 1989 interview with The New Yorker, it's not surprising that Yeganeh didn't react kindly to the comedic depiction of him. He shared how seriously he takes his soup-making craft, only selecting the freshest ingredients and admittedly being a perfectionist.
"When I make a clam soup, I use three different kinds of clams. Every other place uses canned clams. I'm called crazy. I am not crazy. People don't realize why I get so upset. It's because if the soup is not perfect and I'm still selling it, it's a torture," he said.
Despite Yeganeh's blowup, it seems he's finally embraced his association with the sitcom. The eatery's official Instagram, @originalsoupman, is flooded with "Seinfeld" references and urges fans of the show to stop by.