Eamonn Walker Calls Taylor Kinney A Superhero For His Stunt Work On Chicago Fire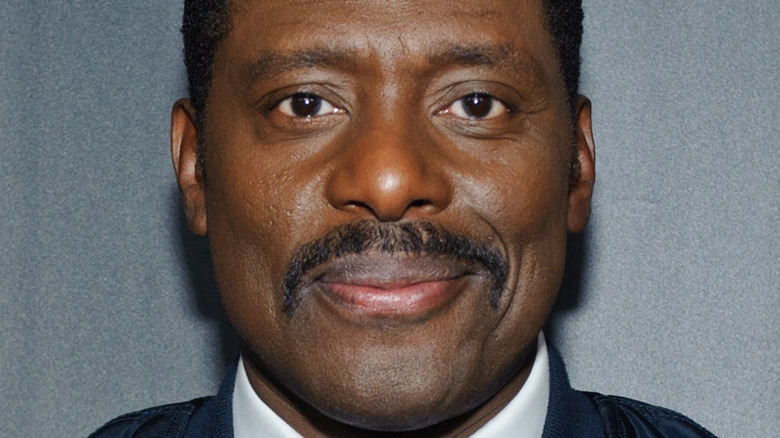 Timothy Hiatt/Getty Images
Created by Derek Haas and Michael Brandt, "Chicago Fire" premiered on NBC in October of 2012 and is currently still going strong and on its 11th season. It is also notable for being the first series of the "One Chicago" franchise, which also includes "Chicago P.D." and "Chicago Med," two shows that are also wildly popular amongst viewers.
"Chicago Fire" follows the personal and professional lives of the employees of the Chicago Fire Department's Firehouse 51— including paramedics, firefighters, and so on. The series is very much an ensemble show, with a slew of characters making up various plotlines. Major characters include Lieutenant Christopher Herrmann (David Eigenberg), Deputy District Chief Wallace Boden (Eamonn Walker), firefighter Randall "Mouch" McHolland (Christian Stolte), and Paramedic in Charge Sylvie Brett (Kara Killmer).
Another major player is Lieutenant Kelly Severide, who is played by Taylor Kinney. Severide has been at the forefront of the action since Season 1 (and is one of the few cast members who has been a main cast member since the start of the series). And, as it turns out, Kinney is almost as active in the stunt work as his on-screen character — at least according to his co-star, Walker.
Walker says Kinney goes for it with his stunts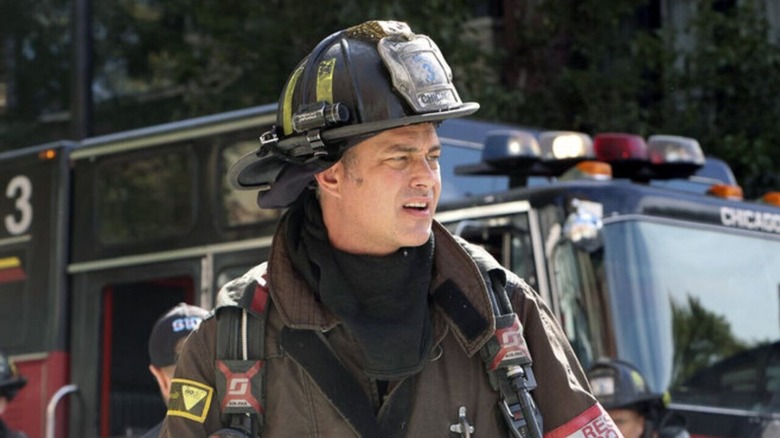 Adrian S Burrows Sr/NBC
In 2018, "Chicago Fire" co-stars Eamonn Walker and Taylor Kinney spoke with Access Hollywood for an interview to discuss their show — during which Walker had a whole lot of praise for Kinney. First, the interviewer asked the actors if they enjoyed the physical work required for the series, to which Kinney was quick to say that he did. Kinney said, "I don't think I would have lasted six, seven years on a medical show [if I didn't enjoy it]." He then added that he loves being able to physically be out and about in Chicago while working, which has allowed him to get to know the city.
Walker then took the opportunity to jump in and praise his co-star. Walker said, "To work with this guy, he's a little bit of a superhero because he wants to do all his own stunts. You have to fight him not to ... It's like, 'Taylor, wear the wire, be safe,' and he's like. 'I got this!' ... He really goes for it. It's exciting to be a part of that." The actor concluded by noting that Kinney is skilled in his physicality and the latter added, "I have a lot of fun doing it."
Kinney wishes he could do more stunts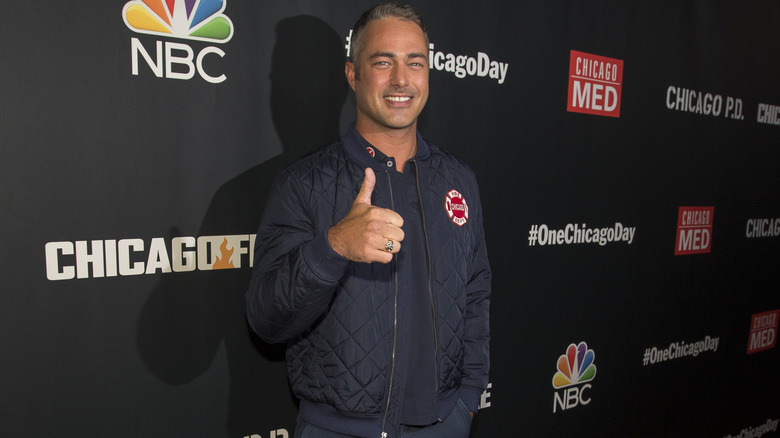 Barry Brecheisen/Getty Images
Taylor Kinney opened up about stunt work on another occasion during a September 2018 interview with Talking with Tami. Kinney revealed that he loves doing his stunts and even wants to do more — but a certain logistical detail gets in the way of him doing more himself.
While talking about one scene in which there's a structure fire at a high-rise apartment building, Kinney said he could do his own stunts in this particular instance — which he loved. Kinney said, "That was amazing, it was like 20 stories up. With the help of our special effects department stunt coordinator and special rigging. I like doing that kinda stuff, I was like a kid in a candy [store]."
The actor then discussed why he isn't able to do all of the stunts that he would like to. Kinney continued, "I like doing it but I will do as much as NBC let's me. Until 'Captain Insurance' won't let me." Whether the stunts are done by the performer themselves or by a stunt double, fans of "Chicago Fire" would likely all agree that the actors appear to give it their all for each episode when it comes to the physicality the show requires.