Why Tia Leonetti From Law & Order: Organized Crime Looks So Familiar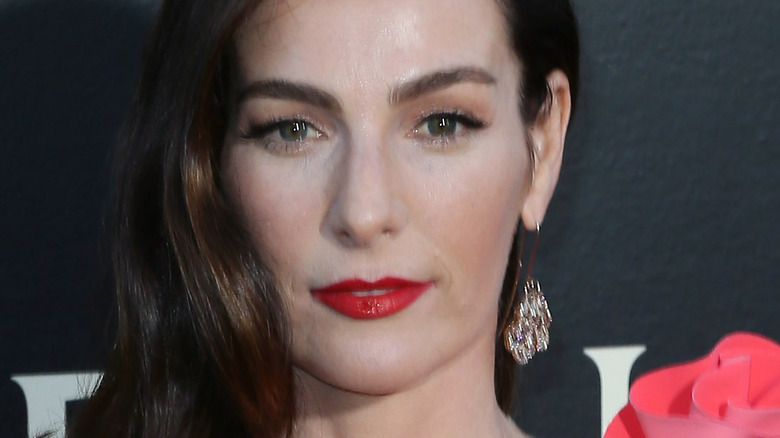 David Livingston/Getty Images
As all crime show lovers know, faces come and go, no matter the series. There has to be a different criminal after all, and you can't go around seeing the same victims over and over. The field gets hard and some characters decide they can't take it anymore which means new faces freshen things up and build more anticipation for viewers since it reflects real life; people come and go.
In the 3rd season of "Law & Order: Organized Crime," plenty of familiar faces were seen among some new ones. Tia Leonetti was a character that joined the crew for a few episodes, returning alongside her former partner Elliot Stabler (Christopher Meloni). Together they brought another assailant to justice in a gold-stealing scheme, and by the end of the episode, Tia was on a flight back to Italy. Though Stabler was suspicious of her involvement, she was an ally to them and helped solve the crime by the episode's end. 
Tia Leonetti was portrayed by Israeli actor Ayelet Zurer, who has a fair number of credits that audiences will remember her from, long before she stumbled onto "Law & Order: Organized Crime." Here are some of her more notable projects.
Ayelet Zurer was Superman's mom in Man of Steel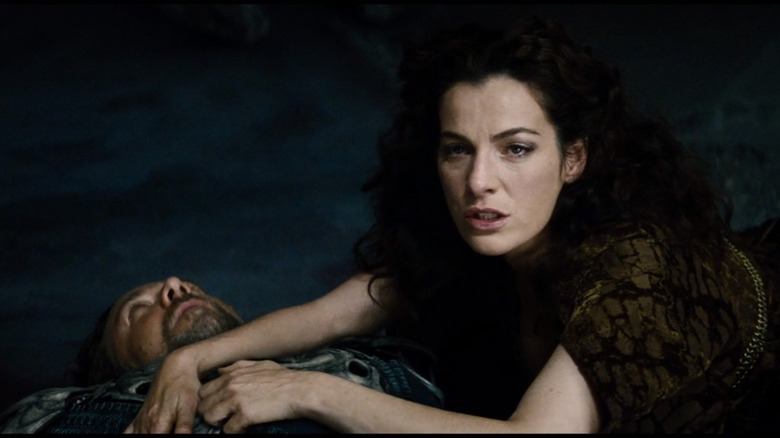 Warner Bros.
In 2013, Ayelet Zurer starred alongside Russell Crowe as Superman's parents, Lara Lor-Van and Jor-El in "Man of Steel." Together, they send their son Kal-El to Earth in hopes that he'll survive the attack of General Zod (Michael Shannon). They also pay the ultimate sacrifice. Not only do they give up their son, who is named Clark Kent by his adoptive parents and grows up to be Superman (Henry Cavill), but they are both killed as they try to fight against Zod.
In an interview with HeyUGuys, Zurer talked about the experience of being in "Man of Steel". Zurer discussed her first introduction with the superhero character, as being a "date" in a group. She didn't remember much of the story, which prompted her to read more of Clark Kent's origin stories after reading through her script. "They did a very interesting job. They adapted it into today, it was very interesting and modern," she said of the Zack Snyder-directed installment. While she talked a lot about the set for Krypton, which she said was mostly real, she got into Lara Lor-Van's difficult choice to send her son away. 
"I don't think she knows what she's doing," Zurer admitted. "Emotionally, she doesn't know if that's the right thing to do." Thankfully the sacrifice pays off, as Superman is able to defend his newfound home, Earth, from General Zod when he plots to destroy Superman. 
She was Vanessa Marianna, the ever-loyal villain's wife on Daredevil
Despite being the mother of Superman in "Man of Steel", Ayelet Zurer fell in love with a villain on the Netflix "Daredevil" series. Zurer portrayed Vanessa Marianna, an art dealer who goes on to marry Wilson Fisk (Vincent D'Onofrio), otherwise known as the legendary villain Kingpin.
Marianna falls in love with Fisk, despite his evil doings and a murder attempt on her life when Madame Gao (Wai Ching Ho) and Leland Owlsley (Bob Gunton) fear she is having a negative influence on Fisk's judgment. She recovers from the poisoning and seems even more head over heels for her future hubby. The adoration is reciprocated as Fisk remains fiercely loyal to her, ever since their meet-cute in Season 1, Episode 3 at a gallery where he purchases a painting from her called "Rabbit in a Snowstorm."
Marianna goes on the run after Daredevil (Charlie Cox) gets Fisk arrested by the FBI and only after Fisk can persuade his release two years later are the lovebirds reunited. They seem to finally get their happily ever after at their beautiful wedding until Daredevil and Benjamin Poindexter (Wilson Behel) crash it.
Zurer was couples-therapist for the murderous couple, Joe and Love, on You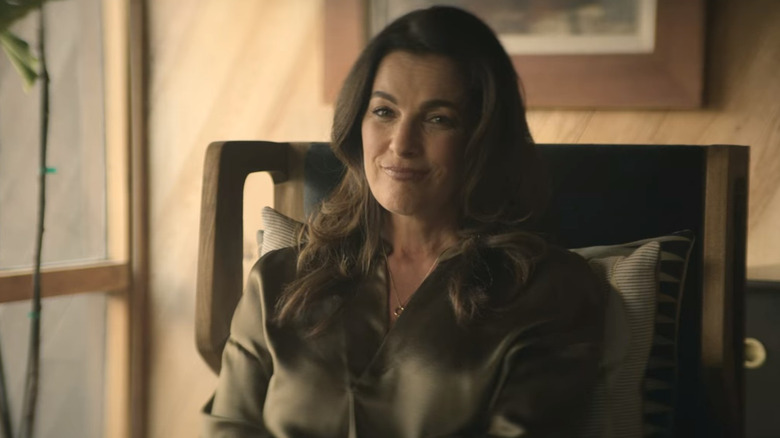 Netflix
In 2021, Ayelet Zurer starred alongside Penn Badgley in the psychological thriller series "You" as a couple's therapist during Season 3. Who knew that both having a penchant for killing people didn't make a perfect love story?
During "You" Season 3, serial killer Joe Goldberg (Badgley) is struggling to adapt to a new life with his wife, Love (Victoria Pedretti). Indeed, he has met someone just as dark as him, as audiences discovered Love's dark urges during Season 2 when she kills Delilah (Carmela Zumbado). Instead of being thrilled that he's met his match, Joe is disgusted by her and is about to kill her when she reveals that she's pregnant with his child.
While disgusted with Love, Joe is already dedicated to his unborn child, thinking it can be a catalyst for him to turn his life around, to prove that he can be a good person and a good father. Despite his attempts to be a good father to his son, Henry, Joe can't escape his old ways. When Love finds his souvenirs from his new desire Natalie (Michaela McManus), Love murders Natalie and requests that she and Joe attend couple counseling.
Zurer comes along as the therapist to help quell Joe and Love's marriage woes, but she knows so very little about the truth of their relationship and even outwardly says, "Well it's not like you're ax murderers!" If only she knew. 
She recently starred on Moonhaven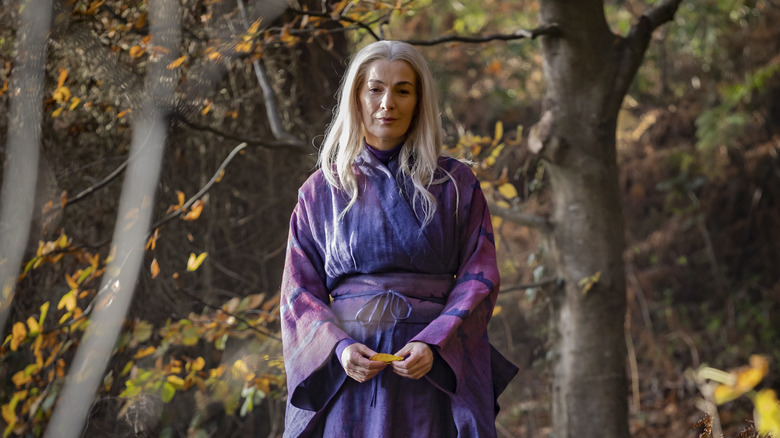 Szymon Lazewski/AMC+
Most recently, Ayelet Zurer was in AMC's sci-fi series "Moonhaven." The show features a futuristic dystopian society where some of Earth's inhabitants have found refuge on the moon and are trying to pursue methods that will help to reverse or to slow the earth's deterioration. 
Zurer, in her purple robes, was Maite Voss, the leader of the Moonhaven leadership council. She, along with other characters like Tomm Schultz (Joe Manganiello) and Indira (Amara Mare) all have their own separate motivations throughout "Moonhaven", though they are immediately obvious. The show only had 6 episodes, after all, meaning there is much left to discover. 
In an interview with Hollywood Life, Zurer rejoiced for the opportunity to dig deeper in the show's hypothetical second season. "There is much to tell and much to go for," she said. "There's a whole other layer to the world that's behind this world that we are going to discover." Unfortunately for Zurer and for fans of the series, the plug was pulled on "Moonhaven" Season 2 despite an initial renewal, via Deadline. 
Ayelet Zurer is a very talented actor, and audiences are sure to see more of her as she continues building her filmography.