Modern Family's Ed O'Neill Thought They Were Going To Have To Sedate Julie Bowen On Their Last Day On Set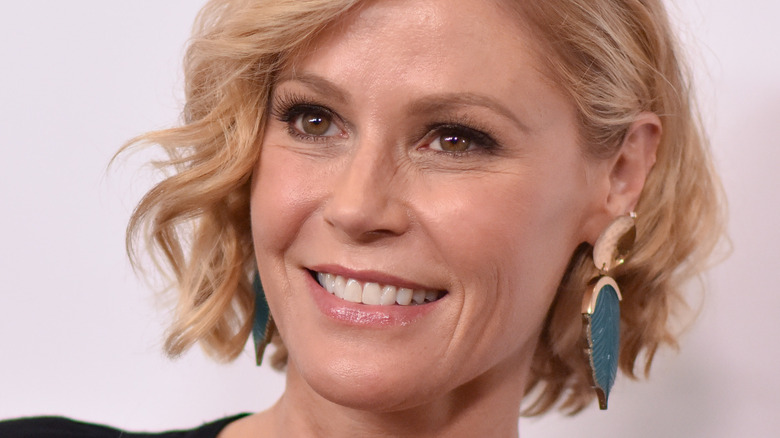 DFree/Shutterstock
It's no secret that a show's series finale is often the most emotionally poignant episode of the entire run, earning plenty of tears from the audience and perhaps even more from the cast themselves. Saying goodbye to a beloved sitcom or show is never easy, and for the cast of a series, it means saying goodbye to some of your closest friends and co-workers as well.
Indeed, just the table read for the season finale of the acclaimed mockumentary "The Office" reduced members of the cast to a crying mess once it was finished, and one can only imagine what the emotions must've been like on set when filming had finally wrapped (via Facebook Watch). Another emotionally charged series finale was that of the hit ABC sitcom "Modern Family," which came to a close in 2020 after 11 seasons on air.
As hard as it might have been for fans of the series to say goodbye to the show after watching the family at its center grow and change for more than a decade, it's safe to say that cast member Julie Bowen had an even harder time leaving "Modern Family" behind — to the point where co-star Ed O'Neill thought she might need to be sedated.
O'Neill thought that Bowen was easily the most emotional cast member during the finale
Considering the fact that a significant portion of "Modern Family" is devoted to the household of Julie Bowen's Claire Dunphy (which includes Phil, Alex, Haley, and Luke, played by Ty Burrell, Ariel Winter, Sarah Hyland, and Nolan Gould respectively), it's easy to see why it might have been hard for Bowen to depart the series after a decade of getting to know these characters.
Indeed, in a 2020 interview with The Ellen DeGeneres Show in which he discussed the tear-jerking ending to "Modern Family," Ed O'Neill (Jay Pritchett in the series) said he thought Bowen was by far the most emotional during the series' finale — to the point where he thought she was going to be taken off the set itself. "I thought she was going to have to be sedated and carried out," the actor explained. "But everybody was having their moments."
The latter is extremely evident via behind-the-scenes footage from the finale of "Modern Family," particularly in an Instagram Video from cast member Sofia Vergara that shows Bowen, Hyland, Vergara, and co-star Jesse Tyler Ferguson hugging each other and crying. Although not every cast member may have needed sedation to get through the finale, it's clear that the ending of "Modern Family" was extremely emotional for every single member of the cast — especially Julie Bowen