Stranger Things Fans Demand These Two Characters Interact In Season 5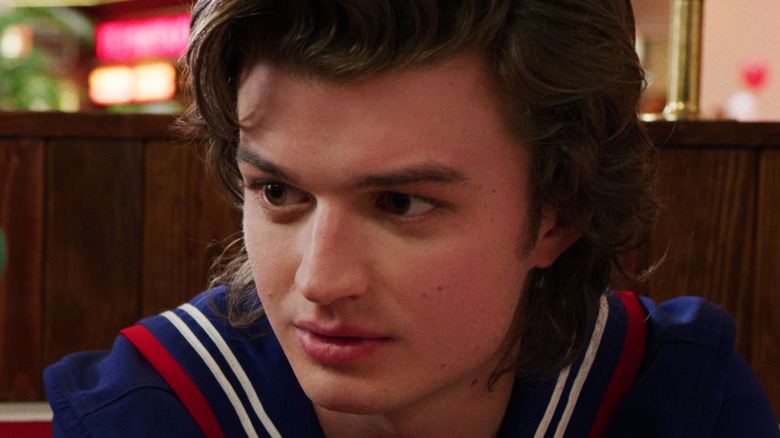 Netflix
It didn't take long for "Stranger Things" to capture the world's attention after its premiere on Netflix in 2016. Since then, the series has become the streaming service's most-watched English show, with Season 4 bringing in over a billion hours watched in its first 28 days.
Although the 1980s setting of "Stranger Things" is enough to draw most viewers in, audiences tend to stick around because of the show's incredible character work. Throughout its relatively short run, the series has already become one of the most popular of all time, and it brings a slew of fan-favorite characters with it. Eleven (Millie Bobby Brown), Mike (Finn Wolfhard), Max (Sadie Sink), and the rest of the younger characters are synonymous with the show, with many of the actors becoming hot commodities in Hollywood. On the other hand, characters like Joyce (Winona Ryder) and Hopper (David Harbour) injected new life into their actors' careers, propelling them back into stardom.
Over its four seasons, "Stranger Things" has put its characters into certain pairings, giving fans some iconic moments. Dustin (Gaten Matarazzo) and Steve (Joe Keery), Mike and Eleven, Hopper and Joyce, and Steve and Robin (Maya Hawke) are clear fan-favorite duos that we hope to see more of in "Stranger Things" Season 5. However, given the show's focus on the characters, it's surprising to think that some of them have yet to share a scene or interact in any substantial way. Fans have since noticed that two specific characters have yet to hold a conversation in the show, which they demand to see in Season 5.
Will and Steve have yet to interact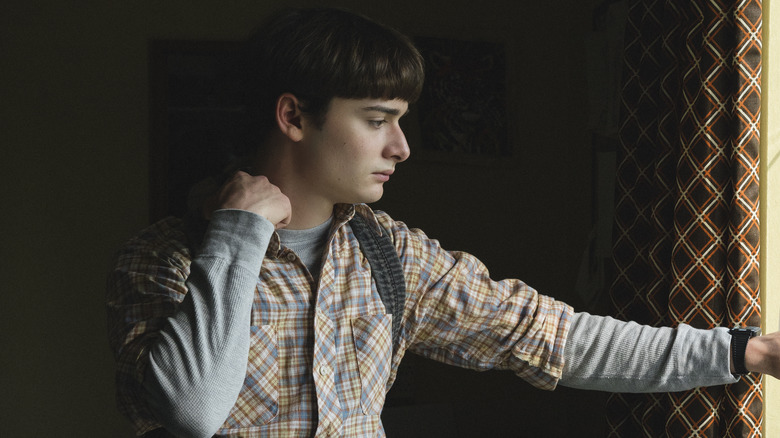 Atsushi Nishijima/Netflix
Over on the "Stranger Things" subreddit, fans of the hit Netflix series realized that two characters have yet to talk to each other: Will and Steve. It's a surprising revelation as both characters play significant roles throughout the show. Many users looked on to Season 5, hopeful for Will and Steve to do something together.
Redditor u/Full-Surround clarified that the characters have been in scenes together but have yet to speak directly to one another, stating they would be interested in seeing the two have some interaction next season. Another user suggested they could be the fan-favorite team-up included in Season 5. U/Mole_in_the_Hole also looked forward to the show's next season, hoping for Will, Steve, and the rest of the Hawkins teenagers to feature in a more centered story that features all of them together instead of the separate storylines "Stranger Things" has given fans so far.
One fan named u/Majska394 took a different approach to what a potential Steve and Will interaction could look like, bringing up each character's for-better-or-worse iconic haircuts, saying, "Which explains why Will still has the bowl haircut. I mean if they would actually made any kind of conversation/interaction between these two no way mama Steve would not do something about it."
User u/bioluminescent_nova noticed that these realizations seem to be an ongoing trend with Will's character, saying, "Will often seems detached from the rest of the cast." U/Owl_Resident gave a similar take, drawing attention to the fact that Will has barely talked to two of his best friends, Dustin and Lucas. Redditor u/flutterstrange is hopeful for future seasons of "Stranger Things" to give Will more interactions with other characters, saying he's so far only really interacted with his family and Mike.