Leah And Mathan From MTV's Catfish May Have Met Up After All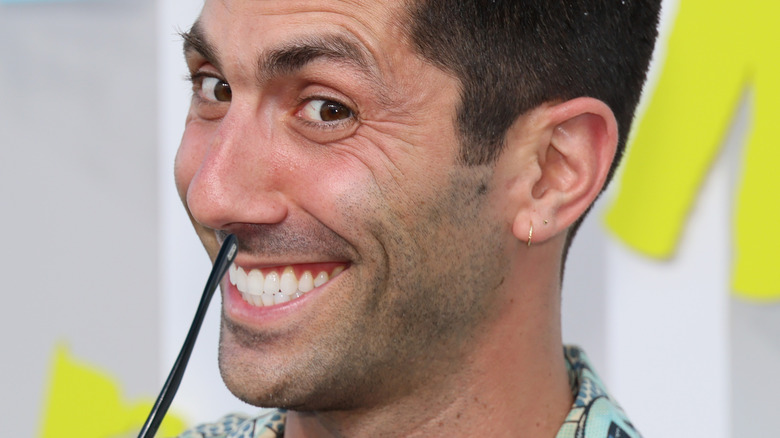 Dia Dipasupil/Getty Images
After seven years of helping lovestruck individuals track down and expose their sketchy online partners, "Catfish" host Nev Schulman finally experienced a first while filming – the catfish didn't show up.
Episode 29 sees Schulman, joined by Kamie Crawford, meet 22-year-old Mathan Cephas, a newbie to the Los Angeles area whose "best friend" Leah Mayer lives in Washington state. According to Cephas, the pair started chatting on the internet when he was 13. Over the years, their conversations transitioned to text messages and then multi-hour phone calls. However, there's some glaring red flags. Mayer refuses to video chat and won't meet Cephas in person unless he funds the entire trip. On many occasions, Cephas is unable to reach her for months on end. 
Schulman and Crawford do some online digging to see if she's being truthful. Some things that Mayer said — like how her father passed away — check out. However, most of what they discover is alarming. Turns out, her real name is Leah Lund and there's a disturbing incident from October 2015 attached to her. The Seattle Times reported that Lund, who was 16 at the time, went missing after giving birth without the help of doctors. She was said to be on heroin. MyEverettNews reported 12 days later that Lund was located, but her newborn was nowhere to be found. Cephas was unaware of this entire situation.
Though Schulman, Crawford, and Cephas track Lund down, they're only able to meet her sister, who informs them Lund is with her boyfriend, a newly-released prisoner. Cephas texts her a goodbye message and Schulman informs him, "Having done this for a long time, I can honestly say the catfish not showing up was a total first."
But did Cephas eventually meet up with Lund after the cameras stopped rolling?
One Catfish viewer found an Instagram post of Mathan and Leah together
At the end of the 2019 "Catfish" episode, Nev Schulman and Kamie Crawford give Mathan Cephas a call to see how he's faring after the Leah Lund debacle. He informs them that he hasn't tried to contact her and is currently talking to a new girl, with whom things are getting serious.
Yet according to a picture obtained by a quick-thinking social media sleuth, it seems they did meet in-person following their stint on MTV. "Catfish" viewer Jasmine Jones snagged a screenshot of Cephas' old Instagram page, where he posted a photo of himself and Lund. He captioned it, "Never give up on your friends."
Shortly after the screenshot was taken, Cephas apparently deleted the post...but not before it could make the rounds on the internet, including on Reddit. A number of fans, like u/_TheQuietOne01, expressed their surprise: "Whaaa?!! That's crazy lol." U/jailbirddie added, "That episode was something else!"
Though Cephas finally achieved his goal of meeting Lund after so many years, it doesn't seem like an offline relationship continued. His current Instagram page is chock-full of his modeling photos, with Lund nowhere to be found. Her ever-growing record might be to blame. As shown by the Snohomish County Sheriff's Office Corrections Bureau Jail Inmate Inquiry, since October 2021, she's been arrested numerous times for identity theft, possession stolen property and more.
Still, some eagle-eyed "Catfish" viewers don't feel too bad for Cephas. On Reddit, u/babeyribs pointed out that even while Cephas is sending his heartfelt goodbye text to Lund, the recognizable flame that alerts a new Tinder notification can be seen at the top of his screen.