Laura Spencer Loved The Big Bang Theory Fans' Supportive Energy During Live Tapings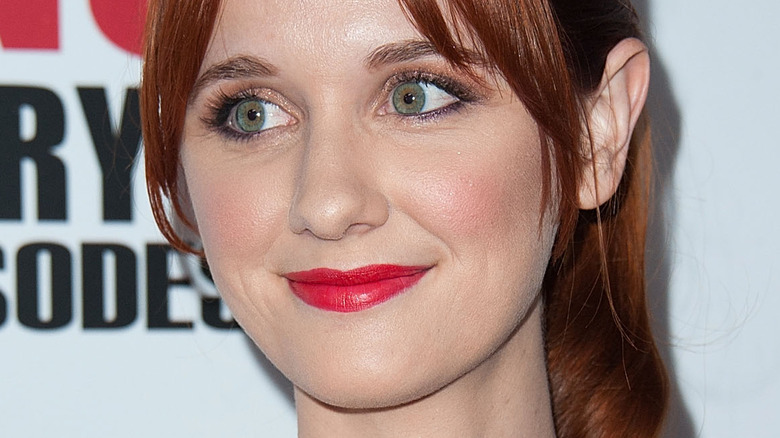 Jennifer Lourie/Getty Images
The cast of "The Big Bang Theory" always worked hard to give fans in the live audience an enjoyable experience. Over the course of its 12 years on the air, those lucky enough to snag a seat at Warner Bros. Studios received pre-show entertainment by Johnny Galecki and Kaley Cuoco (via EW), the occasional celebrity guest star, and impressive dance mob numbers choreographed by Cuoco's little sister, Briana. So for Laura Spencer, who joined the show in Season 7 as Emily Sweeney, a love interest of Raj Koothrappali (Kunal Nayyar), it definitely had to be intimidating to enter such an established, high-energy environment. After all, everyone's favorite shy astrophysicist had just gotten his heart broken by Lucy (Kate Micucci) earlier in the season, and fans didn't want to see him get hurt once again.
Aside from his beloved Yorkshire Terrier Cinnamon, Raj's longest relationship on the series is with Emily, who he meets through an online dating site at the encouragement of Amy Farrah Fowler (Mayim Bialik). After getting over his usual initial silence, he begins to learn more about Emily and her rather dark interests, such as "House of 1000 Corpses." She also has quite a few tattoos, including a Sally piece from "The Nightmare Before Christmas," proving herself very unlike his past flings.
In the end, Raj and Emily are simply too different. It also doesn't help that she's not friendly with the other ladies of the group, Penny (Cuoco), Amy and Bernadette Rostenkowski-Wolowitz (Melissa Rauch) ... nor does Raj's pursuit of Claire (Alessandra Torresani) while still dating Emily. Despite the in-universe relationship not working out, though, Spencer felt nothing but support from the real-life studio audience.
Live audiences cheered for Laura Spencer whenever she came on set
In an interview with The TV Watchtower, Laura Spencer revealed one of the most unforgettable aspects of appearing on "The Big Bang Theory" — doing her job in front of diehard devotees of the sitcom, who welcomed her with open arms.
"Probably my favorite part of the show is doing scenes before a live studio audience and getting to see how intensely devoted the fans are to the show," she said. "They are so loving and supportive through the whole taping. That's just been a real joy to see and experience. The fans have been really lovely to me at the tapings, like cheering when I come on. I feel like I'm part of the family already and that has been a really pleasant surprise."
This isn't really a surprise, as even from the comfort of home, "The Big Bang Theory" viewers have strong, positive feelings about Emily. On Reddit, u/sighosh2 said, "Is it just me, or is Emily the sweetest girlfriend Raj ever had?" Many were in agreement, applauding her for embracing the quirks that are typically a turnoff for his romantic interests. In fact, u/MyriVerse2 stated, "Frankly, I think Dr. Emily was the best girlfriend any of them ever had (not just Raj)." 
Though "The Big Bang Theory" has now concluded (after a whopping 12 seasons), the series will forever be cemented in history as one of the most popular sitcoms of all time, with fan pages to join, merchandise to buy, and reruns to watch anytime. And through it all, thanks to this unyielding love that fans still hold for the show, Spencer's spooky character of Emily lives on.