Mafia Mamma: What We Know So Far (2023)
Mamma mia, she's a mafia boss! In this upcoming action-comedy, a suburban mom desperate for a break from her life receives the biggest one yet when she inherits her grandfather's role as head of one of the fiercest mafia families in Italy. Will she be able to fulfill her destiny?
"Mafia Mamma" is a letter to feminism and will surely be a further testament to the badassery of women — we can do anything, which is what the main character will likely learn throughout her dangerous though comedic adventures. For her part, Collette is extremely excited about it, saying in a statement to Vulture, "It is pure, fish-out-of-water fun with a firm feminist backbone."
The premise comes from French novelist and screenwriter Amanda Sthers ( "Madame," "Holy Lands"), who produces alongside Toni Collette ("The Sixth Sense," "Little Miss Sunshine") and Christopher Simon ("High-Rise," "The Killing of a Sacred Deer"). With a great deal of talent and careful preparation, "Mafia Mamma" is sure to be a hilariously insightful mafia film.
When will Mafia Mamma be released?
"Mafia Mamma" will be released in theaters on April 14, 2023 (via People). There is currently no information on whether it will also be available on any streaming services or not.
News that Toni Collette was attached as the main star surfaced in October 2021 (via Vulture). Monica Bellucci, Catherine Hardwicke, Rob Huebel, Christopher Simon, and Amanda Sthers' involvement was revealed in February, when it was announced that Bleeker Street had picked up the rights, by which time writers J. Michael Feldman and Debbie Jhoon had already written the script and Cornerstone had negotiated all international sales (via Deadline).
"Mafia Mamma" has been in the works for a while, so whatever schedule it's on, hopefully, it's still timely. With the beautiful Mediterranean country of Italy as the background, where production began in May, an April 2023 release is perfect to reflect the upcoming summer.
What is the plot of Mafia Mamma?
The plot of "Mafia Mamma" follows Kristin (Toni Collette), a mother and wife who has recently been through the wringer. Her boss is a chauvinist, her son is almost too eager to go away to school, and her husband, an unsuccessful musician, has cheated on her. So when Kristin receives a call informing her that her grandfather has passed, she isn't sure how to respond. For one thing, she's never even met her grandfather, and for another, she's also given little more than a day's notice to travel to Rome for the funeral. Though it takes some clever persuasion from her best friend, Kristin decides to attend so that she can use the free trip as an opportunity to live it up in Italy.
However, Kristin is surprised when the funeral erupts into blood and gunshots. Then she learns the significance of her invitation: She's expected to fulfill her grandfather's role as head of the fiercest mafia family in Calabria. It's an exciting twist from past gangster and mafia movies – women are usually in the background of those films, and now one will be the star.
Who is starring in Mafia Mamma?
Only a few names have been shared for this project: Toni Collette as Kristin is the main star, Rob Huebel ("The Descendants," "I Love You, Man") portrays her unnamed cheating husband, and Monica Bellucci ("The Matrix Reloaded," "The Matrix Revolutions") serves as Kristin's grandfather's consigliere, Bianca. Kristin's best friend, Jenny, who encourages Kristin to pursue the trip in the first place, is played by Sophia Nomvete ("The Lord of the Rings: The Rings of Power," "Wednesday").
People also lists Giulio Corso, Tim Daish, Francesco Mastroianni, Alfonso Perugini, Tommy Rodger, and Eduardo Scarpetta as cast members. According to the film's IMDb page, Bruno Bilotta will be playing a pallbearer, Alessandro Bressanello will be playing Giuseppe Balbano, Corso will be playing Lorenzo, Yonv Joseph will be playing Randy, Mastroianni will be playing Aldo, Livia De Paolis will be playing Judge, and Perugini will be playing Dante.
Who is directing Mafia Mamma?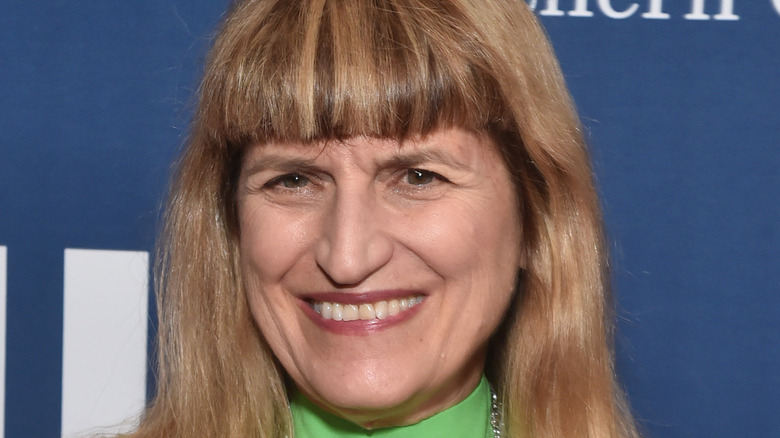 Alberto E. Rodriguez/Getty Images
"Mafia Mamma" is directed by veteran director and production designer Catherine Hardwicke. Fans of Stephenie Meyer's "Twilight" series may recall Hardwicke's name — she directed the 2008 adaptation of the first book, starring Kristen Stewart as Bella Swan, who moves to Forks, Washington, and falls in love with the mysterious and handsome vampire Edward Cullen (Robert Pattinson).
Hardwicke previously directed 2003's "Thirteen," which she co-wrote with actor Nikki Reed, who plays Evie Zamora in the film. The pair actually reunited for both 2005's "Lords of Dogtown," in which Reed plays Kathy Alva, and "Twilight," in which Reed portrays Rosalie. "Thirteen" tackles sensitive topics such as teen drug use, teen sex, and teenage crime.
More recently, Hardwicke directed 2019's "Miss Bala," two episodes of "This Is Us," and Season 1, Episode 6 of the 2022 horror anthology series "Guillermo del Toro's Cabinet of Curiosities": "Dreams in the Witch House."
Is there a trailer for Mafia Mamma?
Yes! Dropped on December 2, the trailer gives audiences a peek into the hilarity and hijinks that will ensue for Kristin and her family's mafia business when she ascends the throne.
The trailer begins with a beautiful shot panning over Italy, though mourning preparations are already being made for the fallen mob boss. Back in the States, Kristin receives a phone call inviting her to her grandfather's funeral, to which Kristin responds, "I don't even know him." With some encouragement from Jenny, Kristin daydreams of being fed pasta by and riding on the back of a moped with a handsome man. That little fantasy is all she needs to send her packing for Italy. But Kristin quickly realizes there's more to it than just an idyllic international vacation when hell predictably breaks loose at her grandfather's funeral. "What did my grandfather do?" she asks Bianca before a pair of bikers fires gunshots at them.
The most entertaining clip is perhaps Kristin telling members of the mafia, "I brought a little something special for everybody today" before snapping her fingers and someone sets a briefcase on the table. Guns are locked in anticipation, but when Kristin opens the briefcase, she proudly reveals freshly baked muffins.
"I am not a boss, especially not in a mafia kind of way," Kristin says at one point. But audiences are sure to see if that changes or not when "Mafia Mamma" hits theaters on April 14, 2023.