What House Of The Dragon's Alicent Was Doing Between Episodes 7 And 8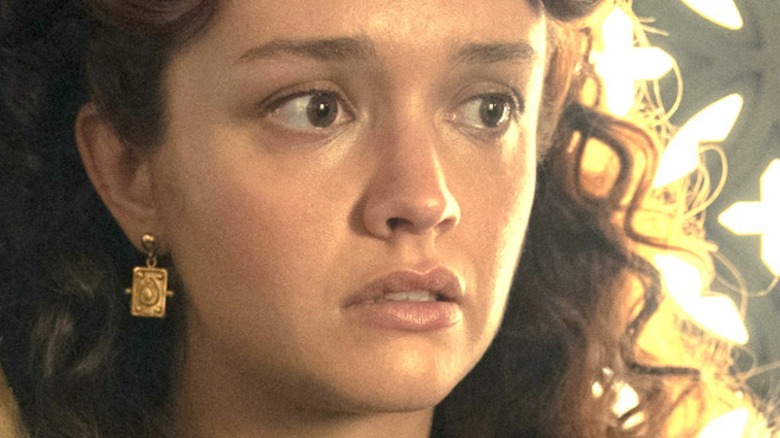 Ollie Upton/HBO
While "Game of Thrones" is a race toward war at a break-neck speed, "House of the Dragon" takes a more methodical approach. Instead of the immediate violence that occurs between House Stark and Lannister in the original series, the Targaryen prequel is a slow burn and generational war between two people. The first season spans decades, first depicting Princess Rhaenyra (Milly Alcock) as a defiant daughter before growing into Queen Rhaenyra (Emma D'Arcy) who does not compromise on her right to the Iron Throne.
"House of the Dragon" employs significant time jumps and casting changes, but it is all for the better of the show. The conflict between two queens in their own right spans many years which is how most civil wars come to be. Years of tension boils until a gasket finally blows in Episode 7 when Alicent's (Olivia Cooke) young son Aemond (Leo Ashton) loses an eye. King Viserys (Paddy Considine) does not punish Lucerys (Harvey Sadler) for his role in the mutilation. Furious at her husband's inaction, Alicent takes up his blade to take retribution against Rhaenyra and her family. Alicent's rage is palpable in the episode, but when Episode 8 rolls around, she is singing quite a different tune.
Alicent is not losing her religion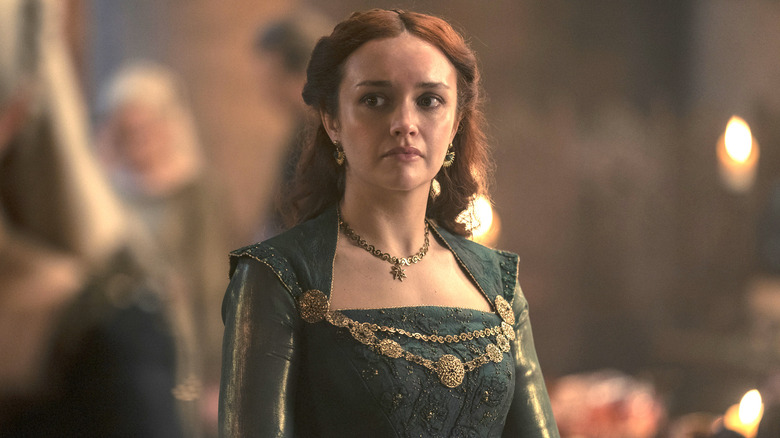 Ollie Upton/HBO
When Rhaenrya Targryen returns to King's Landing with Daemon (Matt Smith) in Episode 8, she tells him: "I can scarcely recognize it." Long gone are the elaborate tapestries of Targaryen glory. Instead, the royal halls are subdued with the iconography of the Westerosi Faith of the Seven. The halls are marked with the seven-pointed star, and Alicent has also changed.
"[B]ecause of her public display of violence, she's taken to religion to repent," Olivia Cooke tells Vulture in an exclusive interview. "She's a lot more measured, a lot more thoughtful, and a lot more closeted in terms of her emotions. Having had those six years in the castle with very few allies, thinking long and hard about what she did — she wants to be a closed book." 
This contrition may seem like it comes from a wholesome place but it also comes from humiliation. Alicent admits that she is repentant because her actions were unbecoming of her station, not because she thought she was wrong. In the six-year gap, she becomes more resolved that her children are superior to Rhaenyra's. Alicent resents them because they are the king's favorites who do not truly come from royal stock. And while Rhaenrya has taken to motherhood and has children that love her, Alicent continues to struggle as a parent. This drives her to plot to take away Luke's right to Driftmark. It seems that religion doesn't make Alicent more righteous, but less.
Olivia Cooke finds humanity in Alicent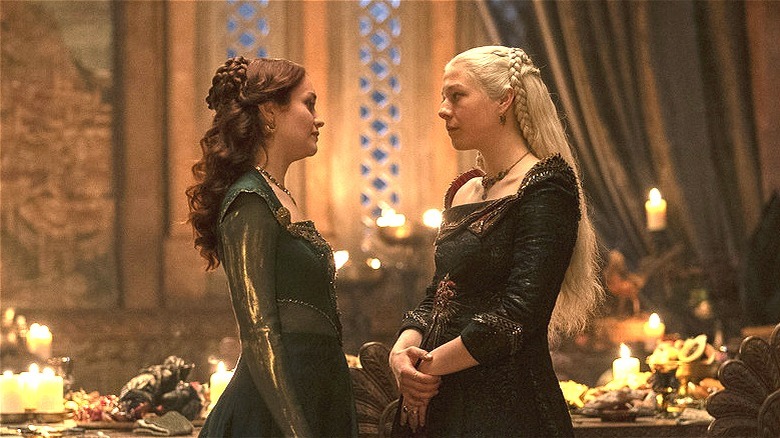 Ollie Upton/HBO
Alicent's rivalry with Rhaenyra and belief that her children are more fit to rule may not be a hit with everyone, but there is no question about how the queen becomes so bitter later in life. The young Hightower is first a pawn of her father when Otto (Rhys Ifans) uses her by marrying her to the king. She must bear as many heirs as she can and even though she does everything expected of her, things have still not worked out in her favor.
"Nothing Alicent has been through has been easy or her choice," Olivia Cooke explained further to Vulture. "[W]hen she sees Rhaenyra living her life as she sees fit, it's beyond frustrating for Alicent after living her own life of servitude." This subtext is integral to understanding the character. In "House of the Dragon," no one is completely pure and Alicent is no different. Cooke realized this but told The Wrap's Power Women Summit 2022 that it was important to find her humanity.
"Yeah, on the moral scale, she's definitely very wonky, but it's like what Haley [Lu Richardson] was saying, you have to come from a place of empathy in order to imbue truth," Cooke stated. "Otherwise it just comes across as so disingenuous, and you just want the audience to have a really good time watching these characters, and you don't want anything to feel fake or feel off."